May 15, 2021

June 2011 | Vol. X - No. 6

---
ASTRA Preview: New Companies
Check out these products from some of the newer companies who will be exhibiting at this year's ASTRA Marketplace & Academy in Anaheim, Calif., June 19-22.
Bag-O-Loot by BAG-O-LOOT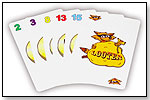 Bag-o-Loot is a new card game that combines strategy, luck, interaction and emotions. During their turn, players can create sets of matching cards called collections, steal collections from other players, or complete a set, making a Bag-O-Loot. But players must be wary- The Bag-O-Loot could be a bluff. Players must outwit or outguess their opponents and try to commit a robbery to end the round. "It is just as fun and engaging for a group of adults to play, a group of kids to play, or a mixed group of adults and kids to play," John Shelley, president of Bag-O-Loot, told TDmonthly.
Awards: 2011 Dr. Toy's Best Picks; 2011 Preferred Choice Award in the category of Family Card Games from Creative Child Magazine.
— As of 10/19/2011 this product had 5 out of 5 stars from 10 reviews on Amazon.com.
3/22/2011 (MSRP: $9.99; Age: 10 and Up)



Roman Town: The Premiere Archaeology Computer Game for Kids by DIG-IT! GAMES



Roman Town lets the player be an archaeologist and manage a team of diggers while learning about archaeological techniques and uncovering ancient objects. Graphics rendered in 3D let players explore Roman buildings and immerse themselves in Roman history. One can put pots together, exercise puzzle skills with fun mini-games, and find out what archaeologists really do. President of Dig-It Games Suzi Wilczynski told TDmonthly, "Roman Town is unique, educational and, most importantly, lots of fun!"
Awards: The Tillywig Brain Child Award; NAPPA Honors; The National Parenting Center 2010 Seal of Approval; Creative Child 2010 Game of the Year Award; Dr Toy's Best Vacation Product; five 2010 Life Buzz Parent-to-Parent awards. (

Watch Video) 4/29/2010 (MSRP: $39.95; Age: 8 and Up)



Wooden Pull Train by GOKI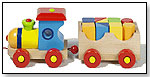 This wooden train from European company GoKids features a train car that holds a set of colorful wooden blocks. The train doubles as a pull toy, with a string in front for kids to tug along. (

Watch Video) 3/29/2011



Poofin Stars & Charms by POOFIN LLC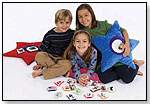 A Poofin is a large pillow-like Star that holds a collection of soft picture charms that represent all the great things in a kid's life and what they like about themselves. "Kids can make it one-of-a-kind by filling it with as many as 50 small, soft charms of their choosing. As kids build their charm collection, they get an understanding of just how awesome they are. Poofin is a plush collectible toy with soul that bridges the inner and outer dimensions of a child. As we like to say: What you put inside is what's inside you. Poofin allows a child to share their stories with friends and family through the sharing of their personal charm collection," Ann Bowar, principal of Poofin, told TDmonthly. Launch date: February 2011. 3/22/2011 (MSRP: $24.95; Age: 3 and Up)



DoodleMark by REMARKABLE READING CONCEPTS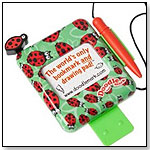 DoodleMark™ allows children and parents to interact with books together. Whether practicing sight words, working on vocabulary, learning to write letters, bookmarking their progress or just doodling a funny picture, this product is designed to help build a child's confidence in their reading and writing. It can be used as a classroom tool, at home to reinforce what's being taught in school, and as an incentive for reluctant readers. "DoodleMark is the world's only bookmark and drawing pad that clips to a book," Jennifer Kendra, VP sales and marketing at ReMarkable Reading Concepts, told TDmonthly. Launch date: November 2010. 1/25/2011 (MSRP: $8.00; Age: 3 to 10)



---
---


Copyright © 2021 TDmonthly®, a division of TOYDIRECTORY.com®, Inc.