January 22, 2022

May 2011 | Vol. X - No. 5

---
Top-5 Most-Wanted Travel Toys and Games
Mazes and other stimulating toys are top sellers.
With additional reporting by Chris Lundy and Brenda Ruggiero

This Spring, TDmonthly Magazine interviewed 12 retailers to find out what the best-selling travel toys and games were for 2011. Mazes, and other visual games, like VeggieTales by FIND IT GAMES or the invisible ink book from LEE PUBLICATIONS seemed to be at the top of everyone's list.

See the Top-5 Most Wanted Travel Toys and Games for 2011 below:

No manufacturer paid to be included in this article. All products listed were designated by editorial staff without regard to the company's relationship with TOYDIRECTORY.com/TDmonthly Magazine.
VeggieTales by FIND IT GAMES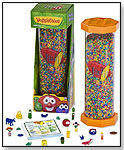 Based on the classic "Find It" Game comes the latest entry into the world of VeggieTales: The new VeggieTales version of the Find It Game. Players join the VeggieTales characters on a hand-held scavenger hunt as they search for objects and characters straight from stories in the VeggieTales collection. The fun begins by finding popular icons like the Viking Helmet, rubber ducky, and slushy cup. Also look for authentic characters such as Bob the Tomato, Larry the Cucumber, Junior Asparagus, Philippe Green Pea and Madame Blueberry. These characters, and more, are hidden amongst a sea of colorful pellets. For 1+ player or teams.
— Marc Holcomb, owner of Toys & Co. in Greensboro, N.C. told TDmonthly in late Spring 2011 that he sold 15 Find-It products a month.
— Want this? As of 05/06/2011, this product was available for purchase at Toys & Co. (

Watch Video) 1/19/2011 (MSRP: $25.00; Age: 8 and Up)



Fun on the Farm Imaginetics by INTERNATIONAL PLAYTHINGS LLC



Lightweight and portable, this small Imaginetics play set combines whimsical animal illustrations and a richly colored background with reusable, interactive magnets. Each image is backed with thin, flexible magnetic material, allowing pieces to be repositioned easily on the themed backdrop. Children can tell stories or invent games, and when finished the play set folds closed to protect and secure the pieces.
― "We sell a lot of Imaginetics," said Jill Brown, buyer at Kidoodles in Norman, Okla., when asked about her best-selling travel items in spring 2010. Seven of 39 retailers surveyed by TDmonthly in March 2010 said magnetic play sets are their top-selling travel toy.
― In late Spring 2011 two out of 12 retailers surveyed mentioned Imaginetics as a best-selling travel toy.
— Want this? As of 05/06/2011, this product was available for purchase at Magic Box Toys. 4/9/2010 (MSRP: $4.99; Age: 3 and Up)



A Super-Sneaky, Double-Crossing, Up, Down, Round & Round Maze Book by KLUTZ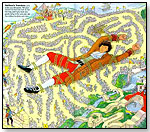 This book contains twenty-five endlessly reusable mazes. Featuring the work of the talented illustrators from around the world, each maze stands on its own as a work of art. The brightly colored mazes each offer a whimsical design and a new challenge. Ideal for travel or just to pass the time.
— Mary Porter Green, owner of the Curiosity Zone in Ashburn, Va. mentioned this book as a best-selling travel toy in late Spring 2011, saying she sold several each month.
— Want this? As of 05/06/2011, this product was available for purchase at The Curiosity Zone. 5/2/2011 (MSRP: $12.95; Age: 6 and Up)



Spot It! by BLUE ORANGE GAMES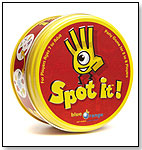 Spot It is a party game for two to eight players. It's played by laying a random assortment of cards on the table and all players racing to find one image that matches between two cards. This fast-paced game is designed to never be the same twice, and though it has very few rules to remember it requires a sharp eye to master. The set of 55 round cards transports in its own carry tin. Watch Spot It: Top-5 Video, Toy Fair 2010
— Spot It has been been a top seller for retailers surveyed by TDmonthly since early Spring 2010.
— In a March 2012 survey, 3 out of 12 retailers told TDmonthly that Spot It was their overall best selling product, and had been for more than a year.
— Dean Smith, Co-owner of JaZams in Princeton, N.J., told TDmonthly in a Summer 2011 survey that he sells 50-60 copies of Spot It each month.
Awards: 2010 TDmonthly Top Seller, Dr. Toy 100 Best Children's Products - 2010

Where to buy:
SOUTH
NORTH EAST
NORTH WEST (

Watch Video) 2/11/2010 (Age: 6 and Up)



Yes & Know® Mr. Mystery Books by LEE PUBLICATIONS



Be a super detective! Use your Invisible Ink pen to uncover the truth and solve the mysteries. Here are just some of the games you will find inside this book, decode the cryptograms, decipher Krazygrams, and nab the crook in jailbreak.
Each book includes 48 pages of fun and a special pen.
― Out of 39 retailers, four named activity books from Lee Publications as their top-selling travel item in March 2010, reporting sales averaging 24 per month.
― Kristen Dolle, manager of Playthings Toy Shoppe in Louisville, Ky. told TDmonthly in late Spring 2011 that Magic pen books by Lee Publications were a best-selling travel toy.
— In an April 2012 survey about best selling travel toys, Joe Berardoni, owner of Pun's Toys in Bryn Mawr, Pa., told TDmonthly: "As a category, Lee Publication's Yes & Know books continue to sell out during travel time due to their wide age range and low retail price."
— Want this? As of 05/06/2011, this product was available for purchase at Playthings Toy Shoppe. 4/9/2010 (MSRP: $3.99; Age: 3 and Up)



---
---


Copyright © 2022 TDmonthly®, a division of TOYDIRECTORY.com®, Inc.