November 24, 2020

July 2011 | Vol. X - No. 7


Top-10 Most-Wanted Furniture and Play Houses
Furniture Not a Big Seller in Small Stores
With additional reporting by Chris Lundy and Brenda Ruggiero

In a Summer 2011 survey of 14 retailers, 50% of those TDmonthly spoke to said they didn't carry furniture or playhouses at all. The most commonly cited reason was simply that the store was too small. However, one retailer found a way to work around the space issue. Gladys Griffin, owner of the Main Street Toy Shop in Columbus, Ga., told TDmonthly that she keeps kids' furniture catalogs in the store, and lets customers order from them that way.

Retailers who did sell furniture and playhouses mentioned high-quality cribs from Baby's Dream and Munire Furniture, and doll furniture from Melissa & Doug and Plan Toys. You can see all of the best-seller furniture and playhouses below.

No manufacturer paid to be included in this article. All products listed were designated by editorial staff without regard to the company's relationship with TOYDIRECTORY.com/TDmonthly Magazine.
Generation Next Crib by BABY'S DREAM FURNITURE INC.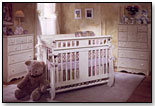 Capturing the classic appeal of sleigh bed styling, the Generation Next crib has a drop-gate front that allows easy access to baby. The crib converts into a youth bed and then into a full-size adult bed with the addition of adult rails. Generation Next is an entire collection of fine furniture that is designed to last for generations. 7/5/2006 (MSRP: $499.00; Age: All Ages)



Urban Lifetime Crib by MUNIRE FURNITURE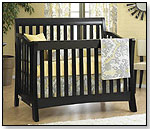 The Urban Lifetime Crib is a standard crib that converts easily to a ToddlerBed, Daybed and Full-size Bed. The Lifetime Crib meets all safety guidelines and is JPMA certified. Conversion kits sold separately. Matching dresser, armoire, and chest of drawers also available. 6/29/2011 (MSRP: $499.99)



Marshmellow Bean Bag Seat by SOUTHEASTERN KIDS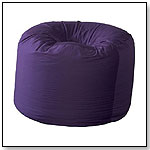 These bean bags are made in the USA. Filled with an engineered poly foam mix; slip cover removes for easy care.
— Paula Bolte, owner of Imaginations Toy & Furniture Co. in Blacksburg, Va., told TDmonthly in a Summer 2011 survey that Southeastern Kids was one of her best-selling furniture brands. She said she sells between 1-3 bean bags each month. 6/29/2011 (MSRP: $135.00)



Deluxe Wooden Fold & Go Dollhouse by MELISSA & DOUG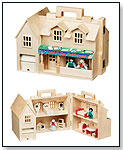 The Fold & Go is a roomy portable dollhouse that features working doors, two flexible wooden play figures, 11 wooden furniture pieces and easy-access design, as well as a convenient carrying handle. It's an adorable "mobile home" that's solid, lightweight and built to last. The Fold & Go measures 11.5" x 16" x 10" and weighs 6 lbs.
— "We have a Melissa & Doug Fold & Go Dollhouse that does real well for us," said Joel Hardy, owner of Magpie Toys in Red Lodge, Mont., when asked about play house favorites in his store.
— Seventeen of 62 retailers TDmonthly spoke with in spring 2007 cited Melissa & Doug when asked about play house and furniture favorites with their customers.
— Lynn Robillard told TDmonthly in summer 2007 that Melissa & Doug wooden items are top sellers at her store, Toys in the Attic in Manchester, Vt., for many reasons: They are non-toxic and the company is diverse, including "arts and crafts, magnetic dolls and a huge array of everything imaginable." 6/15/2007 (MSRP: $29.99; Age: 3 and Up)



Wooden Doll High Chair by MELISSA & DOUG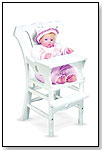 Featuring a removable, locking tray, this durable white chair will can accommodate dolls up to 20".
— Mike DiAndrea, manager of Ace Hardware & Toy Center in Paoli, Pa., told TDmonthly in a Summer 2011 survey that he sells six of this item each month.
— Joe Berardoni Jr, owner of Pun's Toys in Bryn Mawr, Pa., told TDmonthly in a June 2013 survey that Melissa and Doug wooden doll furniture is their best-selling furniture item. 6/29/2011 (MSRP: $69.99; Age: 3 and Up)



Ryan's Room Carry 'n' Play Dollhouse by SMALL WORLD TOYS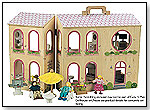 Outfitted with magnetic closures, this portable dollhouse with a wooden handle comes with a kitchen unit, a table, a rug, a fireplace, a sofa and other accessories.
— "We sell playhouses — wood playhouses from Ryan's Room," Kathy Goeddy, manager of JaZams in Pennington, N.J., told TDmonthly when asked about best-selling furniture and playhouses in June 2008.
— One other retailer, out of 62, mentioned dollhouses from Ryan's Room as a top-selling item in that category.
— The Ryan's Room brand offers several different styles of wooden dollhouses. 7/10/2008 (MSRP: $80.99)



Le Toy Van Tutti Frutti Doll House by HOTALING IMPORTS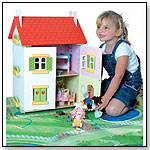 White two story house with red roof. Fully painted and decorated with strawberry motif. Side opens up for easy access. Doors, windows and shutters open and close. Includes deluxe starter furniture set. Furniture includes sofa, coffee table, lamp, dining table with chairs, oven/stove, buffet, bunkbeds, end table with lamp, toilet, toys and more. People are not included. 13 ¾ x 24 ¾ x 17 ¼.
— Joe Berardoni, owner of Pun's Toys in Bryn Mawr, Pa., told TDmonthly in a Summer 2011 survey that he sells one of these high-ticket items each month. 6/29/2011 (MSRP: $169.99; Age: 3 and Up)



Fortamajig Connectables by THE HAPPY KID COMPANY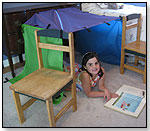 The colorful building panels are made from durable nylon ripstop and offer a distinctive Velcro system allowing kids to quickly "lock" these fabric shapes together to form special forts and tents. Connectables come with six multi-colored 33" squares and two 58" long rectangles, all packaged in a backpack tote. Connect the panels to create small spaces or large roaming mazes. Launch date: February 2008.
— "Kids will adore the ease and freedom this product offers them in constructing unique spaces anywhere, indoors or outside," Katherine H.P. Huck of The Happy Kid Co. LLC told TDmonthly.
— Linda Laramy, owner of Crackerjacks Toys and Childrens Books in Easton, Md., told TDmonthly in a Summer 2011 survey that she sells 2 of these each month. 12/28/2007 (MSRP: $65.00; Age: 3 and Up)



My 1st Wooden Doll House by PLANTOYS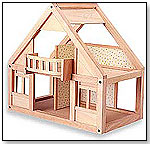 This 1:12 scale wooden dollhouse includes four rooms and a balcony, and comes with tools for assembly. It measures 24.8" L x 14.2" D x 23"H.
— "We cycle out what we carry year to year — right now we have a Plan dollhouse," Tina Schwindt of Fairhaven Toy Garden in Bellingham, Wash., said when asked in June 2008 about top-selling furniture and playhouses.
— "Plan Toys — not selling a lot right now, given the time of year; generally, I'll sell six rooms a month. … As we get into fall, [we] will expand [the line] a lot more; it's a line we love and their dollhouses are great," Jerome Crawford, owner of Crawdaddy's Toys in Lafayette, Calif., told TDmonthly.
— When asked about best-selling furniture and playhouse items, three of 62 retailers told TDmonthly that they carry dollhouses by Plan Toys. There was some concern, though, about slow sales at the time of the interviews, in early summer 2008.
— Heiko Peine, owner of Treehouse Toy Shop in Cumberland, Md., told TDmonthly in a Summer 2011 survey that they sell 1-2 each month.
— As of 06/29/2011 this product had 4.5 out of 5 stars from 22 reviews on Amazon.com. Pros: Simple yet high-quality; durable. Cons: Too deep and dark to play on the bottom floor. (

Watch Video) 7/10/2008 (MSRP: $119.99; Age: 3 and Up)



The Creation Cottage Playhouse by CRAFTY KIDS PLAYHOUSES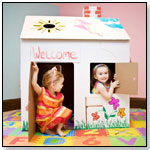 The Creation Cottage is made from 100% recycled cardboard material. The unique design allows for a sturdy drawing surface for child. The white exterior is a blank canvas that child will be able to design on their own. Measurements (Assembled): 42.25"L x 39.5"W x 54"H (

Watch Video) 3/26/2010 (Age: 3 and Up)



---
---


Copyright © 2020 TDmonthly®, a division of TOYDIRECTORY.com®, Inc.