April 19, 2021

August 2011 | Vol. X - No. 8

---
TDmonthly Top Toy Award Winners August 2011
TDmonthly Honors 9 Innovative and High-Quality Products

TDmonthly Magazine is excited to announce our TDmonthly Top Toy Award winners for August 2011. TDmonthly has selected these high-quality, innovative products with high play value to feature to our 14,600 retailer subscribers, as well as our unique monthly online visitors, to help retailers and consumers make the best possible choices when deciding which toys to buy.

The TDmonthly Top Toy Award winners for August 2011 are:

Befuzzled from FUN Q GAMES, INC.

Citiblocs Little Builder Blocks from CITIBLOCS LLC

"WHAT SHE SAID!" from SHAINSWARE

ZOMBIEZOO Plush Characters from ZombieZoo

Tegu Original Set in Jungle Finish from TEGU INC.

Dado Bricks from FAT BRAIN TOY CO.

Phone Frenzy from BUFFALO GAMES INC.

Costume Club Treehouse from PADDYWHACK LANE LLC

ENI Mini Puzzle With Numbers from ENI Puzzle Land Co.

(See full descriptions of these winning products at the end of this article)

No nominees or winners paid a submission fee to be considered or chosen, and we strictly limited the number of award winners, evaluating products based on the above criteria, as well as favorable review from retailers, consumers, experts or TDmonthly staff.

For more information on submitting your products for awards consideration, see this article.
Befuzzled by FUN Q GAMES, INC.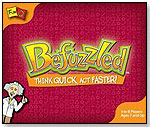 Players take turns flipping over cards that show different shapes. The first to complete the correct action wins that card. The game keeps it exciting by shuffling the actions and their corresponding shapes after each round.
See Toy Fair 2011 Video (

Watch Video) 2/22/2011 (Age: 7 and Up)



Little Builder Rattle Blocks by CITIBLOCS LLC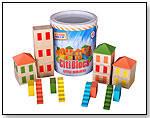 This 22 piece rattling building block set was designed specially for Little Builders. Shake, rattle, and build with these colorful blocks sized for little hands. Launch date: June 2011.
Awards: Dr. Toy 10 Best Toys of 2011 (

Watch Video) 5/27/2011 (MSRP: $34.99; Age: 2 and Up)



"WHAT SHE SAID!" by SHAINSWARE

The object of the game is to be the first player to fill the Shains bracelet with the most stars by using their intuition and how well they know their friends, to figure out "WHAT SHE SAID!" Each game comes with a set of 200 elements (letters, numbers and stars), six orchid tabs with seven holes and six bracelets in pink and orchid, 36 "WHAT SHE SAID!" cards, eight cardboard element holders and carrying pouch. Each player takes a small purple strip and a larger bracelet strap. The bracelet will be used for scoring and is worn on the wrist. The smaller strip will be used to plug in letter elements, to create a word that corresponds to the card played from the deck on each turn. The deck of cards are placed face down in the middle of the playing area, along with the cardboard element holders. Letters are for making words that answer the "WHAT SHE SAID!" cards, numbers are for betting, and stars are for scoring. Launch date: September 15, 2011. (

Watch Video) 7/11/2011 (MSRP: $19.95; Age: 7 to 12)



ZOMBIEZOO Plush Characters by ZombieZoo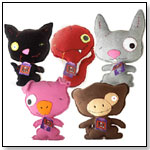 Created by award-winning children's author/illustrator Neecy Twinem, ZombieZoo characters are different and a bit quirky, featuring an unusual story line and unique personalities. The ZombieZoo family of animals includes Boo the black cat, the natural born leader of the group, and Stich, a pig obsessed with hygiene. Along with their friends, Muck (Monkey), Rob (Rabbit) and Toxic (Snake), original (large) Zombies stand at 12 to 15 inches high, are made of soft fleece and have a "Frankenstein" style of stitching adorning their bodies and over-sized heads. The large ZombieZoo plush characters come with a six and a half minute DVD storybook. Zombie minis, replicas of their larger siblings, are also available. They stand 4-5 inches tall and include a handy clip to attach to backpacks, clothing, etc. 12/2/2010 (MSRP: $20.99)



Tegu Original Set in Jungle Finish by TEGU INC.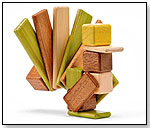 Tegu's patent-pending blocks cleverly incorporate magnets inside sustainably harvested wood, offering gravity-defying blocks that show no visible point of connectivity and enable multi-dimensional building experiences. Available in the following honduran hardwood finishes: natural, mahogany, tints and jungle. "We utilize eco-friendly hardwoods, making them both durable and friendly to the forest," a rep for Tegu Inc told TDmonthly.
Awards: 2010 Parent's Choice Award, 2010 Dr. Toy Best Green Toys and Children's Products, 2010 Oppenheim Gold
— David Stelzer, owner of Shananigans in Baltimore, Md., told TDmonthly in a March 2015 survey that Tegu blocks were one of his store's best-selling eco-friendly toys. 3/4/2011 (MSRP: $110.00; Age: 3 and Up)



Dado Bricks by FAT BRAIN TOY CO.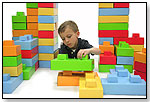 Dado Bricks are interlocking cardboard bricks, measuring 12 inches long x 6 inches deep x 3 inches high. Kids can use these stacking bricks to create kid-scale structures...walls, castles, forts, secret hide-outs, or even attractive room decor. Unlike other simple cardboard blocks on the market, the Dado Cardboard Bricks contain a protruding pair of square nubs along with a matching set of recessed square indentations. The result is a cardboard brick that when stacked, will not easily tumble and can retain a rigid structure. "The ONLY interlocking cardboard block on the market," Erik Quam, Director of Product Development at Fat Brain Toy, told TDmonthly. 5/27/2011 (MSRP: $39.95; Age: 2 and Up)



Phone Frenzy by BUFFALO GAMES INC.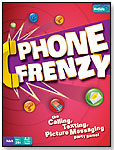 Phone Frenzy is a board game that uses everyone's mobile phone as the primary game component for calling, texting, and sending photos. Every turn, players are given a challenge or activity that can only be completed with the help of one or more of their phone contacts. A challenge might be a race to receive a correct response to "Finish this lyric by Journey: 'Just a small town girl'…" Players pick who they think are the right contacts from their phone and send them a text message with the question. The first player to receive the correct text message wins the round. Launch date: Summer 2011. (

Watch Video) 2/22/2011 (MSRP: $22.00; Age: 14 and Up)



Costume Club Treehouse by PADDYWHACK LANE LLC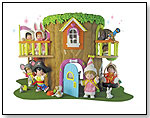 There are so many fun things to do in the Costume Club Treehouse. Play on the tube slide. Have a turn on the tire swing. Gaze through the swivel telescope. Share a cup of tea with a friend, or take a snooze on the comfy bunk beds. Paddywhack Lane® Costume Club Treehouse can be Combined with the Costumed Kids Figures & Accessories. INCLUDES: Tube Slide, Tire Swing, Table & Chairs, Swivel Telescope, Bunk Beds, Fleece Pillows, Gingham Sheets, Circular Area Rug.
Awards: TDmonthly Top Toy Award, August 2011.
— Why it won: This play set for adorable child figures is high-quality and stimulates imaginative play in girls and boys. 7/27/2011 (MSRP: $59.99; Age: 3 and Up)



ENI Mini Puzzle With Numbers by ENI Puzzle Land Co.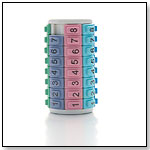 This Mini Eni in pastel colors can be manipulated to create interesting patterns. Or, place the numbers in the correct order to solve the puzzle. Launch date: February 2011. (

Watch Video) 4/29/2011



---
---


Copyright © 2021 TDmonthly®, a division of TOYDIRECTORY.com®, Inc.