September 22, 2020

September 2011 | Vol. X - No. 9


Outdoor Fun — Get Out While You Still Can!
Winter is on its way! Get the most out of these recently added Outdoor Fun products while you still can:
Zoë b Biodegradable Beach Toys by ZOE B ORGANIC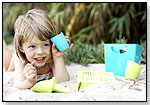 Zoë b Biodegradable Beach Toys include a bucket with built-in handles that won't break off (usually the first thing to go, in our experience). A sifting lid with geometric cut-outs for learning shapes. Two cups for sand and water play. And one tough, virtually indestructible shovel. It's all scaled for toddler-size hands and fits easily inside the bucket for carrying to the beach. In the off-season, the toys are great for the bathtub—plus the bucket doubles as a container for crayons and toys. BPA, phthalates and PVC free. Launch date: June 2011.
Awards: PTPA award 8/10/2011 (MSRP: $19.99; Age: 1 to 10)



Baby Banz Adventure Banz by BABY BANZ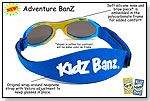 Adventure BanZ improve on our Original Baby Banz by adding an embedded silicone nose and brow piece for added comfort! Baby Banz were originally designed in Australia for one of the world's toughest UV environments. Clinically tested by one of the world's leading authorities on sunglasses, Baby Banz have passed the most stringent standards on sunglasses in the world. Launch date: 2011. 8/10/2011 (MSRP: $17.00; Age: 0 to 5)



The Waboba Blast Ball by WABOBA INC.


The Blast is made specifically for pool play with its engineered design to be more controllable and not bounce as high as the Extreme and Pro. Since it's lightweight, softer, and easier to catch, it is suitable for the whole family.
— Dean Smith, Co-owner of JaZams in Princeton, N.J., told TDmonthly in a Summer 2011 survey that he sells "about a gross" (144) of Waboba skip balls each month, but it's usually a summer item.
— Michelle Deutschmann, owner of Kaleidoscope Toys in Falmouth, Mass., told TDmonthly in an August 2014 survey that Waboba is their best-selling toy. They sell over 100 each month between two styles of the ball. (

Watch Video) 8/9/2011 (MSRP: $8.99; Age: 3 to Adult)



Jump 'n Slide Inflatable Bouncer by LITTLE TIKES INC.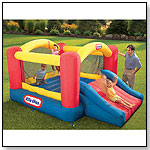 Little Tikes Jump N Slide Inflatable Bouncer is an inflatable gym with tall protective walls that surround a large jumping area, including a big slide with side rails. Two mesh doors feature hook-and-loop closures to protect children, and allow parents to watch the fun. Stakes anchor the bouncer firmly in place, while a heavy-duty blower provides continuous airflow. The Little Tikes Jump N' Slide Bouncer is built of puncture-resistant material. It also features two mesh pockets on the side to hold shoes or water bottles. The Little Tikes Jump N' Slide Bouncer includes stakes, heavy-duty blower, repair kit and storage bag. 7/11/2011 (MSRP: $249.99; Age: 3 to 7)



PopOut Ring Toss by DIGGIN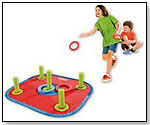 This soft and safe ring toss pops open for portable fun. Kids can take it and play anywhere, outdoors or indoors. Play solo or with the whole family. To collapse, hold the mat at the corners and twist. Comes with six rings, PopOut target with posts and storage bag. It's "A classic game that POPS open for big fun!" Jenny Stern, VP& Founder of Diggin Active Inc, told TDmonthly. Launch date: February 2011.
Awards: 2011 Oppenheim GOLD Award 6/27/2011 (MSRP: $19.99; Age: 10 to 3)



Nerf Super Soaker Thunderstorm by HASBRO INC.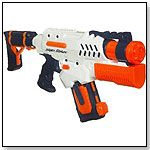 Fully automatic for maximum speed, this blaster lets users just pull the trigger to begin the drenching action. Fill the water clip, attach it to the blaster and begin sending soaking streams up to 25 feet away. Requires no pumping action. 6/14/2011 (MSRP: $22.50; Age: 6 and Up)



Step2 Naturally Playful Sandbox by THE STEP2 COMPANY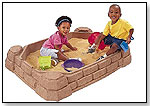 The Step2 Naturally Playful Sandbox has four molded-in "cornerstone" seats, and a sunshine-motif lid that protects sand from weather and critters. It can also double as a large planter. Fully assembled. Sand and sand toys are not included. Step2 Naturally Playful Sandbox holds up to 200lbs of sand. It is approximately 15.5" Height x 44" Width x 32" Depth. 6/8/2011 (MSRP: $69.99; Age: 1 to 7)



Classic Flyer 12" Bike by KETTLER INTERNATIONAL INC.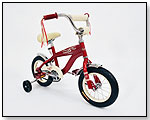 The 12" Classic Flyer Retro Bike has vivid retro colors and is fully equipped with safety features. Removable and adjustable training wheels, padded handlebars & stems, rear coaster brakes, tough frames and an enclosed chain help kids off to a safe start in their bicycling development. The bike features air tires, a full set of reflectors and sporty chrome plated fenders. For a custom fit that ensures proper posture, the padded seat and handlebars are adjustable. 6/7/2011 (MSRP: $149.00; Age: 3 to 7)



Anchors Away Water Play Pirate Ship by LITTLE TIKES INC.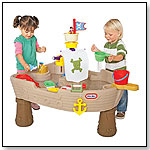 The Anchors Away Pirate Ship is made of durable plastic construction and features two fun characters, a squirting shark and a constant running water fountain. Kids can keep the water moving by pumping or pouring the water into the crows nest; the spinners cause a current in the ship which moves floating objects around. Kids can aim and squirt water from the water cannon to see the steering wheel spin, and the anchor raises and lowers by cranking the handle.
— As of 6/6/2011 this product had 3.2 out of 5 stars from 39 reviews on Amazon.com. Pros: Interactive; keeps kids engaged. Cons: Numerous reports of the plank and the cannon squirter breaking; expensive; water flow in fountain isn't strong enough to make the wheels spin smoothly. 6/6/2011 (MSRP: $79.99; Age: 3 to 6)



Mushroom Baby Pool by INTEX RECREATION CORP.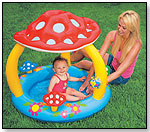 The Intex Mushroom baby pool features a built-in mushroom shade for added comfort on hot days. It has a soft, inflatable floor that allows for gentle play. Adult supervision required at all times.
— As of 06/02/2011 this product had 4.8 out of 5 stars from 12 reviews on Amazon.com. Pros: Shade keeps baby protected from sun; easy to blow up; inexpensive. Cons: One customer said one of the floats that came with the pool had a hole in it; if you aren't kneeling next to the pool when the top is on it's hard to see the baby in the pool. 6/2/2011 (MSRP: $12.99)



---
---


Copyright © 2020 TDmonthly®, a division of TOYDIRECTORY.com®, Inc.