September 26, 2020

September 2011 | Vol. X - No. 9


Cars, Trucks, and RC Toys
See these recently added specialty and mass-market Cars, Trucks, and RC Toys.
Green Toys™ Pink Dump Truck by GREEN TOYS INC.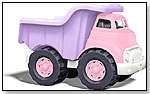 Stay pretty in pink while getting down and dirty helping to save the planet. Made in the USA from 100% recycled plastic milk containers, the Green Toys™ Pink Dump Truck is ready for any task, hauling sand and rocks or dolls and diamonds with ease. This durable, eco-friendly rig is both safe and stylish, with no metal axels and a workable purple dumper. No BPA, phthalates, PVC, or external coatings. "The Green Toys™ Pink Dump Truck is an innovative twist on a longstanding classic: USA-made, 100% recycled, high-quality design and construction -- and stylishly colored for even the most particular palate," Cameron Passmore, marketing manager at Green Toys Inc., told TDmonthly. Launch date: August 2011.
— In a March 2015 survey, two out of 10 retailers told TDmonthly that Green Toys is their best-selling brand of eco-friendly toys. 9/2/2011 (MSRP: $27.99; Age: 1 and Up)



1967 Volkswagen Beetle by GreenLight Collectibles LLC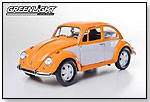 Hippies and surfers both have similar lifestyles in behavior and philosophies. Their simple, peace, love and green way of life was represented in every aspect of their existence, including the automobile that they choose to drive. The Volkswagen had the reputation in the counter-culture as "people's cars", they were designed to be mechanically simple and reliable so that anyone with a basic set of tools could learn to be his own Volkswagen mechanic. This 1:18 die-cast replica features detailed engine, opening doors, real rubber tires, metal body and plastic chassis, detailed graphics, custom license plate and is officially licensed. 2,500 pieces of each color will be produced. Launch date: August 2011. 8/23/2011



Hot Wheels Light Box Design Set by FASHION ANGELS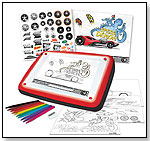 Kids can design dream cars for Hot Wheels with the Light Box Design Set. The light box makes drawing easy: simply use the sketch pages and films with the light box tracing table to outline car decals and logos to make them look like they are ready for speed. Use the Tree-Free colored pencils and instructions for tips and inspiration on how to color and shade to make each car ready for the street or racetrack. Finish off the designs with the foil stickers for extra-cool detail. This kit includes the light box tracing table, 40 car design sketch pages, 10 Tree-Free colored pencils with pencil sharpener, 15 films, 38 stickers, and instructions. Launch date: 2011. 8/12/2011 (MSRP: $33.99; Age: 4 and Up)



MaxTraxxx Glow in the Dark Racing System by SKULLDUGGERY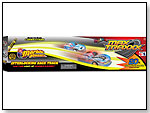 MaxTraxxx glow-in-the-dark, interlocking race track includes 20 feet of track, 2 starting gates, track decals, 2 Light-Up Marble Racers and racer decals. Race head to head on the side locking tracks with interlocking starting gates. Get additional track to race more racers. Connects to all standard 1/64 car tracks. Launch date: February 2011.
Awards: 2011 Creative Child Top Toy of the Year 8/10/2011 (MSRP: $29.99; Age: 5 and Up)



GeoTrax Disney Pixar's Cars Mega Set by FISHER-PRICE INC.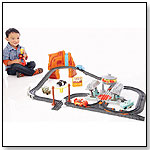 In this set Lightning McQueen is an RC car with the ability to drive forward or backward. Send him roaring after the other push vehicles as he delivers fun movie phrases. Flo adds to the fun with cool lines from the movie, and Sheriff hides behind the billboard, waiting for speeders. Includes Lightning McQueen RC vehicle, Flo, Sheriff, Sally and Sarge push vehicles, Flo's V-8 café, mountains of Radiator Springs, 2 ramp tracks, 1 "T" switch track, 2 "Y" switch tracks, 4 curve tracks, 1 cross track, 2 straight tracks 6" long, 2 straight tracks 3" long, Radiator Springs traffic light, highway sign, 2 guardrails, 3 off-track ramps and a Radiator Springs billboard. 7/6/2011 (MSRP: $99.99; Age: 3 to 7)



Infrared Control Flying Spaceman by MASTER TOYS AND NOVELTIES, INC.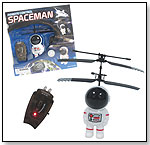 Infrared control flying spaceman with twin rotor propulsion, bright diode lights and ultralite micro components. "We haven't seen another item that is similar to this one," Ernie Wong, president of Master Toys & Novelties, Inc., told ITDmonthly. Launch date: January 2011. 9/2/2011 (MSRP: $24.99; Age: 3 and Up)



Kinsmart - School Bus 5" by TOY WONDERS INC.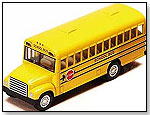 5107D Kinsmart - School Bus. 5"L x 1.5"W x 1.75"H die-cast metal yellow school bus with openable door & pull back motor action. This yellow school bus is manufactured by Kinsmart. 12 pcs per display box.
— When asked about best-selling die-cast items in a Summer 2011 TDmonthly survey, Dean Smith, Co-owner of JaZams in Princeton, N.J. said of the Kinsmart School Bus "We sell a lot of them: about 30 to 40 per month. It will pick up in the next 2 months. It's our biggest single die cast item."
— In a Summer 2012 survey about die-cast toys, Dean Smith, owner of JaZams in Princeton, N.J., told TDmonthly that they sell 15 school buses from Toy Wonders each month.
— In an August 2013 survey, two out of nine retailers told TDmonthly that yellow school buses were their best-selling type of die-cast toy. 8/22/2011 (MSRP: $6.99)



Chuggington Wooden Railway Trainee Roundhouse Set by LEARNING CURVE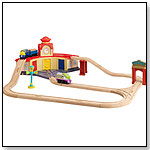 This 32-piece set features a one-level roundhouse with an over-the-top track layout. Includes Koko, Brewster, Vee, Chuggington sign and 2-in-1 tunnel. Compatible with other wooden track systems.
Awards: 2011 Oppenheim Toy Portfolio "Gold Seal" winner
— Melodie Ingwersen, owner of Creative Kids Inc in Columbia, S.C., told TDmonthly in a Summer 2011 survey that her best-selling collectibles are Chuggington trains and sets. "It's something that can be expanded and passed on to the next generation," she explained.
— David Campbell, owner of Amazing Toys in Great Falls, Mont., told TDmonthly in a February 2013 survey that Chuggington wooden railways were their best selling wooden toy. 8/22/2011 (MSRP: $119.99; Age: 3 and Up)



Bump and Go Bubble Train by NKOK INC.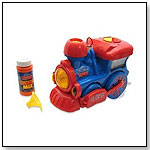 A battery-operated bump and go train with lights, sounds and moving picture panel has bubbles that shoot from the smoke stack. Bubbles included. Requires five "AA" batteries, not included. Measures 6.75"L x 9"W x 5"H. 6/14/2011 (MSRP: $21.00)



---
---


Copyright © 2020 TDmonthly®, a division of TOYDIRECTORY.com®, Inc.