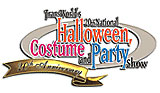 TransWorld´s 20th National Halloween Costume and Party Show, held at the Donald E. Stephens Convention Center in Rosemont, Illinois on March 12-16, began with only 45 exhibitors and 75 booths as an offshoot of a series of general merchandise shows where Halloween retailers congregated. Today, the show's 2,000 exhibits attract 10,000 visitors from the U.S. and 40 foreign countries. All major chains are represented along with individual stores.
According to Dennis Passis, president of TransWorld Exhibits, the Halloween Show is meant to fill the gap between September´s back-to-school sales and the holidays´ gift-buying season. "The manufacturers needed some way of focusing attention on the holiday," says Passis. "What was needed was an event that would focus on the business aspects." Halloween now ranks second to Christmas in retail sales.
The Halloween store is a phenomenon that precedes the Christmas store, appealing to adults with an interest in costume and party items. Chains such as Halloween Express, comprising 30-40 stores, draw more people than general merchandise department stores that carry a similar, though often less expensive, selection.
"This is an adult holiday," says Passis. "Costumes and the related celebratory items that surround this holiday are what make it so big."
TransWorld´s Halloween Show has given retailers a place to exchange ideas and continue to build on the holiday's sales potential. "Today, the show encompasses not only Halloween and all the merchandise associated with Halloween, but also all of the merchandise associated with indoor celebrations," says Passis. "It isn´t just costumes and candy. And it isn´t just home décor and haunted houses. It´s all of those things that have developed primarily out of people´s imaginations. It´s an extraordinarily imaginative industry."