July 13, 2020

October 2011 | Vol. X - No. 10


Q & A With Kate Nicolson, co-Founder of O.B. Designs
"We have fought hard for everything we have accomplished." — Kate Nicolson, O.B. Designs

Kate Nicolson started O.B. Designs with her business partner Leesa Hallahan when they realized there was a lack of unique, high-quality baby toys on the market. While Kate raised her two young children and Leesa worked a full-time job, the two women began producing multi-play baby toys called DINGaRINGs. Below, Kate tells how, in spite of financial hardships and the strain of running a business while raising a family, their passion and hard work paid off.

Q. What career path did you originally envision for yourself? Did you ever anticipate working with children's products?

A. I have always wanted my own business. Even as a feral backpacker in my twenties I was selling bootleg jewelry and baking muffins to finance my travel and surf bug! When I got a job as a buyer for a successful Australian distribution company I met the most amazingly talented designer named Leesa Hallahan. Inspired by the birth of my first daughter, Eve, we began creating baby toys aimed at combating all the cheap, plastic, mass-produced toys on the market, and delivered an inspired, quality baby toy with a multitude of uses. The rest is history!

Q. How did you come up with the idea for your first product?

A. The first product we created was a multi-play baby toy. We incorporated a baby's 3 favorite elements, rattle, teething ring and plush toy, into one gorgeous product and named it a DINGaRING!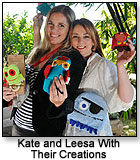 Q. How long did it take to go from the original spark of an idea to actual production?

A. About 6 months

Q. How much money did you need to create the first prototype and come up with a business plan?

A. We started out with very little money, $3,000.00.

Q. How did you raise it, and how long did it take to raise it?

A. We took the money from our savings accounts.

Q. What were the top two or three most significant obstacles you had to overcome to achieve success and how did you do it?

A. We have overcome so many obstacles to date. For me a big obstacle was developing this business while birthing and raising my two children, now two and four years old. Leesa, my partner, had to work another full time job while getting our business off the ground. She has recently left her other job and now can live a more balanced life. A collective challenge for our business was starting out with so little financial backing. We have fought hard for everything we have accomplished.

Q. What aspect of the toy industry most surprised you when you first started?

A. The aspect that surprised me the most was how nice the retailers are. Coming from an earlier background in real estate, I always thought selling a product meant people did not trust you. Retailers are so much fun to work with. The best thing is launching a new product and getting super excited with our customers. There is no better job for us in the world!



"Finishing everything we have to do in a day is like trying to change the wheels on a moving car – impossible!" — Kate Nicolson, O.B. Designs

Q. How do you hope your product/s will affect children's lives?

A. We simply want to create a toy or product for kids that brings happiness to their life. We just want to make people feel good!

Q. What hardships did you have to overcome during the formative years of your company, and how did they help you persevere as a business owner?

A. Honestly, not having very much capital to start was the biggest hardship. It actually was a blessing in disguise because we could not afford to make many mistakes. We had to be conservative and absolutely confident in our brand image and products.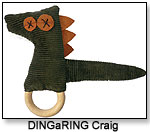 Q. What is the most disappointing thing that you have to live with as a business owner?

A. Not having more hours in the day! Finishing everything we have to do in a day is like trying to change the wheels on a moving car – impossible.

Q. If you had to start over, what would you do differently?

A. It is hard to say. I really feel that there are no mistakes. However, if I were to do anything differently it would be to have studied international business at university instead of psychology.... hopefully my mother does not read this!

Q. How quickly did you spend your initial funds? Any regrets?

A. Leesa and I were really careful. Basically we manufactured ourselves for the first year to test the market. We learned so much in that year: how to refine a toy, how to ensure safety, what colors and materials work. Sometimes I miss gossiping in the sewing circle, but no regrets.

Q. What were the top two or three best pieces of advice you received?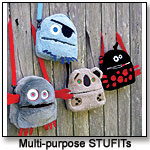 A. My mother always said, "Look after your customers and they will look after you." I try really hard to remember this. In Australia the customer service is mediocre at best. We try to set ourselves a part from the rest of the crowd.

My first mentor Tony used to tell me "the Devil is in the detail," and not to rush decisions. Think slowing and thoughtfully, considering all options before making major decisions.

My husband tells me to remember life is a journey not a destination. Sometimes I get caught up in trying to "get there".... but when I finally "get there" I will be dead. May as well enjoy the journey!

Q. The worst two or three pieces of advice?

A. Give it up; you don't have enough money or product. It is too hard.

Q. What one unique quality makes your product better than your competition?

A. Our toys' cheeky personalities & designs really set us apart, I think. We love to push the limits of the status quo, which you see quite often in the old school toy industry.

Q. What one piece of advice would you offer to someone just starting out in the toy industry?

A. Make sure the toys are safe! Research international toy safety standards and get the appropriate testing done on your toys before going to market.
DINGaRINGs Emma Owl by O.B.DESIGNS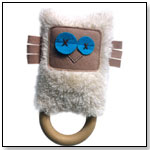 DINGaRING characters like Emma Owl feature old-school craftsmanship and good quality materials. All are safe and non-toxic, with wooden rings and internal rattles, designed to serve as an interactive toy for ages 0 and up. Each toy comes with its own introduction swing tag and unique backer card which allows it to be free-stand, hung or laid flat, for various display options. 12/16/2009 (MSRP: $19.95; Age: 0 and Up)



DINGaRINGs by O.B.DESIGNS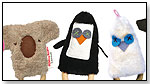 DINGaRINGs are a 3-in-1 RATTLE, SOFT TOY & TEETHING RING all rolled into one cheeky Australian character. Emma Owl is a truck driver who loves Country music & Surfing, but hates VPL & Speed cameras. Keith Koala works as a DJ, loves schmoozing & silk PJs, but is sick of trying to get the glitter out of his fur in the morning! DINGaRINGs are safe, non-toxic, and highly interactive. Open up your babie's senses with the perfect gift for ages 0 & up. Conceived & created in Byron Bay Australia. Made with a social and ethical conscience in Indonesia.
Awards: Top 10 infant toy of 2010 from Babyology, Top 10 new products from Life Instyle trade show 2009 from KidsStyleFile 8/5/2011 (MSRP: $19.95; Age: All Ages)



Stufit Adventure Buddy by O.B.DESIGNS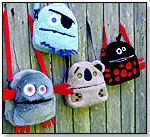 The STUFITs, are funny, quirky & versatile toys for kids 3+. These plush toys feature a zip open mouth that can hold a multitude of treasures, and the attachable strap means they can easily be carried on any adventure. The Stufit is also an ideal PJ Keeper, Day care buddy, or Travel companion. Launch date: October 2010. 8/10/2011 (MSRP: $22.95; Age: 3 to 10)



STUFITs Lola Ladybug by O.B.DESIGNS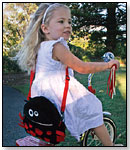 With huggable soft plush bodies, luggable detachable straps, lovable personalities and stuffable zip open mouths, these multi-play toys are designed to be an adventure buddy, soft toy or pajama keeper. Lola Ladybug is a cocktail waitress who loves big sunglasses and prunes, and hates regrowth and sour milk. 9/16/2010



---
---


Copyright © 2020 TDmonthly®, a division of TOYDIRECTORY.com®, Inc.