May 8, 2021

September 2011 | Vol. X - No. 9

---
Watch Toy Videos of the Day (9/19/2011 - 9/23/2011)
We want you to see the toys we see, so you can determine if they're right for your store! Check this space every weekday to see brief video clips of new and specialty products.

In the spotlight today? You can raise your sales when you carry the I Can Do It! Token Board from KENSON KIDS, INC
AirBorn Stork Baby Boy by PBC INTERNATIONAL INC.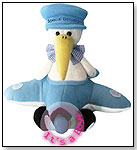 This plush 11" stork flies on his blue plane with precious cargo. A jaunty blue cap and gingham bow in pale blue continue the baby boy nursery theme. Propeller spins and displays the light up message "Special Delivery!" while the Stork sings, "Hush Little Baby." (

Watch Video) 4/6/2011 (MSRP: $25.95)



Big-foot Stomp Walkers by MONKEY BUSINESS SPORTS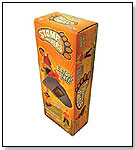 These stilts are decorated on the end with big, hairy Bigfoot feet. Set includes 1 pair of Stomp Walkers. Supports up to 100 pounds. Balance is easy with ultra-wide foot stands. Flexible & durable soft foam base is ideal for indoor/outdoor play. (

Watch Video) 3/31/2011 (MSRP: $79.99; Age: 6 and Up)



Days of Old Collection Medea the Witch by SAFARI LTD.®



Medea's loyalties were never apparent and her spells were often a source of mischief and sometimes misfortune. Her concoctions brewed from ancient recipes handed down verbally through the ages afforded her special powers. Bats and rats were her favorite companions. In 2011, Safari Ltd. offers this creepy witch as part of the Days of Old collection. From the top of her pointed hat to the end of her broom, this green faced witch measures 3.75" tall. Both phthalate and lead free, this figure meets or exceeds all safety standards. Includes a hangtag with the character's description in 5 languages. Appropriate for ages 3+. (

Watch Video) 11/24/2010 (Age: 3 and Up)



Perplexus Rookie by PATCH PRODUCTS INC.



Perplexus Rookie offers newcomers to Perplexus a three-dimensional puzzle challenge, with 75 barriers to success. Users must guide the metal ball through a maze of twists and turns, down dips and around winding spirals toward the maze finish. Players maneuver surprising routes of challenge that test hand-eye coordination, focus and perseverance. 6.5 Inches in Diameter, Perplexus Rookie is a brainteaser puzzle filled with layers of detailed maze structures. A shelter finish keeps the ball in place at the end to secure success.
Awards: 2012 Creative Child Awards – Puzzle of the Year, 2011 Oppenheim Toy Portfolio – Best Toy Award (Gold), 2011 NAPP Gold – Seal of Approval, 2011 Canadian Toy Testing Council – Best Bet, 2011 ASTRA – Best Toys for Kids, Game Play (3-7years) 5/24/2011 (MSRP: $22.49; Age: 4 and Up)



---
---


Copyright © 2021 TDmonthly®, a division of TOYDIRECTORY.com®, Inc.