April 22, 2021

October 2011 | Vol. X - No. 10

---
Developmental Toys
See these recently added specialty and mass-market Developmental toys.
uKloo by uKLOO KIDS INC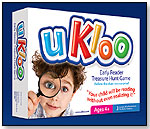 uKloo was developed as a reading game with the help of teachers, parents, lids, and special needs family testers. Great for kinesthetic learners. Offers physical exercise, builds confidence, and promotes independent learning and play. Kids search for clues and learn to read in this interactive literacy game.
Awards: Dr. Toy's 10 Best Active Products - 2011 9/16/2011 (MSRP: $14.95)



Gold- Dancing Scarves with Magically Inspired Music by ARTS EDUCATION IDEAS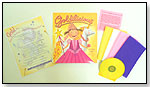 GOLDILICIOUS - Hardcover book by Victoria Kann. Eight-27" square 100% nylon scarves, two of each of the following colors: star bright gold, white frosting, cotton candy pink and perky purple IDEAS Music CD with lots of dancing, twirling, magically inspired music selection. Instructional/informational insert. Easy to store in our reusable sturdy storage bag with self-closing handles. Loose scarves are available for purchase. All scarves are made and all kits are constructed in the USA. Launch date: June 2011. 9/16/2011 (MSRP: $29.99; Age: 3 to 9)



Sounds Amazing by SMART PLAY LLC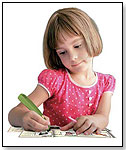 A fun way to discover 100 everyday sounds. Children will be delighted to hear sounds that come to life when bar codes are scanned by using the Smart Pen. Crystal clear technology teaches animals, musical instruments, vehicles, machinery and nature sounds. The sounds are recorded in high fidelity and are very realistic. 50 double sided learning cards are included for hours of learning fun. Launch date: July 2011.
Awards: 2011 Creative Child Toy of the Year 9/8/2011 (MSRP: $19.99; Age: 3 to 9)



Teach My Preschooler by TEACH MY TODDLER INC.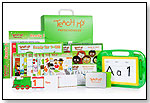 With Teach My Preschooler, little ones can get Ready To Read, Print, Count to 100, Add & Subtract, all in one kit. Teach My Preschooler is the multi award winning, all-in-one learning system for preschoolers. The kit has all the educational tools necessary to help prepare preschoolers for kindergarten. The kit is divided into four sections – Ready to Read, Ready to Print, Ready for 1-100, and Ready for Math – each fully-coordinated with books, flashcards, posters, a print guide and magic drawing board. Developed with education consultant Judith Rowlands, M Ed., Teach My Preschooler is designed to give preschoolers a head start, develop fine motor skills, encourage parent/child interaction and increase school readiness skills. Launch date: September 2010.
Awards: 2010 Dr. Toy 100 Best; 2010 iParenting Media Award 9/7/2011 (MSRP: $49.99; Age: 3 to 6)



Bright Starts Tummy Cruiser Prop & Play Mat - Pretty in Pink by KIDS II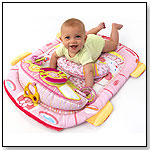 The American Academy of Pediatrics recommends supervised tummy time daily from birth. This car themed tummy mat provides an engaging play area designed to encourage healthy tummy time and keep baby entertained. Coordinates with other items in the Pretty in Pink collection and a portion of the proceeds from the sale this item supports breast cancer research and awareness. Mat design offers two ways to play: tummy or sitting. 8/22/2011 (MSRP: $24.99; Age: 0 to 2)



Fisher-Price Laugh & Learn Learning Home Playset by FISHER-PRICE INC.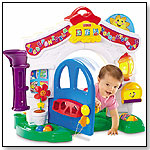 The Laugh & Learn Learning Home Playset from Fisher-Price is a place that's full of fun ways for baby to learn, from A-B-C's and 1-2-3's to fascinating everyday experiences, with musical inspiration, sing-along songs, and plenty of discoveries. Both sides are loaded with activities, music, speech, and sounds. The playset combines early academics and everyday experiences.Teaches: Letters, Numbers, Counting, Shapes, Opposites, Colors, Greetings & more.
— As of 08/08/2011 this product had 4.8 out of 5 stars from 710 reviews on ToysRUs.com. Pros: Actually interests children for the whole age range; easy to assemble; helps kids learn how to stand. Cons: Expensive. 8/8/2011 (MSRP: $89.99; Age: 0 to 3)



First ToddleŽ Baby Gym by First Toddle, Inc.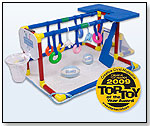 First Toddle® Baby Gym is a comprehensive play and development system that takes a baby from 3 months to 3+ years of age. One product is all parents need to help their children learn to stand and walk. It also helps children with special needs. "First Toddle® Baby Gym is one development system that grows with a child and replaces other infant and toddler toys. Not only is First Toddle® Baby Gym enjoyed by children of all walks of life, it has dramatic positive impact on children who need a bit more support to get started (e.g., children with special needs)," Mike Monaghan, CEO of First Toddle, Inc., told TDmonthly. Launch date: February 2010.
Awards: 2009 - Creative Child Magazine's "Toy of the Year" 2009 - Creative Child Magazine's "Product of the Year" 2009 - iParenting Media Award Winner 2009 - The Toy Man Seal of Approval 2009 - The Toy Man Best of 2009 Award 2010 - Creative Child Magazine's "Toy of the Year" 2010 - Creative Child Magazine's "Product of the Year" 2010 - Mom's Best Award 2010 - WTS Toy Review 5-Star Award 2010 - GreatDad.com 2010 - NAPPA Honors 2011 - AblePlay - Top 10 Newest Products and Top 2% of Products We've Ever Reviewed for Children with Special Needs 8/5/2011 (MSRP: $129.95; Age: 0 to 4)



Early Learning Melody Panda and On the Go Lion by THE LEARNING JOURNEY INTERNATIONAL

These portable hand-held talking animals are cute and colorful and as much fun as they look. Kids can learn all about musical instruments and transportation sounds as well as their favorite nursery rhyme melodies. The animal pals feature two play modes, light-up buttons, friendly voices and activities and an auto shut-off feature. Early Learning Animal Pals will soon become your child's favorite toy. Ages 18+ months. 8/3/2011 (Age: 1 to 3)



---
---


Copyright © 2021 TDmonthly®, a division of TOYDIRECTORY.com®, Inc.