August 8, 2020

November 2011 | Vol. X - No. 11


Eco-Friendly Toys
See these recently added specialty and mass-market eco-friendly toys.
18 Crayons by eeBoo corp.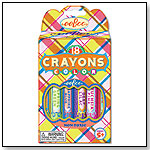 Kids can unleash their creativity with eeBoo's new line of BIG non-toxic crayons. Large size makes for an easy grip for even the smallest of hands. 18 vivid crayons, each with its own individually designed wrapper, provide a smooth, clean finish. Four beautifully designed plaid inspired box covers to choose from. Launch date: September 2011. 9/16/2011 (MSRP: $6.00; Age: 5 and Up)



Ecotronics Hand Crank Flashlight by INTERNATIONAL PLAYTHINGS LLC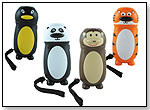 Squeeze-powered, kid-sized flashlights. Each animal's nose lights up when switched on. Side lever stores inside the body—release and squeeze to charge up the light.
— June Hargrove, co-owner of Black Forest Books & Toys in Charlotte, N.C., told TDmonthly in September 2011 that they sell 12 of this item each month. 9/12/2011 (MSRP: $10.99; Age: 6 and Up)



Green Toysô Pink Dump Truck by GREEN TOYS INC.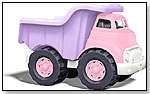 Stay pretty in pink while getting down and dirty helping to save the planet. Made in the USA from 100% recycled plastic milk containers, the Green Toys™ Pink Dump Truck is ready for any task, hauling sand and rocks or dolls and diamonds with ease. This durable, eco-friendly rig is both safe and stylish, with no metal axels and a workable purple dumper. No BPA, phthalates, PVC, or external coatings. "The Green Toys™ Pink Dump Truck is an innovative twist on a longstanding classic: USA-made, 100% recycled, high-quality design and construction -- and stylishly colored for even the most particular palate," Cameron Passmore, marketing manager at Green Toys Inc., told TDmonthly. Launch date: August 2011.
— In a March 2015 survey, two out of 10 retailers told TDmonthly that Green Toys is their best-selling brand of eco-friendly toys. 9/2/2011 (MSRP: $27.99; Age: 1 and Up)



miYim Organic Disney Plush - Winnie the Pooh by GREENPOINT BRANDS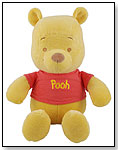 New from miYim, beautifully made organic Disney plush toys are the ultimate in safety and softness for baby. Winnie the Pooh, Tigger, Eeyore and Piglet are joined by Mickey Mouse and Minnie Mouse in this collection of earth-friendly infant playthings, with embroidered details and muted colors.
— In a May 2012 survey, Barbara McVeigh from the Turtle's Nest in Johnson City, Tenn., told TDmonthly that "anything infant & toddler" with Winnie the Pooh is their best selling licensed product. 8/30/2011 (MSRP: $25.99)



Sckoon Organic Plush Toy by SCKOON ORGANICS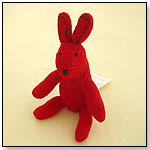 A hand knitted crochet doll made of 100% organic cotton inside and out, dyed with metal-free, low impact dyes certified by GOTS standards. Making it safe for babies. Size: 7.5 inches. Sckoon Organics plush toys are made of 100% organic cotton (even stuffing is 100% organic cotton) and dyed with low-impact, environmentally friendly dyes. They are machine washable, easy to clean and safe for babies to chew. 8/30/2011 (MSRP: $18.00; Age: 0 to 2)



Calacasa by Calafant by CREATIVE TOYSHOP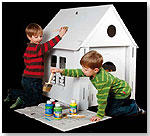 Kids can paint and decorate their dream house, and have their dolls, stuffed animals and friends move into their new cozy home! Just like all other CALAFANT models, this big playhouse can be easily assembled with the special CALAFANT slot-and-groove system – no need for any other tool or glue. The playhouse is particularly sturdy because of the special roof construction, the double-sided walls and the 4 corner pillars. Easy to carry with the recessed grip in the roof. Made from recycled cardboard. Size: abt. 36" x 31" x 38." Launch date: September 2011. 8/29/2011 (MSRP: $39.99; Age: 3 to 7)



Pure Nature Clutching Figures by HABA USA/HABERMAASS CORP.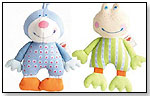 Soft and snuggly organic cotton clutching toys will be a hit with mom and baby. Choose from an adorable blue Bob Burrow (bird), green Freddie Frog, or Lisa Long Ears. Each clutching toy is filled with Oeko-Tex Standard 100 polyester filling, which means they're machine washable and hygienic. (Natural fillings don't dry as well and are more prone to mold.) Approx. 5 ½" Launch date: 2011. 8/23/2011 (MSRP: $24.99; Age: 0 and Up)



ZoŽ b Biodegradable Beach Toys by ZOE B ORGANIC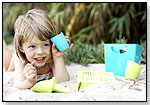 Zoë b Biodegradable Beach Toys include a bucket with built-in handles that won't break off (usually the first thing to go, in our experience). A sifting lid with geometric cut-outs for learning shapes. Two cups for sand and water play. And one tough, virtually indestructible shovel. It's all scaled for toddler-size hands and fits easily inside the bucket for carrying to the beach. In the off-season, the toys are great for the bathtub—plus the bucket doubles as a container for crayons and toys. BPA, phthalates and PVC free. Launch date: June 2011.
Awards: PTPA award 8/10/2011 (MSRP: $19.99; Age: 1 to 10)



Wool Felt Bug Kit by ARTTERRO



Fun and easy to sew, colorful wool felt is perfect for making your own fuzzy caterpillars, dragonflies, ladybugs and more! With easy to follow tips and lots of examples for inspiration, use craft thread, beautiful ribbon and beads to make wings, eyes and antennae. Make up to 7 creepy-crawly bugs! Two bonus projects in every kit! Turn the box into a mailbox, birdhouse or special treasure box. The inner tray is perfect for framing your art. Ages 8 and up
Awards: 2015 TDmonthly Magazine Top Toy Award; 2010 NAMTA (National Art Materials Trade Association) Best New Kids' Product 7/26/2011 (MSRP: $22.00; Age: 8 and Up)



---
---


Copyright © 2020 TDmonthly®, a division of TOYDIRECTORY.com®, Inc.