November 28, 2021

December 2011 | Vol. X - No. 12

---
Top-7 Most-Wanted Hobby Items
RC Toys Take Control of the Hobby Aisle
With additional reporting from Chris Lundy and Brenda Ruggiero

When TDmonthly interviewed specialty retailers about their top selling hobby goods, remote controlled vehicles outstripped the competition by miles. The Morphibians line from KID GALAXY INC. garnered several mentions, with retailers reporting average sales of 8-15 units each month. However, five of the 12 retailers surveyed said that they don't sell hobby goods at all.

Below, see all of the Hobby items that did make the cut, from RC toys to science kits from THAMES & KOSMOS.

No manufacturer paid to be included in this article. All products listed were designated by editorial staff without regard to the company's relationship with TOYDIRECTORY.com/TDmonthly Magazine.
Morphibians Shark by KID GALAXY INC.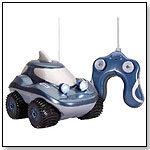 This four-wheel drive, remote-controlled vehicle can be navigated over land and on water. It has working headlights and requires two AA batteries. The controller takes an additional two AAA batteries (not included).
— Grafton Stine from Toys on the Square in Hummelstown, Pa., told TDmonthly in a Summer 2011 survey that R/C vehicles from Kid Galaxy were their best-selling electronic toy.
— In a November 2011 survey, Elmer Carranza, assistant manager of Doodlehopper 4 Kids in Falls Church, Va., told TDmonthly that "The Morphibians are great. They can run through dirt, grass, puddle of water and look like sharks and frogs. We sell about 6-8 in a month."
— As of August 2010, this product had 3.5 out of 5 stars from 40 reviews on Amazon.com. Parents liked that it is versatile and easy to use, but some complained that it required two types of batteries. (

Watch Video) 7/29/2010 (MSRP: $29.99)



Spectacular Science by THAMES & KOSMOS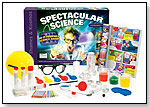 Kids will amaze their audience by rehearsing and performing 25 awesome chemistry experiments in their own science show. Whether they're moving particles with their magic wand, creating self-destructing bottles, sparking fireworks from an orange, or watching mystical black snakes grow from a pile of power, this kit is sure to educate and entertain friends and family of all ages. Includes lab equipment, materials, chemicals, cue cards with stage directions, and a 64-page, full-color, comic-book style manual. The kit "Provides young scientists with the tools and instruction to create their own science show instead of watching one," Kim Hammann, sales & marketing manager at Thames & Kosmos, told TDmonthly. Launch date: July 2011.
— In a November 2011 survey about hobby toys, Mary Porter-Green, owner of The Curiosity Zone in Ashburn, Va., told TDmonthly, "We sell lots of science kits — the best selling ones are chemistry sets from Thames & Kosmos." 5/27/2011 (MSRP: $89.95; Age: 12 and Up)



Interactive R/C™ Demolition Derby Cars by KID GALAXY INC.



Doors and hoods dislodge and trunks open when these remote-controlled vehicles are smashed and crashed together. The unhinged parts can simply be pressed back into place. The cars require 2 AAA batteries and the remotes take 3 AAA batteries (not included).
— "We sell dozens and dozens of Kid Galaxy's R/Cs," Owner Joe Berardoni Sr. of Pun's Toys in Bryn Mawr, Pa., told TDmonthly in fall 2009.
— Patti Tepper-Rasmussen, owner of Learning Tree Toys, Books & Games in Oklahoma City, told TDmonthly in fall 2009 that her store sells about four Demolition Derby items per month.
— Two of 40 specialty retailers pinpointed Demolition Derby as a hot-selling R/C item. 11/9/2009 (MSRP: $45.00; Age: 6 and Up)



Police Chase by CARRERA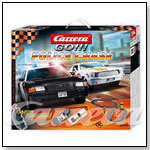 This new product gives boys and girls the chance to race the Ford Crown Victoria "Police Interceptor" with flashing red and blue lights and a Ford Mustang '67 "Custom" through roads that are straight and curved. The set comes with 2 cars, straight and curved track, 4 way junction, transformer, mechanical lap counter, 2 hand controllers, guardrails, and replacement guide keels and brushes. The race set includes a track length of 11.81 feet with a footprint of 4.66 x 2.30 feet.
Awards: Dr. Toy 100 Best Children's Products - 2010
— In a November 2011 survey, Joe Berardoni, owner of Pun's Toys in Bryn Mawr, Pa., told TDmonthly that they don't sell many hobby items. However, they do sell Kid Galaxy products year round, while "Carrera radio controlled cars and trucks" sell well during the Holidays. 10/11/2010 (MSRP: $69.99; Age: 8 to 12)



Morphibians Gator Rover Remote Control Car by KID GALAXY INC.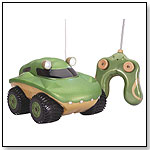 With textured "skin" and glowing eyes kids won't want to turn their back on this guy. Powerful four wheel drive moves him over the water, then even faster on land. These high-performance radio control amphibious creatures can go anywhere- dirt, pond or pool. Features sturdy 4x4 turf digging tires for land and wake forming paddle wheel treads for ripping through the water. Powerful full-function controller makes explorations on any surface just a touch away. Requires 2 "AAA" and 3 "AA" batteries, not included. As with all water related activities, use with close adult supervision.
— In a November 2011 survey, Mike DiAndrea from Hardware Toys in Paoli, Pa., told TDmonthly that they sell about a dozen units of the Morphibians Gator each month. 11/7/2011 (MSRP: $29.99; Age: 5 to 12)



My Web RC - Wiki Rally Street - Souped-up Jitney 1:24 - Ready to Run by MY FUNKY PLANET CORP.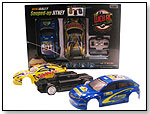 The My Web RC - 1:24 - Wiki Rally Street - Souped-up Jitney - Ready-to-run includes online My Web RC game card for user access. With exchangeable body, full function.
— In a November 2011 survey, Stephanie Dupuy from Playville in Covington, La., told TDmonthly that they sell six units from the Wiki Rally line each month.
— Greg Bonner, owner of Heights Toy Center Inc. in Little Rock, Ark. told TDmonthly in a Summer 2012 survey that he sells just over a dozen My Funky Planet racing cars each month, making them his best selling electronic/battery operated toy. 11/7/2011 (MSRP: $19.99)



Cobra Elite Mini RC Helicopter with Gyro by COBRA RC TOYS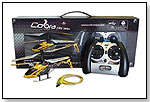 This mini Alloy 3.5 channel helicopter is a premium precision RC aircraft that can be charged via battery or by USB connection. The L99267 also includes a Gyroscopic control chip that maximizes stability during flight.
— Kim Emigh, manager of e-commerce at Growing Tree Toys in State College, Pa., told TDmonthly that "We do not sell many, if any, hobby items;" however, "We did bring in the Cobra RC Helicopter this year."
— Though Kim Emigh, VP of e-commerce at Growing Tree Toys in State College, Pa., told TDmonthly in a Fall 2012 survey that they don't carry many hobby items, she said they have the Cobra Elite Helicopter and it sells well. 6/28/2010 (MSRP: $49.99; Age: 10 and Up)



---
---


Copyright © 2021 TDmonthly®, a division of TOYDIRECTORY.com®, Inc.