January 18, 2022

December 2011 | Vol. X - No. 12

---
Preschool Toys
See these recently added mass-market and specialty toys for Preschoolers!
Water Magic by BEAVER BOOKS PUBLISHING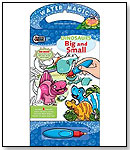 Parents can have fun with their child as they practice early learning skills with Water Magic™, an exciting new educational format by Beaver Books Publishing. This series of educational discovery books includes four colorful discovery scenes that are magically revealed with the Water Magic™ brush. The engaging activities presented above each scene reinforce the basics of each subject while keeping children entertained. Titles include Alphabet Zoo, Candy Counting, Bug Play: Matching, Circus Colors and more. Launch date: 2011. 11/8/2011 (MSRP: $3.99; Age: 3 to 7)



Tales to Play line by PATCH PRODUCTS INC.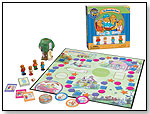 Kids can bring classic tales such as Mother Goose, The Little Engine That Could, The Berenstain Bears and Where the Wild Things Are to life with colorful game boards, including three-dimensional accessories and pawns. Each game is an adventure, much like the ones children read about in books. "No other game brings to life cherished childhood stories in the form of a board game that children will love to play over and over," Mary Dolan, public relations coordinator at Patch Products, told TDmonthly. Launch date: 2011.
Awards: 2011 Dr. Toy Best Picks Children's Products; 2011 Creative Child Game of the Year, in the Kids Games, Learning to Share category; 2011 Parents' Choice Foundation Parent's Choice Recommended Product Award. 11/4/2011 (MSRP: $23.99; Age: 3 to 10)



Smart Mat™ – Happyville by PLASMART INC.



Smart Mat multi-purpose play mats are ideal indoors or out; for playrooms, story time, snack time, the beach, backyard, even classrooms. Children will engage in hours of imaginative play using their own vehicles, such as PlaSmart's Wonky Wheels, as well as play figures. With a giant play surface (minimum 78" x 46"), Smart Mats are easy to clean, travel, and store. Made from high quality, coated, EVA foam. 10/24/2011 (MSRP: $29.99; Age: 0 and Up)



Baby Einstein First Book of Puppies by BABY EINSTEIN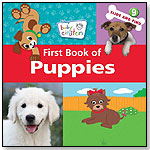 What do puppies love? Puppies love to run and play, puppies love to eat and sleep, and puppies love you. This over-sized board book with a unique sliding-panel format is designed to introduce youngsters to the delights of puppies. With colorful illustrations and adorable photographs of puppies under sliding panels, youngsters will love discovering what puppies are all about. Launch date: June 7, 2011. 9/26/2011 (MSRP: $7.99; Age: 3 to 5)



Numbers 24 Piece Children's Puzzleball® by RAVENSBURGER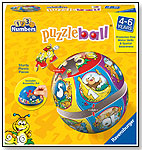 This puzzleball from Ravensburger is designed especially for pre-school kids. Extra large plastic pieces support 3D comprehension and fine motor skills. The 24 piece puzzleball comes with an assembly aide for the little puzzle beginners. 24 curved plastic pieces fit together to form a perfectly smooth surface. No glue required. The finished puzzleball is a "picture-perfect" decoration for every kids room. Colorful and age-appropriate puzzle fun for children from 4 to 6 years. Each puzzle piece is numbered on the back so kids can puzzle by the image or by number – their pick.
— In a July 2013 survey, five out of 12 retailers told TDmonthly that Ravensburger was their best-selling puzzle brand. 9/26/2011 (MSRP: $19.99; Age: 4 to 6)



Little Helpers Broom Set by SCHYLLING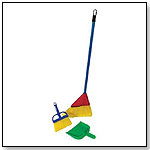 This Little Helper Broom Set has three pieces, sized for kids. Includes a Broom, a Hand Broom and a Dust Pan.
— As of 09/09/2011 this product had 4.2 out of 5 stars from 91 reviews on Amazon.com.
— Ginger Milligan, co-owner of Fantasy Island Toys in Fairhope, Al., told TDmonthly in September 2011 that they sell 2-3 dozen of the Schylling Little Helpers Broom Set each month. "We sell those every single day. It's one of those things we're never out of," she said. 9/12/2011 (MSRP: $8.99; Age: 3 to 5)



Teach My Preschooler by TEACH MY TODDLER INC.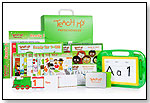 With Teach My Preschooler, little ones can get Ready To Read, Print, Count to 100, Add & Subtract, all in one kit. Teach My Preschooler is the multi award winning, all-in-one learning system for preschoolers. The kit has all the educational tools necessary to help prepare preschoolers for kindergarten. The kit is divided into four sections – Ready to Read, Ready to Print, Ready for 1-100, and Ready for Math – each fully-coordinated with books, flashcards, posters, a print guide and magic drawing board. Developed with education consultant Judith Rowlands, M Ed., Teach My Preschooler is designed to give preschoolers a head start, develop fine motor skills, encourage parent/child interaction and increase school readiness skills. Launch date: September 2010.
Awards: 2010 Dr. Toy 100 Best; 2010 iParenting Media Award 9/7/2011 (MSRP: $49.99; Age: 3 to 6)



SmartMax Magnetic Building Set 36 Pieces by SMART TOYS AND GAMES INC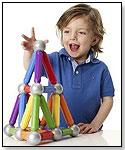 SmartMax allows children to explore magnetism safely. The oversized pieces are specifically designed for handling by young kids as they learn about the effects of magnetic attraction and repulsion. Older children will have fun using the pieces to construct towers and bridges. The magnets are strong enough to carry up to 60 times their weight. Basic 36 includes long bars, short bars, large 1.8" diameter metal balls and a guide to build models. 25-piece and 42-piece sets are also available. (

Watch Video) 9/1/2011 (MSRP: $64.99; Age: 1 to 10)



Cloud B Soothing Puppets by CLOUD B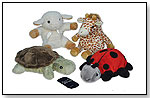 Cloud B's Soothing Puppets have two functions in one product. They're fun, cute hand puppets, but hidden inside is a removable gel pack. Heating the gel pack gives kids a warming cuddle on chilly nights; cooling the gel pack helps keep kids cool on a hot summer night. Also good for boo-boos. Comes in four different plush characters: Sleep Sheep, Twilight Turtle, Twilight Ladybug and Gentle Giraffe. 8/30/2011 (MSRP: $21.95; Age: 3 and Up)



Wooden Hamburger Educational Stack Toy by CHARLIE'S WOODSHOP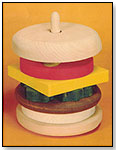 The Wooden Hamburger is a non-sequential educational stack toy that delights kids of all ages, from 1 yr to 101+. Hand/eye color coordination, finger dexterity, and non-sequential stacking capability, can all be measured with our stacking wooden Hamburger. There's no right or wrong way to stack it. Made of rugged Western Ponderosa White Pine. The colors are non-toxic stain-like impregnated finishes. Launch date: September 1980. 8/29/2011 (MSRP: $39.95; Age: 3 and Up)



Ready2Learn™ Paint & Clay Finger Printers by CENTER ENTERPRISES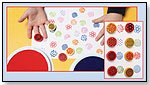 This set of 8 finger printers stimulates a child's imagination. Children can use finger printers with paint or clay to create designs and activities in countless ways. The diameter of each hard, rubber stamp is 1 1/8" and slips easily onto one or two fingers, depending on the youngster's hand size. Easy clean-up with soap and water. The patterns are concentric circles, branches, waves, overlapping ovals, dots, parallel lines, stars, and diamond shapes. Launch date: February 2011. 8/25/2011 (MSRP: $7.99; Age: 3 and Up)



Grill Set Sizzle Expert by HABA USA/HABERMAASS CORP.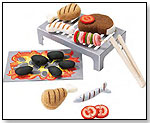 All the fun of the grill with no fire hazard. Kids can become a barbeque expert just like their parents, no matter how cold it is outside. Meats even come with realistic grill marks. Dinner options are a juicy steak, crunchy chicken drumstick, sizzling sausages, fresh fish, and shish kebob. Set comes with grill tongs, slices of tomato garnish, "fire" insert, stand-up grill with grates and 5 charcoal briquettes. Launch date: September 2011. 8/23/2011 (MSRP: $32.00; Age: 3 to 8)



---
---


Copyright © 2022 TDmonthly®, a division of TOYDIRECTORY.com®, Inc.