September 16, 2021

November 2011 | Vol. X - No. 11

---
Has LeapFrog really come back?
Will LeapFrog continue to hop past VTech?
Leapfrog was founded in 1995 and went public in 2002. From its first days of operations, the company knew nothing but steep market share increases until September 2004 when they hit their zenith of over $800 million in annualized sales. That , ironically, was also the month in which Mike Wood, the founder of LeapFrog, was forced out. From that point onwards, the company knew nothing but ever decreasing sales until third quarter 2009 when they hit rock bottom at annualized sales of $329 million. Since then, Leapfrog has laboriously and agonizingly crawled its way up the slope again to the low $400 million level where they have been stuck until today.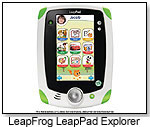 There have been many reasons given for LeapFrog's fall from its one-time dominant perch. Some of my friends at the large retailers think that a combination of several factors brought this about – erratic management, lack of product innovation, internal strife, overdependence on one market, the United States.

The toy world is littered with dead companies who had a brilliant idea and then, over time, lost their way, then their consumers, and finally their life. Is this going to be Leapfrog's fate, too?

I think not, at least not for the near future. For two reasons. One is John Barbour who is arguably one of the most experienced and accomplished toy retail executives around. CEO at LeapFrog since March this year, he held top positions at ToysRUs – U.S., international and Japan. Equally importantly, he is respected by his then competitors and now customers, the major toy retailers, as a competent, reliable and fair toy executive. In other words, the Wal-Marts, Targets and ToysRUs-es of this world know that they are talking to somebody who has been there and knows what they need.

The other is the LeapPad Explorer, released middle of this year, and a very major success story already.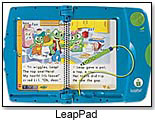 While the LeapPad Explorer is clearly a successor to the original LeapPad, it is so much more than that. It has a touch screen which respond to little fingers. It has a built-in camera and video recorder, it is as fast as lightning, and has about 100 games and apps. A friend of mine told me that he now has his IPad back – finally!

The price of $99.00 does not seem to be a major impediment at least up to now. Wal-Mart's CEO singled out the product as the #1 success story in their lay-away program. At ToysRUs, the LeapPad Explorer is #1 in the best selling lineup for the ELP category and it is the same at Wal-Mart, Target and Amazon.

At this rate, LeapFrog's expectation that they will sell 100,000 pcs of the gizmo appear wildly conservative. Talking to retailers both here in the U.S. and internationally, I get the sense that the number should be closer to 1.5 million units between the launch date in August and end of the year. In fact, there are already numerous reports of stock outages both here and in the UK. If they make this number, this will represent about $100 million in shipments during the period.
It is still a little early to talk about attach rates for the LeapPad Explorer but I get the sense that the average buyer of the tablet walks out with three to four additional games. At an average of $20 per game at retail, you look at another $70 per sale. Projecting this over 1.5 million transactions represents another $75 million in terms of LeapFrog shipments.

More importantly, history tells us that the sales of Electronic Learning Products in the first six months is made by the early adopters and that in the following two years you have at least the same number, but more likely a multiple of it, from the side of the mainstream consumers.

It would hence appear that Leapfrog has finally turned around and that there is nothing but sunshine and roses on its path forward.

Not likely.

The first major obstacle is the growth, or absence thereof, of the consumer group – the 5 to 9 year olds. In the U.S., this group has in fact declined in 2010 and 2011. In Europe, LeapFrog's second largest market, the demographics look even worse. And it is an easy equation – declining child population, declining sales. Obviously, LeapFrog can counter this by penetrating the population further. If the LeapPad Explorer now reaches 5% of the prime target population in the U.S., they can most certainly increase this to 10% or 15% in 2012 and 2013. In Europe, their presence is marginal and there would hence be plenty of scope for growth regardless of the declining population.

But then, there is the second problem – Vtech.



Leapfrog's main competitor, VSmile, is also growing. Historically the #2 brand in the U.S. Electronics Learning market place, the company is now slowly inching up to parity with the leader, LeapFrog. The two have really no other competition. Yes, there is IXL of Fisher Price as the only other product with some following but it has less than 10% market share and is hence no factor in this equation.

VTech, VSmile's parent, is a Hong Kong-based company. They first entered the Electronic Learning Category as far back as 1981 and then came to the United States in 1982 but their main focus for many years was telephone technology which is still today a very important part of their business. Still, they claim to have attained the leadership position in electronic learning products in the U.S. and Europe by 1998. That did not last too long, at least not in the U.S. – first the company got caught up in the maelstrom caused by rapidly changing telephone technology and then was overtaken in terms of products and innovation in the electronic learning area by LeapFrog.

They managed to hang on to their commanding lead in Europe but lost the #1 position in the United States to LeapFrog by the year 2000 – a situation that still obtains today. They nearly disappeared from the U.S. market by 2003 but then they launched VSmile in 2004 and this signaled the beginning of a slow and painful climb back to near parity with LeapFrog in the U.S. this year. In this they were greatly helped by two crucial innovations a year ago – the Mobigo and the Inno Tab. Both are multi-discipline learning tablets at good price points –the former at $49.99 and the latter at $59.99. Thanks to these two introductions, VSmile' s market share and shelf space at the major U.S. retailers is today only very marginally behind LeapFrog's.

So, what are the long term prospects? I think that LeapFrog has two strikes against it. One is that as a company, VTech is nearly four times larger than LeapFrog and has as a result a great deal more resources. The second is that VTech, because of its strong position in the telephone technology area, has a much deeper product development infrastructure which is bound to result in more and better new products over time.

I think that John Barbour has recognized this and he hence, earlier this year, said that he was not averse to a prospect where LeapFrog would be acquired by another company "after it gets its business back in shape". For this to happen, the company will have to fully utilize the 2 year window of opportunity given it by the LeapPad Explorer.
LeapFrog LeapPad Explorer by LEAPFROG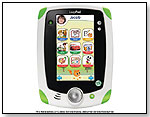 Though sleek and thin, the LeapPad can withstand kids' roughhousing and dirty fingers. Designed to be flipped, shaken, and turned by little hands, the LeapPad comes with a tilt sensor for game control that puts kids in the middle of the action. A 5-inch color touch screen makes it easy for kids of all ages to learn and interact. There are more than 100 learning games, videos, books, and apps available, and topics covered include spelling, phonics skills, mathematics, science, music, geography, and more.
— As of 8/29/2011 this product had 4 out of 5 stars from 96 reviews on Amazon.com. Pros: Larger screen than other LeapFrog products; works with Leapster explorer games and apps; comes with extra stylus in case one gets lost. Cons: Screen and camera resolution are low; takes 4 batteries; processing is slow; most apps need to be purchased separately. 6/30/2011 (MSRP: $99.99; Age: 4 to 9)



LeapPad by LEAPFROG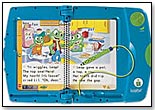 Early learning, taught in a fun way with interactive stories and activities, comes to life with the touch of a magic pen.
-- "We can´t be in the car for more than a half hour without...Leap Pad and additional games...by Leap Frog," states Elise Brandt, member of the Mommies Group on the katoygroup Web site, echoing the feelings of several of the group's members
-- More than 60 available programs keep this toy engaging and new so children aren't bored and are happy to continue learning.
-- According to a Leap Frog representative, more than 17 million LeapPads have been sold since the product was introduced in 1999. 4/28/2005 (MSRP: $34.99; Age: 3 and Up)



V.Smile TV Learning System by VTECH



Parents can turn "Game Time into Brain Time" with the V.Smile TV Learning System, which combines a video game platform and educational content in a system that connects directly to the television. The system features 32 "smartridges," with an additional ten in Spanish. This product is a 2007 National Parenting Center Seal of Approval Award and Creative Child Magazine Toy of the Year Award winner.
— Russell Selick, manager of Bob's Toys in Seattle, was surprised at how good a showing the V.Smiles were having. "They sell, but now, come Christmas, it seems everyone wants one."
— "It's a 'grandparent' gift, a 'parent' gift, and when the kids get it, a 'kids' gift, too. Everyone likes them," responded Betty Pagginette, owner of St. Louis' Playful toy store.
— "Can't keep them on the shelf," a frenzied Douglas Robertson, co-owner of Robertson's Toys in Ogden, Utah, said. 2/10/2005 (MSRP: $49.99; Age: 3 to 7)



---
---


Copyright © 2021 TDmonthly®, a division of TOYDIRECTORY.com®, Inc.