May 7, 2021

January 2012 | Vol. XI - No. 1

---
Arts & Crafts
See these recently added specialty and mass market Arts & Crafts toys.
Pom Pom by eeBoo corp.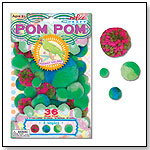 eeBoo's Pom Poms are lovely to look at, incredibly soft, and as light as air. They come in packets of 36 fluffy bunches - 4 extra large, 4 large, 12 medium, and 12 small. Back label includes project ideas. "The perfect add-on or beginning to any arts and crafts project," Regina Gelin, sales & marketing manager at eeBoo, told TDmonthly. Launch date: February 2012. 12/12/2011 (MSRP: $5.00; Age: 5 and Up)



Wallscapes Butterflies by SMARTLAB TOYS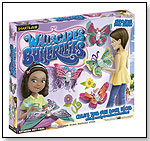 Explore flights of fancy with five fantastical butterflies you build yourself. With this kit, kids get a close-up look at the fragile, fluttering creatures living in butterfly gardens. A one-of-a-kind tool allows kids to create oversized butterflies for their bedroom walls. "Wallscapes Butterflies includes a unique device that allows for 3D butterflies to be created easily by anyone. This interior decoration kit provides a social occasion to craft pretty, cheerful and fun projects that can be hung on a bedroom wall, placed inside a locker at school, or gifted to a friend," Nancy Storment, marketing & PR rep at SmartLab Toys, told TDmonthly. Launch date: April 2012. 12/12/2011 (MSRP: $19.99; Age: 7 and Up)



Colorgami by WOWOPOLIS LLC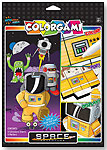 Coloring meets crafting in the innovative, patent-pending COLORGAMI. It debuts with several thematic sets, including "Space Adventure," "The Red Carpet Collection" and the "Puppet Maker Activity Kit." Each COLORGAMI kit includes markers, giant COLORGAMI design sheets with characters, accessories, themed environments and more. When the coloring is finished, the illustrations can be popped out, folded and constructed into a three-dimensional scene. Launch date: February 2012. (

Watch Video) 11/29/2011 (MSRP: $9.99; Age: 4 and Up)



Recycled Paper Factory by SMALL WORLD TOYS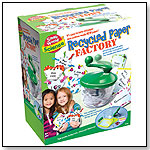 It's easy to turn old paper into custom-made new paper. Take any type of paper, add water, and grind away. Place pulp on the screen, press and let it dry. Easy, simple way to recycle paper while creating greeting cards, bookmarks, tags, announcement and more. Grinder, screen plus ribbons and jewels for decorating.
— In a November 2013 survey, Linda Graham, president and co-owner of Scheffel's Toys, Inc in Jacksonville, Ore., told TDmonthly that Small World science kits are among her store's best-selling educational products. 11/18/2011 (MSRP: $29.99; Age: 6 and Up)



Crayola Model Magic Jewelry Studio by CRAYOLA LLC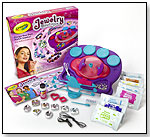 Crayola Model Magic Jewelry Studio lets kids fashion fun and fabulous handmade trinkets, bracelets, necklaces and much more. The bead spinner mashes small amounts of Model Magic into marbled beads and baubles. Kids can make handmade gifts for friends and family, host a jewelry—making party or create their own line of colorful accessories. Includes: Crayola Model Magic Jewelry Boutique workstation, 8 packs Model Magic, 5 bracelet charms, 18 sticky gems, 3 pendant charms, 5 toggle sets, 2 48—inch necklace cords, 2 shape cutters, 4 earring posts and ear wires, 1 36—inch elastic cord, Peacock dryer rack, bead bunch, bead glaze, and instructions.
— As of 11/16/2011 this product had 4.5 out of 5 stars from 16 reviews on Amazon.com. Pros: Comes with lots of modeling dough; easy; nice gift idea. Cons: the dough can stain; only 4 storage compartments for 8 colors of dough. 11/16/2011 (MSRP: $31.99; Age: 6 to 15)



Palette Pages by BEAVER BOOKS PUBLISHING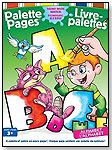 Introduce young children to water-color painting with Palette Pages Painting Books. Each painting page comes complete with its own palette of watercolors, ready to use. Just dip the brush in water and apply. Books feature 12 pages of black and white line art for painting and early-learning themes. Each book includes a sturdy fold-under painting page protector sheet, as well as a few handy painting tips for young artists. Launch date: February 2012. 11/14/2011 (MSRP: $3.99; Age: 3 to 7)



Crayon Bungee by NiNi Baby Products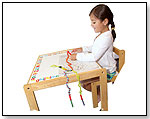 Crayon Bungee is a colorful, functional, portable, durable, non-toxic tether strap that is designed to keep crayons from rolling or dropping to the floor. Crayon Bungee brings a new fun factor to coloring, while keeping the crayons nearby. Just twist in the included crayons, and anchor the strap. (

Watch Video) 10/6/2011



Edible Veggie Crayons by WEE CAN TOO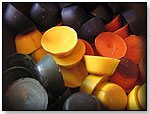 Crayons made from edible ingredients are hand to mouth safe. Crayon nuggets tuck into baby's palm, or can be used for stacking and building. Don't worry about petroleum or other toxic additives in our crayons; they are made with organic fruit and vegetable powders. VEGAN, no wheat, no sugar, no preservatives. Please supervise children at all times. Not intended as food. Comes in 5 organic colors: Green, Yellow, Orange, Red/Pink & Purple. Launch date: February 2011.
Awards: 2011 Dr. Toy Green Product Award 10/5/2011 (MSRP: $12.00; Age: 1 and Up)



Umagine Bizu Bead Style Studio by SPIN MASTER TOYS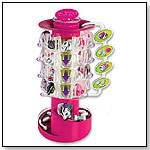 Experience a whole new twist on accessory design with the Umagine Bizu Bead Style Studio. This must—have style center lets kids store, select and dispense their Bizu collection, making them the designer. With over 15,000 combinations, the Style Studio rotating tower allows kids to inventory their Bizu collection and create new fashionable accessories. Follow the trend by making Glam, Rock, Wild, or Funky styles, then become the trendsetter by mixing and matching to create an entirely new look. Create 4 stylish bracelets, link 3 together to make a necklace, or set the style with cool backpack and cell phone accessories. Includes Style Studio rotating tower, 40 beads (including 4 character heads), 4 elastic bands with toggle clasps, 1 beading tool, 2 clips, 4 character template cards and 1 instruction guide. 11/7/2011 (MSRP: $19.99; Age: 6 to 8)



---
---


Copyright © 2021 TDmonthly®, a division of TOYDIRECTORY.com®, Inc.