August 13, 2020

January 2012 | Vol. XI - No. 1


Games
Check out these recently added mass-market and specialty games
Tell Tale Fairy Tales by BLUE ORANGE GAMES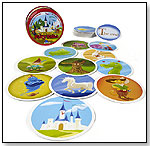 Drawing inspirations from cards illustrated with whimsical characters and situations, players weave fanciful stories ranging from the romantic to the preposterous. Whether making up their own fairy tale or creating a story together, Tell Tale Fairy Tales revs up kids' imaginations. 12/16/2011 (MSRP: $12.99; Age: 5 to Adult)



Feed the Woozle Cooperative Preschool Skills-Builder Game by PEACEABLE KINGDOM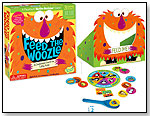 Feed the Woozle is a cooperative game that focuses on developmental skills of children ages 3-6 in an active, fun game. The object of the game is for all players together to "feed" the Woozle 12 silly snacks. Players roll a die and then place the indicated number of snacks on a spoon. Then they spin a spinner that directs them to walk to the Woozle performing a gross motor movement like Bunny Hop or Walk Backwards. It's not so easy to keep those snacks from sliding off the spoon while hopping across the room. If everyone together can feed the Woozle 12 snacks, then everyone wins. "This game is cooperative - either the game wins or the players win. It encourages group participation and habits of cooperation. The game is leveled - meaning it focuses on specific preschool developmental skills in a fun way that is age-appropriate and grows with the child," Donna Jaffe, president of Peaceable Kingdom Press, told TDmonthly. Launch date: January 2012. 12/15/2011 (MSRP: $19.99; Age: 3 to 6)



Gary Gouda by HABA USA/HABERMAASS CORP.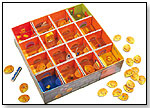 Gary Gouda is cheese hunting again and no piece is safe. But with every piece of cheese the risk of becoming stuck in the mouse holes increases. Only the one who can remember the sizes of the different holes and doesn't get caught by quick pet cat Kiki will reach the target. Who can help Gary memorize the best way and collect the most pieces of cheese? A light-fingered memory game for 2-4 players. 11/17/2011 (Age: 4 and Up)



Godzilla Kaiju World Wars Board Game by TOY VAULT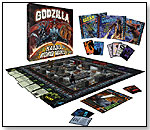 The Xiliens have pitted Godzilla, Rodan, Gigan and King Ghidorah against each other in a catastrophic battle and only one monster will emerge victorious. In Godzilla: Kaiju World Wars, players pick a monster and a scenario, stomping over terrain and destroying buildings on their warpath - all while fending off aggressive military attacks, bombs, traps and, of course, other KAIJU. Special abilities are used to eliminate the competition or to tuck their tail between their legs and run away before they are taken out. The game is jam-packed with pieces sure to please any gamer. Along with the four fully painted 2 3/8 inch plastic Kaiju figurines, the game also includes 90 stackable plastic tiles for building skyscrapers, four individual monster playmats, 86 terrain and power tokens, and much more. Launch date: May 2011. 11/16/2011 (MSRP: $69.99; Age: 14 and Up)



Monopoly: Electronic Banking by HASBRO INC.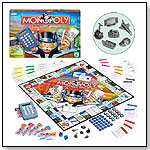 With Monopoly Electronic Banking, players wheel and deal their way to a fortune even faster using debit cards instead of cash. All it takes is a card swipe for money to change hands. Now players can collect rent, buy properties and pay fines - with the touch of a button. It's a new way to play the family classic that's been brought up-to-date with modernized tokens (including a Segway personal transporter, an Altoids tin, space shuttle, flat-screen TV, baseball cap and a dog in handbag), higher property values and locations based on their favorite landmarks.
— As of 11/14/2011 this product had 4.8 out of 5 stars from 58 reviews on Amazon.com. Pros: Updates make the game more realistic and relevant to younger players. Cons: Not as educational as players no longer have to count money. 11/14/2011 (MSRP: $26.99; Age: 8 to 12)



LEGO Champion 3861 by LEGO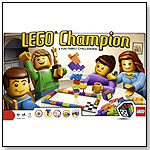 In this game, only one player will ultimately become the LEGO Champion and win the trophy. Find out who will win the many challenges, claim the trophy. A multi-challenge family game for 3–8 players. Contents: 1 buildable LEGO dice, 9 LEGO microfigures, 206 LEGO pieces, rules booklet, building instructions. 11/14/2011 (MSRP: $34.99; Age: 7 to 16)



Swivel by PATCH PRODUCTS INC.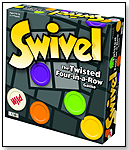 This is a "Twist on the Classic Four-in-a-Row Game." It's full of secret colors, sneaky moves and wacky wild tokens that make players Swivel. Just when one player is about to get four in a row, another player may have to twist a level of the 3-D board and change everything. Launch date: 2011. 11/4/2011 (MSRP: $19.99; Age: 8 and Up)



Candy Land Tin by WINNING SOLUTIONS

This nostalgic edition of the classic CANDYLAND ® game is a "sweet" way for young children to have fun and learn at the same time. The adventure takes you on a wonderful journey, travelling past the Crooked Old Peanut Brittle House, and Lollypop Woods until you eventually reach Home Sweet Home…
As this magical experience unfolds, your child is learning colors without reading or counting.
This collectible tin edition features the charming graphics of the 1955 edition as well as the iconic gingerbread men. It is a timeless edition to be enjoyed by children of all ages with a sweet tooth for fun! 10/24/2011



Nippon Rails 2nd Edition by MAYFAIR GAMES INC.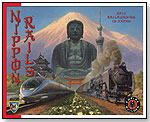 In this game, players build a railroad empire in the land of the rising sun. Players use their initial investment to build track. Then pick up commodities where they are grown, mined, or manufactured and deliver them to a lucrative place of demand. Players complete a delivery and make the money they need to buy larger, faster trains, and expand their railroad empire. Win the game by building the most effective railroad empire. Obstacles are rival tracks and Japan's great mountains, channels, and rivers and restrictive coastline.
Nippon Rails is geographically accurate. The game depicts Japan's rivers, plains, and mountains, as well as its natural resources. It's a great way to learn about the geography, business, shipping, and transportation of Europe while having fun with friends or family. For 2-6 players. Playing Time: 120-240 minutes. Launch date: October 20, 2011.
— As of 10/20/2011 this product had 6.7 out of 10 stars from 358 ratings on BoardGameGeek.com. 10/20/2011 (MSRP: $42.00; Age: 10 and Up)



Spuzzle by GameBrotherZ inc.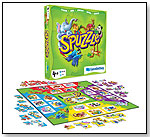 Spuzzle is a fun-filled race to see who can finish their puzzles first. Designed for children, this game will challenges kids to finish their five puzzles first. Includes 5 sets of 20 puzzle pieces (blue, yellow, purple and red), 1 game board, 28 Spuzzle cards, and Instructions.
Awards: PTPA Seal of Approval, Creative Child Magazine Preferred Choice Award, National Parenting Center Seal of Approval. 9/26/2011 (Age: 5 and Up)



---
---


Copyright © 2020 TDmonthly®, a division of TOYDIRECTORY.com®, Inc.