May 9, 2021

February 2012 | Vol. XI - No. 2

---
Pretend Play
Check out these recently added mass market and specialty pretend play toys!
Good Luck Minis® Flamingos by SAFARI LTD.®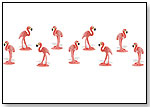 Our carefully sculpted Good Luck Minis® share all the rich detail and realism of the regular sized collections. The whimsical, soft to the touch treasures are a delight to play with. Measuring approximately one tiny inch, these non-toxic, intricately hand-painted Flamingos are suitable for ages 5+. Acetate bin contains 192 pieces. All products are 100% guaranteed. Launch date: 2012. 1/13/2012 (MSRP: $97.99; Age: 5 and Up)



LEGO Dino Ambush Attack 5882 by LEGO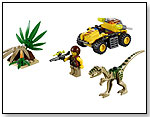 As the hero rides his mini off-roader through the jungle on the lookout for dinosaurs, an agile coelophysis hides behind a bush, ready to pounce. Can our brave hero capture it using his tranquilliser gun before the dino escapes and attacks the city? Includes hero minifigure and coelophysis dinosaur. 1/12/2012 (MSRP: $11.99; Age: 5 to 12)



Jr. Space Explorer by AEROMAX INC.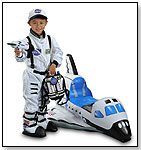 Junior explorers can hop on this inflatable space shuttle and blast off for both indoor or outdoor adventures. Ideal as a floating ride-on, this handsome shuttle boasts genuine looking instrument panels, gauges, a built-in portal view of Earth and the red & white stars & stripes of the U. S. of A. Kids will enjoy incorporating into play the clear window view of Earth and the international space station as seen from outer space. After touring the stars and the moon, move the furniture and make way for a shuttle landing that boasts a 45" wingspan and spreads 43" in length. Designed for a weight limit of 90 pounds. 1/12/2012 (MSRP: $34.95; Age: 3 and Up)



Prince Lionheart Play Mat by PRINCE LIONHEART INC.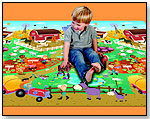 Finally, a well-designed play mat that lasts through the developmental stages of your child! Our play mats have been designed to cushion and delight babies during tummy time, entertain toddlers for play time, and encourage young learners of all ages to engage and explore. Search for the hidden characters, count the creatures, sound out letters, or master the road rules: the only limit is their imagination. Reversible: engaging art on both sides; Water-resistant, wipes clean; Soft & cushiony ; Non-toxic. "The play mat lasts through multiple developmental stages of a child - from baby to kindergarten," Lea Janowicz, marketing director for Prince Lionheart, told TDmonthly. Launch date: February 2012. (

Watch Video) 12/15/2011 (MSRP: $29.99; Age: 0 to 6)



Green Toys Salad Set by GREEN TOYS INC.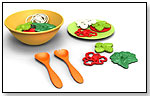 Kids can practice healthy eating habits with the fresh and fun Green Toys Salad Set. Toss up lettuce and veggies and top with a dash of dressing or salt & pepper for the greenest salad around. In this 20-piece stackable set, each realistic part is made in the USA from food-safe, 100% recycled plastic milk containers that save energy and reduce greenhouse gas emissions. Sized for Green Toys kitchen sets and interchangeable with other Green Toys play food products, the Salad Set includes a serving bowl, salad plate, 2 serving utensils, 3 lettuce leaves, 3 sets of cucumbers, 2 tomatoes, 2 red peppers, onions, mushrooms, and fold-your-own oil & vinegar and salt & pepper. No BPA, phthalates, PVC or external coatings. Meets FDA food contact standards. Dishwasher Safe. Launch date: 2012.
Awards: 2012 Dr. Toy Best Green Toys, 2012 Dr.Toy Best 20 for $20 12/13/2011 (MSRP: $19.99; Age: 2 and Up)



Make Me a Story by eeBoo corp.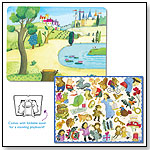 Children can direct their own stories from one of four magnetic story backgrounds: Fairytales, Robot's Landing, Animal Cottage, and Forest Adventure. Theater directors-in-training can move their magnetic figures around the scene to help tell their own original story. Launch date: January 2012. 12/9/2011 (MSRP: $14.00; Age: 5 and Up)



Great Pretenders - Baby Bat Cape by CREATIVE EDUCATION OF CANADA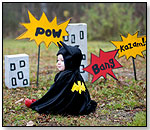 Great Pretenders - Baby Bat Cape is a NEW fan favorite. This bat cape has been redesigned to fit Toddlers 18 Months to 3 Years. Our unique Soft velour is washable and a great addition to any wardrobe. Launch date: January 2012.
— Lisa Dallegos, manager of Out of the Blue, Ltd. in Albuquerque, N.M., told TDmonthly in a December 2014 interview that the Bat Cape costume from Great Pretenders/Creative Education of Canada is one of their best-selling Halloween toys 12/9/2011 (MSRP: $19.99; Age: 1 to 3)



Camille in the Snow by COROLLE DOLLS



Les Chéries' Camille loves fashion, just like the young girls of today. And when it is cold outside, she loves to dress for the weather in style. 13 inches tall. All-vinyl body. Blue sleeping eyes. 12/8/2011 (MSRP: $44.95)



Breyer Classics Horse Cruiser by REEVES INTL. INC.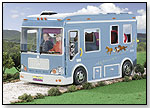 Designed for use with Breyer Classics and Pony Gals. Includes 2 horse stalls with planked floors and storage containers, tailgate that drops down to a loading ramp, roof opens and has fold-out awning, snap-in feed bins, hooks for hanging tack and equipment, two front seats (with seat belts) that swivel in two directions and have storage pouches, steering wheel slides from left to right for international trips and 3-position license plate, visors, pull-down steps and adjustable side mirrors, rear seat slides forward and forms a bed, cup holders and a table that opens, roof doubles as an observation deck complete with television screen and an extra fold out table, with a roof compartment that stores a ladder and deck chairs.
— As of 12/01/2011 this product had 4.8 out of 5 stars from 16 reviews on Amazon.com. 12/1/2011 (MSRP: $99.99)



Creative Cookery Club by HAPE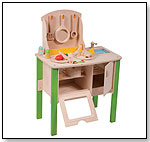 This wooden kitchen designed in Switzerland features a sink, stovetop, cupboard, oven with see-through plexiglass door, and backsplash with three pegs, and includes 23 wooden pieces of play cookware, food and utensils. Made of Baltic birch. (

Watch Video) 12/1/2011 (MSRP: $119.00; Age: 3 and Up)



---
---


Copyright © 2021 TDmonthly®, a division of TOYDIRECTORY.com®, Inc.