May 11, 2021

February 2012 | Vol. XI - No. 2

---
How to Demo Your Toy on Video
Talking to the Camera Is Like Talking to a Retailer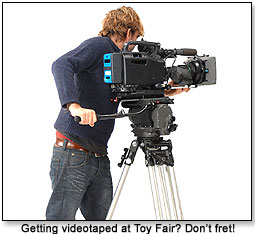 If you've signed up for a TDmonthly Magazine Toy Video demonstration at Toy Fair 2012, there's no need for a script and no need to be nervous. When you talk to the camera, you're talking to retailers — just as you do all day at the show. Pick up your product, and when the cameraperson says "Action," just tell us what the toy is, who makes it and what it does.

See how simple the video demos are by watching a few from last year, below. If you haven't signed up for a Toy Video, but would like to, please contact us. (See all of the 2011 Toy Fair videos.)

Retailers: Be sure to check back in with TDmonthly at the end of February and for the March issue, as we begin uploading demos from Toy Fair 2012.
Around the World Toob® by SAFARI LTD.®



This Toob® contains highly detailed, hand-painted landmarks from cities around the world. An educational insert gives fun facts about the landmarks. Includes Statue of Liberty, Eiffel Tower, Leaning Tower of Pisa, the Pyramids of Giza, and more. (

Watch Video) 3/2/2011 (MSRP: $9.99; Age: 3 and Up)



Schoenhut® 49-Key Baby Grand by SCHOENHUT PIANO COMPANY



These 49-key stringed pianos feature perfect pitch with true piano sound (without the use of electronics). The keys are the same dimensions as those on a full-sized piano, the keyboard half the width. Baby Grands are available in White, Black, Red; Upright in Black, White. Includes cushioned bench. (

Watch Video) 10/25/2010 (Age: 5 and Up)



Creativity Kit by ARTTERRO

There's no limit to what you can make with this beautiful collection of materials! With simple tips and lots of examples for inspiration, cut, glue and sew ornaments, bookmarks, jewelry, cards, mobiles, gift tags, collages & more! Two bonus projects in every kit! Turn the box into a mailbox, birdhouse or special treasure box. The inner tray is perfect for framing your art. Ages 8 and up
— "I love these craft kits because the materials used are so incredible. Kids get to play with 100-percent wool felt, glass and wood beads, and beautiful handmade paper. It's an added bonus that the company has skipped excessive packaging and uses 100-percent post-consumer waste recycled paper, reusable bags and vegetable-based inks," said Autumn Orndorff, gift buyer for Changing Hands Bookstore in Tempe, Ariz., after discovering Artterro kits at ASTRA Marketplace 2009. 6/29/2009 (MSRP: $22.00; Age: 8 and Up)



ZIP-IT!® by BANANAGRAMS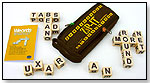 ZIP-IT! includes 24 ivory-like letter cubes packaged in a cloth pouch with unique self-scoring zippers, so everything you need is in the bag. No pencil, paper or board needed. Each player takes 12 cubes and races to form their own crossword grid using any side of the cubes. The first player to use all their own cubes calls "ZIP!" and scores a point by moving their own zip up the pouch. The first person to score 10 points shouts "ZIPIT!!!" and wins the game. One hand can be played in as little as than 20 seconds.The game was designed to be easily portable. Also includes complimentary WEORDS Dictionary, a list of weird words that can help win word games. (

Watch Video) 1/12/2011 (MSRP: $14.99; Age: 7 and Up)



Phone Frenzy by BUFFALO GAMES INC.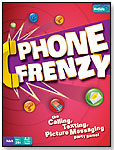 Phone Frenzy is a board game that uses everyone's mobile phone as the primary game component for calling, texting, and sending photos. Every turn, players are given a challenge or activity that can only be completed with the help of one or more of their phone contacts. A challenge might be a race to receive a correct response to "Finish this lyric by Journey: 'Just a small town girl'…" Players pick who they think are the right contacts from their phone and send them a text message with the question. The first player to receive the correct text message wins the round. Launch date: Summer 2011. (

Watch Video) 2/22/2011 (MSRP: $22.00; Age: 14 and Up)



Twilight Ladybug - Relaunched by CLOUD B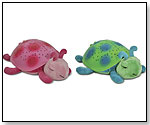 The redesigned Twilight Ladybug features a vibrantly colored shell and soft, matching fur on its body. The constellations are on a 45 minute timer. Each Twilight Turtle and Friends character from the collection projects constellation nightlights that create a magical sleep-time environment. Each "shell" illuminates the night with three soothing color options to help ease fear of the dark. The Twilight Collection includes Twilight Turtle and Twilight Ladybug, each available in three colors and a Twilight Sea Turtle that also has five illuminated windows projecting images of sea life.
―As of 1.06.2011 this product had 4 out of 5 stars from 833 reviews on Amazon.com and was No. 25 on the top 100 bestselling toys and games. Pros: Soft plush; shuts of automatically to reserve battery power. Cons: Light burnt out and was not replaceable.
― In a June 2010 survey, nine of 40 retailers told TDmonthly that Cloud B Twilight critters are top-selling baby toys, with five citing Twilight Ladybug and six citing Twilight Turtle. Twilight Ladybug is the "go-to (product) for infant gifts" at School Crossing Inc. in Williamsburg, Va., according to Owner Sherry Phipps. (

Watch Video) 11/5/2009 (MSRP: $29.95)



Sorting Box Animals by HABA USA/HABERMAASS CORP.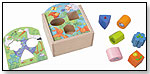 What is the favorite food of the cat, dog, and sheep? Little explorers will soon find this out as only the right food will fit through the corresponding holes of the sorting box. The big wooden pieces stimulate the curiosity of little ones, fosters their senses and train motor skills. Material: Naturally colored birch wood, 6 colored pieces of beech wood and 2 birch plywood templates printed on both sides. Launch date: 2011. (

Watch Video) 3/4/2011 (MSRP: $17.95; Age: 1 and Up)



Les Cheries Cecile by COROLLE DOLLS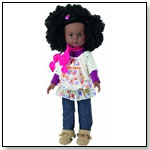 Chloe, Camille, Clare, Cecile and Cathy are a multicultural collection of 13" dolls and are marketed as "best friend" dolls and are purposefully not fashion dolls. Cecile, an African American girl, comes with with jeans, a knit shrug and glorious hair.
Awards: Oppenheim Toy Portfolio Blue Chip Classic Award Winner, 2009. (

Watch Video) 10/14/2010 (MSRP: $45.00; Age: 4 to 10)



Little Green Money Machine Interactive Book and Storefront by Little Green Money Machine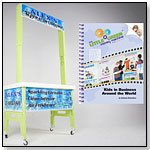 Developed by Del Visionaries, the Little Green Money Machine is a gateway learning system designed to teach children lifelong skills, in addition to building confidence and self esteem. The book and storefront stand can be used at home, in the classroom, and with youth groups and fundraising projects. This system teaches children about money management and business, and lays the foundation to learn about entrepreneurship. The interactive book, "The Little Green Money Machine: Kids in Business Around the World," offers content, ideas and exercises to give children ages 7 to 14 the tools and know-how to run a business, set goals, and pursue their dreams. The storefront is an all-purpose business stand where children can set up actual business ventures and fundraisers and apply what they have learned in the book. It includes adjustable-height upright posts, five magnetic and dry erase banner areas for marketing and increased visibility, built-in cupholders, a built-in money tray with lock and key, a solar-powered calculator, and a storage area for marketing materials, such as brochures, fliers and business cards. (

Watch Video) 12/28/2009 (Age: 7 to 14)



Roman Town: The Premiere Archaeology Computer Game for Kids by DIG-IT! GAMES



Roman Town lets the player be an archaeologist and manage a team of diggers while learning about archaeological techniques and uncovering ancient objects. Graphics rendered in 3D let players explore Roman buildings and immerse themselves in Roman history. One can put pots together, exercise puzzle skills with fun mini-games, and find out what archaeologists really do. President of Dig-It Games Suzi Wilczynski told TDmonthly, "Roman Town is unique, educational and, most importantly, lots of fun!"
Awards: The Tillywig Brain Child Award; NAPPA Honors; The National Parenting Center 2010 Seal of Approval; Creative Child 2010 Game of the Year Award; Dr Toy's Best Vacation Product; five 2010 Life Buzz Parent-to-Parent awards. (

Watch Video) 4/29/2010 (MSRP: $39.95; Age: 8 and Up)



HEXBUG Nano Raceway Habitat Set by INNOVATION FIRST LABS, INC.


Ready, Set, Nano! Kids can race their HEXBUG Nano bugs by constructing their very own customizable Raceway Habitat Set. HEXBUG Nanos test their speed and take off out of the starting gates at a lightning pace in attempt to out-scurry their competition to the finish line, zooming through dangerous divides and tricky turns. (

Watch Video) 3/4/2011 (MSRP: $59.99; Age: 3 and Up)



Automobile™ by MAYFAIR GAMES INC.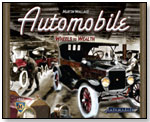 Automobile™ carries you back to the birth of America's car industry, when inventors, craftsmen, and entrepreneurs created a wild array of marvels and misfortunes. You step into this rough, romantic trade hoping to create a fortune by building and selling cars. Tapping the talents of men like Ford, Sloan, Kettering, Howard, Durant, and Chrysler, you balance quality versus quantity, mass production versus premium branding, and innovation versus distribution and aggressive sales. Lose your balance and you go bust. Strike the best balance, shift the right gears to best your rivals, and you'll be rich. You might even win. So, pull up your sleeves and start making cars.

For 3-5 Players. Playing Time 90-120 minutes. (

Watch Video) 6/22/2010 (MSRP: $50.00; Age: 13 and Up)



---
---


Copyright © 2021 TDmonthly®, a division of TOYDIRECTORY.com®, Inc.