May 16, 2021

February 2012 | Vol. XI - No. 2

---
Realism and Altruism Fuel Safari Ltd.®
Staying in Touch With the World Makes Its Toys Unmatchable
With additional reporting by Elizabeth Greenspan, Darryl Morden and Claudia Newcorn



Safari Ltd.® creates astonishing replicas of Nature's most fascinating and beautiful creatures by contracting expert sculptors with uncanny observational powers. This focus on realism is evidenced not only in the figurines themselves, but also in the company's response to the world and its challenges. To address the safety concerns of today's parents, Safari Ltd.® ensures that all of its replicas are phthalate- and lead-free (All of their products are safety tested under stringent third-party guidelines that meet both US and European standards.). To instill appreciation of nature and ecology in future generations, Safari Ltd.® links from each of its toys to educational information in five languages on its website (www.safariltd.com). And to help children who have been hit by the current economic crisis find time to play and imagine, Safari Ltd.® has donated bountifully:


In 2011, they gave more than $140,000 worth of detailed, hand-painted animal and fantasy figurines to the Kids Wish Network of Holiday, Fla., which reaches out to tens of thousands of children at hospitals and shelters across the country.
To begin 2012, the company is donating thousands of dollars of hand-painted replica sets to needy children in TDmonthly's "2012: A Year of Charity" program, which will allow some specialty retailers to provide high-quality toys to children in their communities who are in crisis or need.
Founded in 1980, Safari Ltd.® is a family-owned business now in its third generation.

"From the very beginning, the founders' mission was to educate children and adults alike about our fragile ecosystem and its inhabitants," explained CEO Ramona Pariente, who joined the company in 1985 and took over in 2003.

Alexandre Pariente, president and grandson of the founders, hopes that "our donation will help bring light and happiness to the lives of children nationwide while encouraging other capable companies to make donations to Kids Wish Network and other great organizations. Our toys target the imagination and we are confident that our toys will provide hours of entertaining and delightful play for the children!"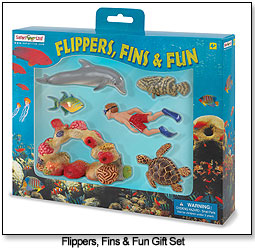 Other charities and organizations that Safari Ltd.® supports includes Big Cat Rescue, Fairchild Tropical Botanic Garden, The Human Society of Greater Miami Adopt-a-Pet, New York Cares, The Marine Mammal Center, The Nature Conservancy, National Eagle, and the Sierra Club.

For TDmonthly's "2012: A Year of Charity," Safari Ltd.® will be donating 50 gift sets of the Safari River Ranch, which lets kids recreate a ranch environment for their animals or figurines and 50 Wild Safari® Sealife Fipper, Fins sets, which feature a diver and various sea life to spark kids' imaginations.

"Safari Ltd.® toys are educational and they are uniquely designed to capture the nature of the animal," continued Ramona Pariente. "Our collections come in a variety of sizes — from Good Luck Mini® animals that measure 1" to Incredible Creatures® that range from 5" to 35". No one else has that."

Ramona went on to explain that "Safari Ltd.® produces anatomically accurate and thus educational replicas, especially our scale model dinosaur collection produced in collaboration with the paleontologists of the Carnegie Museum of Natural History and the Monterey Bay Aquarium scale model sea life replicas." Since 1986, Safari Ltd.® has been exclusively licensed by the Carnegie Museum of Natural History to produce scale model dinosaur replicas.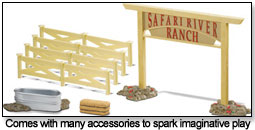 When people ask who creates the beautifully detailed replicas, Ramona said, "We simply tell them that Safari Ltd.®'s sole designer is Nature herself, who so graciously shows us the way. This, in combination with our team of superb USA-based designers and sculptors, helps create this magical collection of hand-painted replicas for all to enjoy."

All Safari Ltd.® products are phthalate and lead free and painted by hand. In the last few years, the company has added fantasy characters to its line, including Fairy Fantasies®, Mythical Realms®, and Dragons.

"Our products are carefully developed after extensive market research and also by listening to requests from our loyal following," Ramona noted.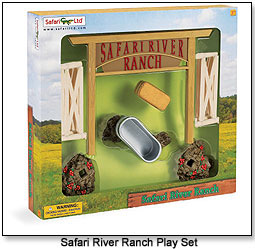 Steven Fairchild, curator of the Sedgwick County Zoo in Wichita, Kan., has carried Safari Ltd.® products for years.

"The quality of their products matches their superb service," he told TDmonthly. "They seek information and input from buyers like me regardless of the size of institution or quantity of merchandise purchased in a season."

CEO Ramona Pariente and President Alexandre Pariente lead the company's headquarters in Miami Gardens, FL and the company's offices in Hong Kong, China. Safari Ltd.® currently produce over 600 replicas. Safari Ltd.® products can be found at the Company's Internet site, www.safariltd.com.

Below are the two gift sets that Safari Ltd. is generously donating to TDmonthly's "2012: A Year of Charity" program, plus other popular toys from their line.

RETAILERS: Be chosen to give away 100 Quality Specialty Toys, including Safari Ltd.®'s gift sets at your store this APRIL! Other companies who have already signed up to participate in this landmark event are Hape, Schoenhut Piano Company, and MagicForest Ltd. Send us your name; store name, address and phone; year founded; number of events you hold in your store each year; local children's charities you work with; your relationship with your local press; and why you think you should be given this unique opportunity: Alison@toydirectory.com
Frontier Land Safari River Ranch Set by SAFARI LTD.®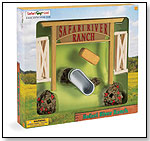 Join all the fun down on the ranch with our attractive accessories that complement the Safari Ltd.® Farm collection. Complete with fences, hay, entrance gate and a water trough, this set makes a perfect companion with our Down on the Farm Barn & Stable in addition to our Safari Ltd.® Farm animals. Children can let their imagination roam as they simulate life on a ranch. All our products are phthalate-free and thoroughly safety tested to safeguard your child's health. Safari Ltd.® takes pride in providing breathtaking, innovative and value priced replicas for now over three generations. 1/30/2012 (MSRP: $29.99; Age: 3 and Up)



Wild Safari® Sealife Flippers, Fins & Fun Set by SAFARI LTD.®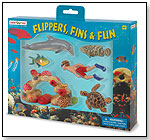 Detailed replicas of tropical marine life and a realistic coral reef surround this young diver with a wild underwater adventure. Exquisite sculpting and attention to detail make this the ideal gift for any child. The packaging features educational information in 5 languages on the back. All Safari Ltd.® products are phthalate and lead free and safety tested to safeguard children's health. We take pride in the quality, innovation and design that have characterized our products for over 3 generations. Flippers, Fins & Fun Gift Set Includes: Dolphin, Sea Turtle, Queen Triggerfish, Grouper, Coral Reef, and Freddie the Free Diver. Box Size: 11" W x 4.75" H x 4" D (28 x 12 x 10 cm) 1/30/2012 (MSRP: $19.99; Age: 3 and Up)



Good Luck Minis®: Brachiosaurus & Stegosaurus by SAFARI LTD.®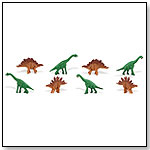 These tiny dinosaurs measure only 1" long! Like all Safari Ltd. replicas, they are handpainted and are phthalate- and lead-free. Acetate bin contains 192 pieces. 1/30/2012 (MSRP: $97.99; Age: 5 and Up)



Wild Safari® Dinos & Prehistoric Creatures: Brachiosaurus Baby in an Egg by SAFARI LTD.®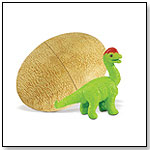 This little hatchling can nestle inside its egg or emerge for play. Both egg and babies are hand painted. Educational information in five languages is available. 1/30/2012 (MSRP: $3.99; Age: 3 and Up)



Carnegie Dinosaur Collectibles™ Carnotaurus by SAFARI LTD.®



Named for its 2 horns similar to those of a bull, this carnivore had extremely short arms, even shorter than those of the T-Rex. This Carnotaurus is in scale and was developed with the collaboration of paleontologists of the Carnegie Museum of Natural History. This model is intricately hand-painted and is phthalate and lead free and thoroughly safety tested. The scale for this figure is 1:30 and measures approx. 1.75" tall. It includes educational information in 5 languages and is appropriate for ages 3+. 9/23/2011 (MSRP: $20.99; Age: 3 and Up)



Venomous Creatures Toob® by SAFARI LTD.®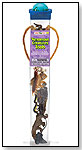 Each mini figure is carefully sculpted and finely painted by hand to ensure optimum quality for years of learning fun. For added play value these collections are packaged in a reusable acetate tube. Figures range in size from 1" to 3". All figures are phthalate and lead free to ensure your child's safety. These tiny yet highly detailed figures depict real venomous creatures from around the world. Toob® includes a Cane Toad, a Yellow-Belllied Sea Snake, a Bat Ray, a Komodo Dragon, a Brown Tarantula, a Giant Centipede, a Fat-Tailed Scorpion, a Stone Fish and a Common Indian Cobra. (

Watch Video) 6/30/2011 (MSRP: $10.99; Age: 3 and Up)



Around the World Toob® by SAFARI LTD.®



This Toob® contains highly detailed, hand-painted landmarks from cities around the world. An educational insert gives fun facts about the landmarks. Includes Statue of Liberty, Eiffel Tower, Leaning Tower of Pisa, the Pyramids of Giza, and more. (

Watch Video) 3/2/2011 (MSRP: $9.99; Age: 3 and Up)



READ PROFILES OF PARTICIPATING MANUFACTURERS:SAFARI LTD.SCHOENHUT PIANO COMPANYHAPEREAD WINNING STORE PROFILES:DOLL HOUSE & TOY STOREJAKE'S TOY BOXKAZOO TOYSREAD ABOUT THEIR GIVEAWAY PLANS:KAZOOJAKE'S
---
---


Copyright © 2021 TDmonthly®, a division of TOYDIRECTORY.com®, Inc.