May 15, 2021

February 2012 | Vol. XI - No. 2

---
New York Toy Fair 2012 Hot and Buzzworthy Toys
The 2012 New York International Toy Fair is over, and media outlets are buzzing over which toys will be 2012's biggest hits. See the most talked about toys below, then decide for yourself if they have what it takes to be a hit.
Meep Kids Tablet by OREGON SCIENTIFIC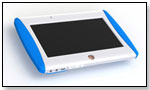 This tablet features a 7-inch color touchscreen, can can download movies, musics, apps, and e-books. The tablet boasts web-browsing capabilities, and parents have the ability to limit content and websites of their choice. Downloaded content can be stored on an SD card, or to embedded memory. Launch date: 2012. 2/14/2012 (Age: 6 and Up)



Codees by TECHNO SOURCE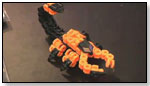 This 64-piece strand of tiny building components comes with a code that tells kids how to create specific designs. Or, kids can use their imaginations and create whatever they want. 2/14/2012 (MSRP: $8.00)



littleBits Starter Set by LITTLEBITS ELECTRONICS INC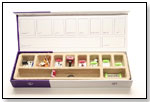 littleBits is a system of modular electronics that snap together with tiny magnets for prototyping and play. The littleBits starter kit is the first kit by littleBits and contains all you need to get started within seconds. Each bit has a simple, unique function (light, sound, sensors, etc), and modules snap to make larger circuits. With a growing number of available modules, littleBits aims to put the power of engineers in the hands of artists, makers and children. Included in the kit are 10 color coded modules (power, input, output, and wire) that snap together magnetically to create larger circuits, guaranteed to keep kids occupied for hours. Comes packaged in an attractive case with a magnetic closure and includes an instruction sheet, 9v battery and a custom plastic screwdriver. 2/14/2012 (MSRP: $89.00)



Fijit Friends Yippits by MATTEL INC.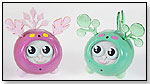 Yippits are pets for Fijit Friends. The Yippits can learn tricks, and bark, growl, and dance along with their Fijit owner. They can work on their own, too. Launch date: June 2012. 2/14/2012 (MSRP: $37.99)



Skylanders Giants by ACTIVISION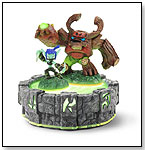 This follow up to last year's Skylanders: Spyro's Adventure features 8 Giant Skylanders, 4 Light Skylanders, 8 New Skylanders, and will also work with the 24 re-released Skylanders. Each Giant Skylanders is about twice as large as the originals. The toy can be used for Xbox 360, Wii, PS3, and Nintendo 3DS. Launch date: 2012. 2/13/2012



Barbie Photo Fashion by MATTEL INC.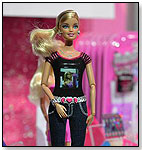 This Barbie has a 5 megapixel camera and LED encase in her chest. When kids snap a picture, it appears on Barbie's t-shirt (the LED screen). This rechargeable Barbie can hold up to 100 pictures, and features 15 different effects to alter the photographs. To upload pictures to a computer, simply hook Barbie up via the mini USB port in her back. Launch date: 2012. 2/14/2012 (MSRP: $50.00)



iBuKu Pets by ARBORCUBE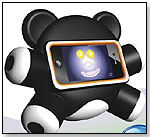 iBuKu Pets are fun, lovable characters that turn any smartphone into a cuddly pet. iBuKu Pets are not just a protective holder for mom or dad's new iPhone (although they work well in this scenario too), but iBuKu Pets are intended to breathe life back into older used smartphones that have been placed aside in a drawer somewhere. Why not give that used smartphone to a child as a learning tool? One major issue with older phones is that their batteries often don't hold the charge they once did. iBuKu Pets will have versions with not only a secondary battery inside, but also with the ability to wirelessly charge the batteries by simply setting the iBuKu Pet on a charge pad. Image a child never having to remove the phone from his iBuKu Pet, but rather setting him on his bedside table to charge at night. While charging, the iBuKu Pet will turn itself on as a nightlight when it hears the child wake up, or it will be an alarm clock for school-aged children. And when they wake in the morning, the iBuKu Pet is charged and ready for a new day of learning activities. Launch date: April 2012. 2/13/2012 (MSRP: $39.99; Age: 3 to 12)



Switch & Go Dinos by VTECH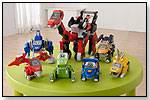 Two of boys' most popular toys - dinosaurs and vehicles - have been brought together to create a unique 2-in-1 play experience with VTech's Switch & Go Dinos. Each toy transforms from a dinosaur to a vehicle and back again in a few simple steps. Each comes equipped with an LCD screen for customized animation, dinosaur and vehicle sound effects and educational dinosaur facts. The line features seven unique and collectible dinosaur toys. Launch date: February 10, 2012.
— As of 10/30/2012 this product had 4.6 out of 5 stars from 43 reviews on Amazon.com. Pros: Durable; easy for kids to make the transformation happen; sounds change between dinosaur noises and car noises, depending on which form the toy is in. Cons: One reviewer said the toy was too noisy. 2/10/2012 (MSRP: $15.99)



Shelob Attacks by LEGO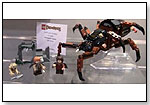 Plotting to reclaim The One Ring, Gollum lures Frodo into the lair of the ancient giant spider, Shelob. Will Shelob cast her web and capture Frodo or can Samwise Gamgee rescue him in time? Includes 3 minifigures: Frodo, Samwise Gamgee, Gollum. 227 pieces. Launch date: June 2012. 2/13/2012 (MSRP: $19.99)



AppGear by WOWWEE GROUP LTD.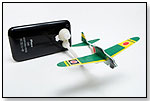 A line of collectible toys that interacts with free downloadable apps. Six choices include Foam Fighters, ZombieBurbz, Alien Jailbreak and more. Foam Fighters, for instance, comes with two planes the size of paper airplanes that can be flown by themselves or attached to a smartphone device by an arm with a suction cup. The smart device scans the chosen plane into the app's playing field for air battle. Launch date: April 2012. 2/13/2012 (MSRP: $9.99; Age: 8 and Up)



Fruit Ninjas by JAZWARES INC.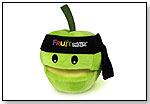 Each 5-inch plush fruit features splat sound effects, includes a Fruit Ninja bandanna and has a mouth that is slightly sliced. Choices include Green Apple, Strawberry and Pineapple plush. There's even a Bomb. Other Fruit Ninja items include smaller plush and tablet covers. Launch date: Spring 2012. 2/13/2012 (MSRP: $9.99; Age: 6 and Up)



Angry Birds Building Sets by K'NEX BRANDS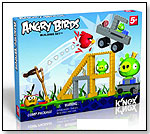 Angry Birds fans will be able to build obstacles from the app and knock them down with these construction toys. Sets will include the most popular Angry Birds characters, launchers and other recognizable elements from the game. Launch date: Fall 2012. 2/13/2012 (MSRP: $10.99; Age: 5 and Up)



Kurio by TECHNO SOURCE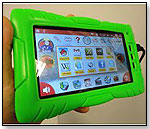 The Kurio is a 7 inch children's tablet that runs on an Android OS. Techno Source has developed a kid-friendly user interface for the tablet, which boasts HD video playback capabilities, 4 GB of storage, Wi-Fi, and comes with apps like games, an e-book reader, a music player, and more. Launch date: 2012. 2/13/2012 (MSRP: $199.99)



Disney Cars2 AppMates by SPIN MASTER TOYS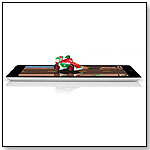 Cars 2 AppMATes toy vehicles use patent-pending capacitive recognition technology to let children play interactively on your iPad. Simply place the AppMATes cars right on the iPad screen and start exploring the world of Radiator Springs. Kids can also race, customize their experience by collecting virtual items and much more. To get started, just download the free Cars 2 AppMATes App from the App Store in iTunes. 2/13/2012 (MSRP: $19.95)



Boo - The World's Cutest Dog by GUND INC.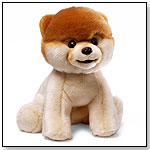 This plush item is based on the real life Boo, a Westminster Dog Show champion who has more than 3 million Facebook fans. Launch date: April 2012.
— In a May 2012 survey, Joe Berardoni, owner of Pun's Toys in Bryn Mawr, Pa., told TDmonthly that "Normally I would tell you a line of plush sells well rather than an item but this past month there has been a standout. We quickly sold out of a dozen of 'Boo' from Gund, the Westminster Dog Show winner. I have more on order."
— Greg Larson, owner of Larson's Toys and Games in Columbus, Ohio, told TDmonthly in a late Summer 2012 survey that Boo from Gund is one of their top-two bestselling novelty items. 2/12/2012 (MSRP: $20.00)



GI JOE SNAKE EYES Ninja Commando by HASBRO INC.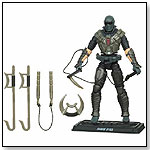 SNAKE EYES is a Ninja Commando on the G.I. JOE team and a martial arts master trained in the mysterious ARASHIKAGE ninja clan. As he battles COBRA ninja STORM SHADOW, he expertly swings his nunchaku and crescent blade, then slams his enemy to the jungle floor with a tornado kick. Engage in combat that feels larger than life with this fierce SNAKE EYES action figure. Throw this mighty fighter into the battle, engage his tornado kick action and see if he has what it takes to thoroughly crush his opponents. Figure comes with weapon accessories and display stand. 2/12/2012 (MSRP: $19.99; Age: 4 and Up)



Hasbro Lazer Tag blaster by HASBRO INC.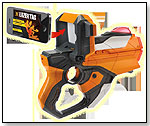 Using a free app, users mount their iPhones into a plastic laser shooter and can begin playing a game of laser tag with up to 24 other players. Each blaster has a range of up to 250 feet. Players can also play the game solo. Launch date: August 2012. 2/12/2012 (MSRP: $39.99)



LEGO Avengers Captain America's Avenging Cycle by LEGO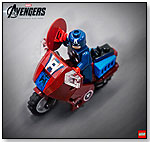 While riding his Avenging Cycle, Captain America spots the general on his craft. Help Captain America use his indestructible shield to defeat the general and his foot soldier. Win the battle and send them back to where they came from. Includes 3 minifigures: Captain America and more. Launch date: May 2012.
— As of 05/21/2012 this product had 4.7 out of 5 stars from 3 reviews on Amazon.com. 2/12/2012



Roll & Play by THINKFUN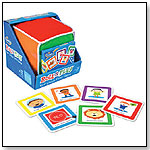 To play, simply toss the big plush cube and identify which colored side faces up. Choose a matching color card and perform the simple activity shown. "Make a happy face," "Moo like a cow," etc. The activities supported by Roll & Play are designed to help kids shine, supporting healthy development and celebrating success. Roll & Play gently introduces play patterns and rules through a loving, joyful play experience. Launch date: 2012. 2/12/2012 (MSRP: $19.99; Age: 1 and Up)



Teenage Mutant Ninja Turtles Power Sounds FX Figures by PLAYMATES TOYS INC.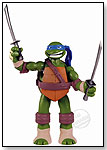 Each of the figures stands 5.5 inches tall and features proprietary wire coil activation in the arms and legs that triggers heroic battle phrases. The longer kids pull back that limb, the longer the sound is activated, and will not end until released. Launch date: 2012. 2/12/2012 (MSRP: $12.99)



Monster High Create-A-Monster Design Lab by MATTEL INC.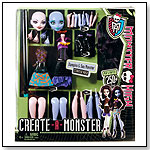 Monster High Create-A-Monster Vampire and Sea Monster Starter Set: Dr. Frankenstein isn't the only one who can create monsters-now kids can build their own. The Monster High Create-A-Monster sets provide all the body parts and fashions needed to create unique scary cool ghouls. Kit includes a torso, two sets of limbs, two heads, one hairpiece, two fashions and a unique add-on like wings. The mix and match pieces can be assembled in more than 250 ways. Kids will enjoy creating their own monsters again and again. Show off your individual creations to friends. Also check out additional Monster High Create-A-Monster add-on accessory parts, sold separately. Launch date: December 2011. 2/12/2012 (MSRP: $39.99; Age: 6 to 14)



Rockboard Radiate by M.Y. PRODUCTS LLC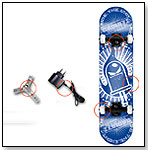 This board features an LED light system which provides visual effects without getting damaged. Made of 7 Ply hard rock maple; available in blue, green, or orange. Launch date: 2012. 2/12/2012 (MSRP: $99.99)



Color Rox Hair Chox by FASHION ANGELS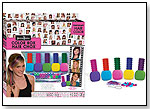 Create the hottest hair trend with these temporary hair coloring chalks. The uniquely designed Hair Chox and grips make applying color fun and mess-free. Wild color that washes out. Includes 5 temporary hair color chox, 5 grips, 24 beads, 24 rubber bands and bead threader. Launch date: February 2012. 2/8/2012 (MSRP: $11.99; Age: 5 to Adult)



Star Wars Movie Heroes Darth Maul by HASBRO INC.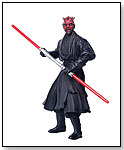 Darth Maul has undergone years of demanding and brutal training under his master Darth Sidious to become an incredible Sith warrior. He demonstrates his skill by expertly spinning his double-bladed Lightsaber. He attacks with precision and ferocity, twirling the twin blades to strike his Jedi opponent. This fierce DARTH MAUL figure is rendered in careful detail to look just like the character in the Star Wars: The Phantom Menace movie. He comes with his trademark double-bladed lightsaber. When the adventure is over for the day, set him on his battle base. Figure comes with weapon accessories, Galactic Battle Game card, battle base and die. Launch date: 2012.
— In a Summer 2012 survey, two out of 10 retailers said Star Wars characters were their best selling action figures.
— In a August 2014 survey, Charles, manager of Miller's Toys in Mamaroneck, N.Y., told TDmonthly that "Star Wars is finally coming back," and Star Wars toys are among their best-selling action figures. 2/12/2012 (Age: 4 and Up)



Star Wars™ Fighter Pods by HASBRO INC.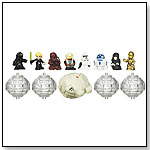 Micro heroes, mega battles! Iconic STAR WARS characters get a collectible new gaming twist, as players use Fighter Pods to knock down as many figures as possible. Spin, Launch or Roll the Pod into battle…even connect the Pods together or place the figures on top or inside of them for extra "power."More than 100 STAR WARS FIGHTER PODS figures available in a unique new style from all six STAR WARS films and The Clone Wars animated series. Each set sold separately. Launch date: 2012. 2/12/2012 (Age: 4 and Up)



Hot Wheels Apptivity™ by MATTEL INC.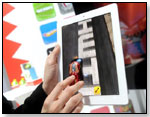 Hot Wheels Apptivity™ lets kids take a 1:64 scale Hot Wheels car and race through three exciting game modes. Launch date: May 2012. 2/12/2012



Fisher-Price® Laugh & Learn™ Apptivity™Monkey by MATTEL INC.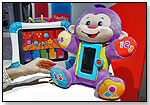 The Laugh & Learn™ Apptivity™ Monkey is an interactive plush learning toy for babies that also lets them enjoy their very own apps on mom or dad's iPhone® or iPod® touch device. Toddlers can squeeze monkey's hands and feet to interact with the app, which teaches baby about colors, numbers, animals and much more. Launch date: May 2012. 2/12/2012



The Game of Life zAPPed by HASBRO INC.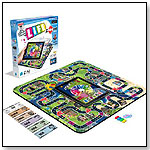 Download a free app to begin playing this update of the classic game Life. The app syncs with each player's turn on the game board and shows appropriate clips from Vin Di Bona's America's Funniest Videos and humorous animations as they travel around the game board. Additionally, players can create their own "Peg Person" avatar and use the app's virtual spinner on their iPad. Includes game board, 4 car movers, 52 pegs, money pack, 4 rubber pads, Quick Start Guide. iPad not included but required to play the game. For 2 to 4 Players. Launch date: February 10, 2012. 2/12/2012 (MSRP: $24.99; Age: 8 and Up)



FurReal Friends Baby Butterscotch by HASBRO INC.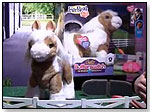 This smaller scale version of the original Butterscotch is an interactive pony that responds to touch, or when kids brush its mane. The legs are posable so kids can make it lie down. Launch date: 2012. 2/12/2012



---
---


Copyright © 2021 TDmonthly®, a division of TOYDIRECTORY.com®, Inc.