January 25, 2022

March 2012 | Vol. XI - No. 3

---
Watch Toy Video of the Day (3/19/2012-3/23/2012)
We want you to see the toys we see, so you can determine if they're right for your store! Check this space every weekday to see brief video clips of new and specialty products.

In the spotlight today? Drive sales by carrying unique items like MIMOMICRO™ Card Readers & Drives from mimoco, llc
MIMOMICRO™ Card Readers & Drives by MIMOCO INC.

MIMOMICRO™ can be used as a USB flash drive with interchangeable microSD memory cards, and also functions as a microSD card reader to transport data between mobile phones, tablets, e-readers, digital cameras, and mp3 players to one's computer. "MIMOMICRO™ boasts three dimensional sculpted characters and the first in a series of vehicles. MIMOMICRO's cap-free design with flip-out USB plug also includes a built-in keychain and LED indicator light. Measuring a mere 1.6" H x 1.0" W in its compact form factor, MIMOMICRO™ lives up to its name," Clint Weiler, PR for mimoco llc, told TDmonthly. Launch date: March 2012. (

Watch Video) 2/1/2012 (MSRP: $12.95; Age: All Ages)



Domo Bobblehead by MEZCO TOYZ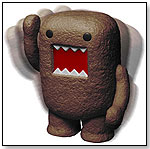 Domo, the loveable strange creature who hatched from an egg, is now a bobble head. Fresh from his underground cave, Domo stands 6inches tall and features a sturdy spring that will provide years of bobbling fun. Launch date: June 2012. (

Watch Video) 1/20/2012 (MSRP: $15.00)



Little Pim Spanish Deluxe Gift Set by LITTLE PIM CO.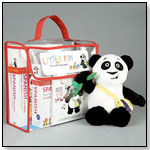 The Little Pim Spanish Deluxe Gift Set includes DVDs 1, 2, and 3 in Spanish, Little Pim Spanish Bop music CD, Spanish Word and Phrase Cards, and an 8" plush panda packaged in a clear reusable tote. Themes include eating and drinking (Disc 1), wake up smiling (Disc 2), and playtime (Disc 3). Each DVD has a run time of 35 minutes, presented in seven short episodes to keep young minds engaged.
Awards: Dr. Toy 100 Best Children's Products - 2010 (

Watch Video) 10/11/2010 (MSRP: $84.95; Age: 0 to 5)



Happy Homes™ by SNUGGLETIME

Happy Homes™ slipcovers are a combination pillow slipcover, home, and carrier for Happy Nappers®. Comes in 6 Colors: Pink House, Gray Castle, White Igloo, Tan House, Purple Castle, Yellow Hut. Perfect for bedtime, naptime, playtime, and travel. (

Watch Video) 2/7/2012



Boikido Wooden 40 Pc Construction Set by BOIKIDO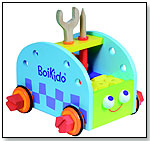 Build and roll this Construction Toolbox around like a vehicle. 5 projects included; kids can use their imagination to build anything. Includes 11 Geometric Shapes, 4 Wheels, 12 Screws, 10 Nuts, 1 Screwdriver, and 1 Wrench. This Toolbox also provides easy storage for all the pieces. Develops imagination, hand-eye coordination, manual dexterity, and problem solving and fine motor skills. Tested to meet European and U.S. safety standards. "Unique design - the attractive colors, unique features, super play value, learning elements and cute character of this toolbox draws kids attention and become their best friend in no time," David To from Biokido/Georgeous Products Inc. told TDmonthly. Launch date: February 2012. (

Watch Video) 12/9/2011 (MSRP: $39.99; Age: 3 and Up)



---
---


Copyright © 2022 TDmonthly®, a division of TOYDIRECTORY.com®, Inc.