May 6, 2021

April 2012 | Vol. XI - No. 4

---
30 Product Videos from Toy Fest West 2012
Toy Fest West Toy Show Featured Unique New Specialty Toys
TDmonthly was at WTHRA's Toy Fest West toy show in Long Beach, Calif., and captured 30 videos of new and high-quality specialty toys. From HAPE INTERNATIONAL's exciting reveal of their new Quadrilla wooden toy line (launching in August), to educational toys like the fun Amazing Spheres kits from BE AMAZING!, the show offered a little something for everyone. Check out the new toys in the videos below to see which items would be a good fit for your specialty toy store!
Pajaggle Board Game by PAJAGGLE INC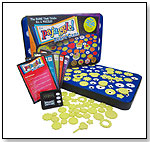 The award winning combination of a game, a brainteaser and a puzzle all rolled into one. Based upon concepts of spatial recognition and visual discrimination, the Pajaggle Board Game challenge players to quickly put unique pieces where they belong. Simple, right? Think again! Pick up a board and give it a try.
Awards: 2013 TDmonthly Seal of Approval, 2011 Tillywig "Best Family Fun"; 2011 Major Fun: Keeper Award (First puzzle game to ever receive such an award); 2012 Astra Best Game of the Year; 2012 Creative Child Magazine: Game of Year Award (

Watch Video) 3/26/2012 (MSRP: $29.99; Age: 8 and Up)



Picnic Lunchbox by NEAT-OH! INTERNATIONAL LLC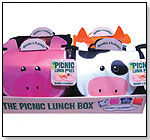 The Picnic Lunch Box™ & Placemat features four adorable themes ranging from Cats and Dogs to Pigs and Cows. With comic artwork on the exterior, unzip the lunch box to find not only lunch, but a small placemat ready and waiting. Lays flat and wipes clean with a damp cloth for spills and crumbs. A clean place to eat and an even easier lunch box to keep clean. Patented. BPA Free, Phthalate Free on every lunchbox, PVC Free, Lead Free. Sold individually or in an assortment of 4. A1510XX - Penny the Pig Lunch Box & Placemat; A1511XX - Denzel the Dog Lunch Box & Placemat; A1512XX - Clyde the Cow Lunch Box & Placemat; A1513XX - Carmen the Cat Lunch Box & Placemat. Launch date: 2012. (

Watch Video) 3/26/2012 (MSRP: $12.99; Age: 3 and Up)



Gingerbread Baking Set by HAPE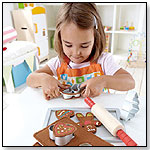 A rolling pin, cookie cutters, and felt "dough" make baking seem real. Flip the shapes over and they're already decorated. Made of Wood, Water based paint, Felt, Aluminium alloy. (

Watch Video) 3/26/2012 (Age: 3 and Up)



Captain Charlie Pirate Costume by HABA USA/HABERMAASS CORP.



Captain Charlie sets sails and heads off on his big journey. Equipped with the jacket, belt, hat and beard children quickly transform into brave pirates. An enemy ship ahoy! Captain Charlie whips his sword out and prepares the fetters for his prisoners. Together with his parrot he has many exciting adventures on the high seas. (

Watch Video) 3/26/2012 (Age: 3 to 6)



ANKER Coloros Stone Building Set by GOKI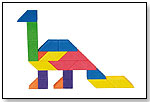 Another stone building set from Anker Blocks, made of natural ingredients, these shapes of stones will allow kids to create endless forms. It contains 20 sample cards to fire kids' imaginations. With 36 stone building bricks made from the original Anker stone material kids can construct creative buildings and let their imagination run riot. There are countless possibilities to build mosaics, aesthetically appealing puzzles and edifices using the stones of the New Stone Age. Made in Germany of chalk, quartz sand, pigments and linseed oil. (

Watch Video) 3/26/2012 (MSRP: $52.99; Age: 4 and Up)



Clifford Tote by DOUGLAS CUDDLE TOYS



8" wide. Kids can carry their mini Clifford the Big Red Dog® stuffed dog everywhere in this stylish tote. Quilted material with colorful trim and embroidery. Plush dog is removable and comes with sak. (

Watch Video) 3/26/2012 (MSRP: $19.99; Age: 2 and Up)



Quarto by BACKALLEY PRODUCTS, INC.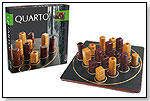 Each of the 16 pieces has 4 different attributes. The aim is to line up 4 pieces which share the same attribute. The problem is players can't choose which piece they're going to play - their opponent chooses for them. (

Watch Video) 3/26/2012 (Age: 6 and Up)



Amazing Spheres by BE AMAZING!



Just add water and watch these little clear and colored beads grow into giant jelly marbles. Before soaking, sort the different colors and ask science questions like "How are these alike, and how are they different?" Will the different colors grow to different sizes? Try it and see! Afterward, kids can have lots of fun playing with their experiments. Find a water-safe surface and play the slimiest game of marbles in town, or try them out as new jelly bouncy ball. Kids can even try to grow the amazing spheres in different liquids, like milk, vegetable oil, or salt water. Use a notebook and record hypotheses and observations. (

Watch Video) 3/26/2012 (MSRP: $4.49; Age: 8 and Up)



Kidoo Pets by TEEBOO USA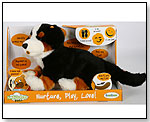 With 9 interactive functions, Kidoo Pets show kids how to nurture, play, and love while having fun. These 18 inch plush toys are designed in France. Kids show signs of caring and nurturing in the earliest years of their lives. As they play, sleep, pet, snuggle, and feed their Kidoo Pet, children develop a strong bond. Teaches kids how to take care of their pet; teaches kids what pets don't like; teaches kids to be patient and loving. (

Watch Video) 3/26/2012



Clump-o-Lump by KNOCK KNOCK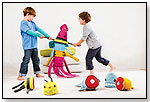 Clump-o-Lump is a line of super-snuggable plush creatures that zip apart into three whimsical pieces—head, torso, and rump—so they can be mixed, matched, and multiplied. With over 2,303 combinations possible, Clump-o-Lumps offer countless hours of fun, imagination, and super-swappable collectibility. The inaugural Clump-o-Lump family includes six characters: Frog-o the Frog, Bee-o the Bee, Shark-o the Shark, Bird-o the Bird, Tig-o the Tiger, and Squid-o the Squid. Just zip-and-match 'em to make 'em tall, small, or anything at all. Launch date: March 2012.
Awards: 2013 TDmonthly Seal of Approval (

Watch Video) 3/16/2012 (MSRP: $25.00; Age: 5 and Up)



Mosaics by eeBoo corp.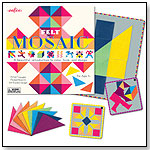 Containing 72 soft felt triangles in 9 colors, a flocked game board, and 50 illustrated cards, teach color, form, and design to kids without their knowing that they are learning the fundamentals of design. The instructions offer increasing challenges, from Elementary Figures to Negative Space to Perspective to Translucency and Representational Imagery. "Mosaics offers a highly sophisticated introduction to the basics of art and design for children," Regina Gelin, sales and marketing rep at eeBoo, told TDmonthly. Launch date: February 2012. (

Watch Video) 12/9/2011 (MSRP: $18.00; Age: 5 and Up)



Latex Ram Mask by DILLON IMPORTING CO.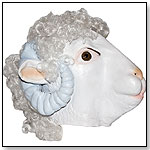 This latex Ram mask is hand painted. Features curling horns and curly white hair. (

Watch Video) 3/26/2012 (MSRP: $12.00)



Poke-a-Dot Who's in the Ocean? by INNOVATIVEKIDS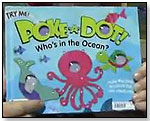 This board book helps kids learn how to count. Raised buttons pop in on every page so kids can press them as they count, so they don't lose track. (

Watch Video) 3/26/2012



Campfire Kids Campfire by INSECT LORE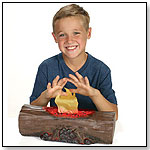 The Campfire Kids Campfire brings the great outdoors...indoors. Gather 'round the campfire and enjoy the night by the woodsy firelight. This simulated fire features a fan-powered flickering flame that is safe and cool to the touch. Glowing "embers" and realistic log design make this the natural "hotspot" for indoor campers. The no-heat firelight looks real, but feels cool. Includes 4 AA batteries. (

Watch Video) 3/26/2012 (MSRP: $24.99; Age: 3 and Up)



Red Sunrise Kendama by KENDAMA CO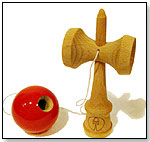 Kendama is the ultimate form of the traditional ball and cup game. Originating in Japan, Kendama has captivated the world with its simple design and endless freestyle trick possibilities. With no moving parts, Kendama is deceptively simple at first glance. The simplicity makes it enjoyable for the beginner and also gives it its infinite playability.

(

Watch Video) 3/26/2012 (MSRP: $21.00)



Sevi Instrument Set by MAGICFOREST LTD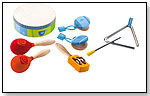 Music is a wonderful opportunity for little ones to expand their sensory and imaginative personality. Music helps them to understand rhythm and harmony, and also to express themselves and their moods. This set of percussion instruments from Sevi is an easy way to get kids started. It comes with 8 pieces, including a tambourine, castanets, a triangle, maracas and a noise maker. Produced by Sevi, Europe's oldest wooden toy company, this product contains parts and components that are recommended for children ages 2 and up. (

Watch Video) 3/26/2012 (MSRP: $35.00)



Gazillion Bubbles Hurricane by FUNRISE INC.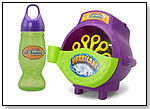 The Gazillion Bubble Hurricane is Gazillion's number one bubble machine. Year after year, this bubble machine cranks out thousands of bubbles for kids of all ages. Each Bubble Machine comes with an 8 oz. bottle of a "top secret" non-toxic Gazillion Bubble solution, just pour the solution into the reservoir attached to the Bubble Machine to continuously feed the wands creating a storm of colorful bubbles. Requires 6 "AA" batteries, not included. Works with core solution. iParenting Award Winner. (

Watch Video) 3/26/2012 (Age: 3 and Up)



Magnetic MightyMind Zoo by LEISURE LEARNING PRODUCTS INC.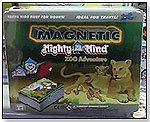 MightyMind develops creativity & helps children understand visual/spatial relationships. A great confidence builder in a fun, purposeful format. Children learn to solve puzzles entirely on their own. Starting with the simple concept of manipulating shapes, kids follow a logically programmed sequence of patterns, learning how to manipulate different geometric shapes to build pictures of increasing complexity. This set features a zoo theme and puzzles that include animal shapes.
Watch Video from WTHRA 2012 (

Watch Video) 3/26/2012 (MSRP: $22.00)



Cobi Titanic by IMEX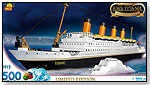 This 500 piece model of the Titanic celebrates the 100th anniversary of the doomed ship's voyage. (

Watch Video) 3/26/2012



Expressions Pacifier by ULUBULU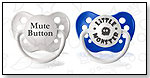 Let your babies express themselves without saying a word. These pacifiers are made of non-toxic, hygienically formed, natural bite-resistant materials designed to form naturally in the mouth, satisfying babies' need for supplemental sucking and provide parents with peace of mind. (

Watch Video) 3/26/2012 (Age: 0 and Up)



ZipBin® Dinosaur Explorer Day Tote Playset by NEAT-OH! INTERNATIONAL LLC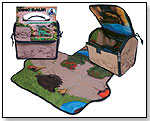 This ZipBin® Dinosaur Explorer Day Tote Playset has an has an earthy tone to it with beautiful artwork and prehistoric creatures all over. With softs sides and a handle on top, the tote is convenient to carry anywhere. It is ideal for exploring like an archeologist and for storing favorite collection of dinosaurs. It also holds lunches or school supplies and is great for field trips or camp. When unzipped it becomes a Playmat or placemat that can be wiped clean with a damp cloth. Weighs less than one pound. Includes 2 dinosaurs. (

Watch Video) 3/26/2012 (Age: 3 and Up)



Quadrilla Twist and Rail Set by HAPE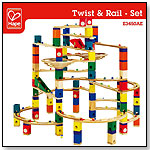 The possibilities are endless with the 147-piece Quadrilla Twist and Rail Set. A combination of straight and curved rails and even funnels plus color-coordinated blocks offers a new level of fascination to a build and play toy. Launch date: January 2012.
Awards: 2006 Oppenheim Toy Portfolio Platinum Award; 2007 TDmonthly Top Seller Award; 2007 Creative Child Preferred Choice Award. (

Watch Video) 3/26/2012 (MSRP: $150.00; Age: 3 to 8)



Caterpillar Rina Pull Toy by HABA USA/HABERMAASS CORP.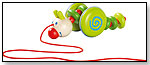 This colorful pull toy always makes a happy face and will follow baby wherever s/he wanders. Caterpillar wiggles her whole body when pulled. Made from beech wood, the body of this toy measures 12 inches long. (

Watch Video) 1/4/2012 (MSRP: $32.49; Age: 1 and Up)



Go Sport™ Basketball Backpack (Red) by NEAT-OH! INTERNATIONAL LLC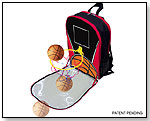 Now kids can take their A-Game everywhere with the Go Sport™ Basketball Backpack. This backpack lets kids keep their mini arena and books neatly tucked away. Has padded pocket for MP3 player and a pass-through for headphones. It includes a fabric handle that fits over a door knob so kids can hang and shoot. The included net hoop packs flat under a clear cover. When unzipped, the clear cover acts as a ball return and zips up into the backpack when not being used. Rugged build, soft padding and a built in hoop brings out the student-athlete in all of us. Includes hoop, net and 3" basketball. (

Watch Video) 3/26/2012 (Age: 3 and Up)



Quoridor by Gigamic by BACKALLEY PRODUCTS, INC.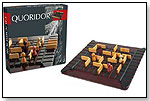 The aim is to reach the other end first. The problem is that each opponent puts up fences to slow the other down. Not to worry, there's always a way out. But who will find the shortest route? Created by Gigamic; exclusively distributed through Back Alley Traders in the USA.
Awards: May 2012 TDmonthly Top Toy Award. Why it won: This beautifully designed wooden strategy game has won several prestigious awards already in the US and in Europe. It also has great user reviews on Amazon.com. TDmonthly staff who saw the game demoed at Toy Fest West 2012 were impressed. Other awards: 1997 Mensa Select Top 5 Best Games; Games Magazine Game of the Year 1997; Best Bet of the Toy Testing Council 1997; Prix d'Excellence des Consommateurs; Consumer's Toy Award 1997 Quebec; Spelgut 1997; Grand Prix du Jouet 1997; Games Magazine "Games 100 Selection" 1998; Games Magazine "Best Games."
— As of 4/10/2012 this product had 4.8 out of 5 stars from 25 reviews on Amazon.com. (

Watch Video) 3/26/2012 (Age: 6 and Up)



Smarty Girl Science Bling Your Ring by BE AMAZING!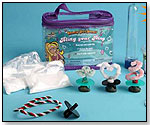 Kids will explore the magic of crystal chemistry as they design and grow their own crystal ring. They will discover the secrets of crystal chemistry, learn to make sugar jewels and find out which household salts make the best crystals using the included magnifying glass to study them. Launch date: 2012. (

Watch Video) 2/13/2012 (MSRP: $9.00; Age: 8 and Up)



Pound and Tap Bench by HAPE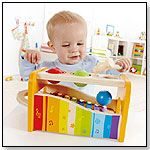 Pounding sends the balls tinkling over the xylophone. Pull out the keyboard and the xylophone can be played solo. All Hape products comply with EN71 and ASTM quality standards - wood used comes from FSC managed forests.
Awards: May 2012 TDmonthly Top Toy Award. Why it won: This item was named a Top-10 Musical toy in February and a Top-10 Wooden toy in March by specialty retailers interviewed by TDmonthly. Its innovative design combines the elements of the popular shape sorting/tapping toy and the xylophone, giving it great play value.
— As of 1/6/2012 this product had 4.2 out of 5 stars from 13 reviews on Amazon.com. Pros: Durable; lots of ways to play. Cons: The keyboard is not properly tuned.
— In a 2012 survey about Musical Products, three out of 13 retailers said this item was their best seller. Kelly Boone, manager of The Elephant's Trunk in Greenville, S.C., told TDmonthly that they sold at least 36 during the holidays.
— In a February 2012 survey about wooden toys, two out of 14 retailers said that this was their bestseller in the category. Kristin Dolle, manager of Playthings Toy Shoppe in Louisville, Ky. told TDmonthly that they sell between 8 and 12 units of this item each month. (

Watch Video) 1/9/2012 (MSRP: $29.99; Age: 1 to 5)



---
---


Copyright © 2021 TDmonthly®, a division of TOYDIRECTORY.com®, Inc.