Building blocks and construction toys are a staple in most children's toy boxes. Some of the latest sets have meshed creativity and cognitive development so seamlessly, children will never guess they're learning while building.
Builder Series by BRIO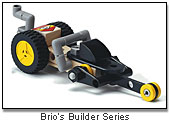 Still the world's largest wooden toy company, BRIO's (ToyDirectory) Builder Series ($12.50-$40) includes construction vehicles, speed vehicles, crane construction, dream machines and road diggers. Through the use of tools, a child can create his or her own toys, sharpening fine motor skills. Each set offers sample design patterns, or the child's imagination can do the job.

CoolBlox
Named one of Dr. Toy's "10 Best Toys for 2003," this innovative new building set lets children create 3-D structures with soft foam-like blocks. Each block has tongue and groove notches that fit together easily and stack several blocks high. A starter set comes with 52 blocks for $69.99. The CoolBlox Builder Set (ToyShow) ($99.99) and Master Builder Set ($129.99) each have additional blocks. The Clubhouse Fort Kit ($399.99) provides the user with 340 blocks. These colorful blocks can create forts, theatres, trucks, trains and nearly anything else imaginable.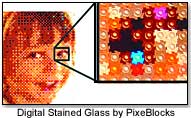 PixelBlocks
Imagine pulling images from your computer and creating a 3-D image. PixelBlocks let kids do just that. Each quarter-inch-square block comes in 20 vibrant colors, with each set retailing from $5.99-$59.99. Sets come with an "Ideabook" full of creative building possibilities.
SquashBlox
Mongo Toys' SquashBlox are square cushions with an innovative flap design that allows children to create forts, castles and playhouses complete with tunnels, doors and windows that open and close. The SquashBlox Starter Set is priced at $60, with add-on theme kits ranging from $15-$20. SquashBlox was recently awarded the "National Parenting Publications of America Award" and has also been named "Ten Best Active Products" and "100 Best Toys" by Dr. Toy.
Tieramid Pattern Cards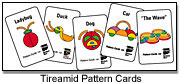 A deck of 48 flash cards is the supplemental component to Tieramid Creative Blocks (ToyDirectory), including Rainbow Arches ($21), Rainbow Edu-Blox ($40) and Rainbow Classic-Blox ($44). Each Tieramid Pattern Card ($5.95) has an image that represents a possible configuration of the blocks in 2-D or 3-D. The cards are designed in a tiered level of complication, from stages one through three, with translations for Spanish, French, German and Italian.