May 15, 2021

May 2012 | Vol. XI - No. 5

---
May Staff Picks
TDmonthly's May Staff Picks include new toddler toys, new specialty toys, eco-friendly toys, and more. Check our picks out below, then decide which products are right for your specialty store.
Pound and Tap Bench by HAPE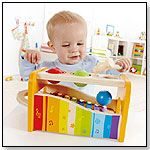 Pounding sends the balls tinkling over the xylophone. Pull out the keyboard and the xylophone can be played solo. All Hape products comply with EN71 and ASTM quality standards - wood used comes from FSC managed forests.
Awards: May 2012 TDmonthly Top Toy Award. Why it won: This item was named a Top-10 Musical toy in February and a Top-10 Wooden toy in March by specialty retailers interviewed by TDmonthly. Its innovative design combines the elements of the popular shape sorting/tapping toy and the xylophone, giving it great play value.
— As of 1/6/2012 this product had 4.2 out of 5 stars from 13 reviews on Amazon.com. Pros: Durable; lots of ways to play. Cons: The keyboard is not properly tuned.
— In a 2012 survey about Musical Products, three out of 13 retailers said this item was their best seller. Kelly Boone, manager of The Elephant's Trunk in Greenville, S.C., told TDmonthly that they sold at least 36 during the holidays.
— In a February 2012 survey about wooden toys, two out of 14 retailers said that this was their bestseller in the category. Kristin Dolle, manager of Playthings Toy Shoppe in Louisville, Ky. told TDmonthly that they sell between 8 and 12 units of this item each month. (

Watch Video) 1/9/2012 (MSRP: $29.99; Age: 1 to 5)



Rainbow Whirls Pegging Game by HABA USA/HABERMAASS CORP.

Hours of colorful creative fun with these 32 colored pegs and rings. Stack the rings and pegs to make taller structures! Ideal for free play. 3/21/2012 (MSRP: $34.99; Age: 2 and Up)



Loustic Activity Elephant by MAGICFOREST LTD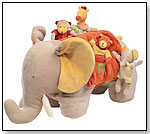 The Activity Elephant from Moulin Roty is part of the "Les Loustics" collection. Designed around four lovely, friendly jungle animals, the giraffe, the lion, the elephant, and the monkey, the Loustics characters travel the world looking for new friends and adventures. The Activity Elephant is 21 inches long and comes complete with the four little Loustic characters as well as the elephant. There are various activities for an infant to amuse themselves with: a hidden squeaker, noise maker, and a bell, and little pockets too. Designed and made by Moulin Roty, Les Loustics items including the activity elelphant are made of soft fabrics, sourced in Europe. Moulin Roty, the creative French company behind the "Les Loustics" line, celebrates their 40th anniversary in 2012. 3/21/2012 (MSRP: $108.00; Age: 0 and Up)



Schoenhut® Ukulele by SCHOENHUT PIANO COMPANY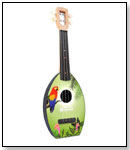 Schoenhut's beautiful Pineapple Ukulele with four nylon strings provides clear, authentic Hawaiian tones. The innovative design incorporating a molded composite body with dual curves greatly enhances sound and durability. A birch soundboard which offers excellent tone and resonance, hardwood neck (for rigidity), and molded composite fretboard ensure proper height and spacing of the frets. Available in several vibrant designs. Includes: Pick & Extra String.

1/19/2012



Clifford Tote by DOUGLAS CUDDLE TOYS



8" wide. Kids can carry their mini Clifford the Big Red Dog® stuffed dog everywhere in this stylish tote. Quilted material with colorful trim and embroidery. Plush dog is removable and comes with sak. (

Watch Video) 3/26/2012 (MSRP: $19.99; Age: 2 and Up)



Fruits Food Set by ANATINA TOYS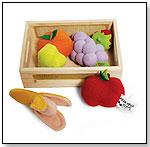 These cute pretend fruits are made of polar fleece, and come in a sturdy pine box. Includes a tomato, banana, grapes, strawberry, orange, and a lemon. Anatina paint is NON TOXIC, the wood is FSC CERTIFIED, and the fabric is RECYCLED. 3/19/2012 (Age: 4 and Up)



(OWI-MSK640) 7 in 1 Rechargeable Solar Transformers by OWI INC.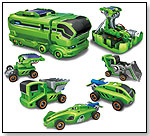 An innovative solar science kit that encourages children to exercise their sense of creativity and imagination. It features all snap together plastic parts (no screws, tools required), solar panel and accessories. It is incredibly easy to assemble the 7 different modules: 2 power charging stations and 5 different vehicles. The transforming rechargeable station has 2 output plugs; one for solar recharging and the other for battery recharging. Amazingly, the battery charging station can bring the selected unit to full power in about 5 seconds and the solar recharging station will fully recharge in approximately 120 seconds. The fun time - run time is approximately 50-80 seconds. Similar to OWI's other mini solar kits, if you have sun, you have power. Enjoy five different vehicles: Solar Car, Concept Car, Bulldozer, Dump Truck and Concept Race. 3/19/2012 (MSRP: $26.95)



Poke-a-Dot Who's in the Ocean? by INNOVATIVEKIDS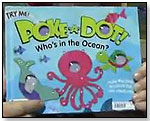 This board book helps kids learn how to count. Raised buttons pop in on every page so kids can press them as they count, so they don't lose track. (

Watch Video) 3/26/2012



Picnic Lunchbox by NEAT-OH! INTERNATIONAL LLC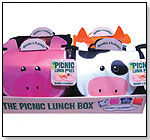 The Picnic Lunch Box™ & Placemat features four adorable themes ranging from Cats and Dogs to Pigs and Cows. With comic artwork on the exterior, unzip the lunch box to find not only lunch, but a small placemat ready and waiting. Lays flat and wipes clean with a damp cloth for spills and crumbs. A clean place to eat and an even easier lunch box to keep clean. Patented. BPA Free, Phthalate Free on every lunchbox, PVC Free, Lead Free. Sold individually or in an assortment of 4. A1510XX - Penny the Pig Lunch Box & Placemat; A1511XX - Denzel the Dog Lunch Box & Placemat; A1512XX - Clyde the Cow Lunch Box & Placemat; A1513XX - Carmen the Cat Lunch Box & Placemat. Launch date: 2012. (

Watch Video) 3/26/2012 (MSRP: $12.99; Age: 3 and Up)



Diabolo by EOLO SPORT INC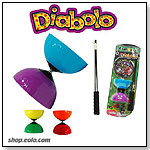 Practice your throwing, catching and juggling skills with the multi-color Funtrix Diabolo from Eolo Sport. Includes an instructional DVD that will help kids to learn and enhance their trick skills. "Diabolo involves throwing, catching and keep spinning a double cone with the help of 2 sticks linked with a string. Originality and difficulty are the most valued features when performing tricks," Sophia Georgeo, US Domestic Sales Executive for Eolo Sport, told TDmonthly. Launch date: March 2012. 3/16/2012 (MSRP: $12.99; Age: 6 and Up)



Thunder Tubes by TROPHY MUSIC COMPANY



It's a 7" long x 2-1/2" dia PVC tube with a resonant head at one end attached to a 17" long x 3/16" dia extension spring. Kids shake it, scrape it, wiggle it, use their palm to muffle it and they generate creaks, deep warbles, rumbles, weird heterodyne-ish gong effects, wa-wa's, rude noises, and, yes, realistic thunder. A perfect musical companion to a cuica and rain stick - and good, clean fun around the house.

4/6/2012



Pro Z yo-yo by DUNCAN TOYS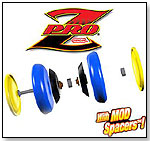 The Pro Z yo-yo is the first all in one yo-yo that allows looping AND string tricks to be performed with a single yo-yo. By inserting the included MOD Spacers the Pro Z transforms from narrow body looping yo-yo, to a wide body string trick yo-yo. Using a ball-bearing axle, the Pro Z spins 10x longer than a standard yo-yo. 4/5/2012



Voice Activated iPod Night Light by PRIMO



PRIMO's VOICE ACTIVATED NIGHT LIGHT WITH MUSIC offers an cuddly bear design with the innovative use of modern sound activation technology with the practicality of a night light. Offers 3 timing options for the lights and music, 2 lighting options and 4 sound options. Trendy parents can choose to have their own recorded voice calm and soothe their child back to sleep via an iPod or CD that is activated when the baby cries – or they can choose a soothing heartbeat, rainforest or programmed music sound to calm the baby. Battery power makes it portable – even a toddler can take it with them to light their path. 4/5/2012 (MSRP: $39.99)



12" Hennatude Turtle by FIESTA

Comes in four assorted colors. Fabric pattern features fun entwined loops and curlicues. Pattern is inspired by art motifs crafted by henna artists. Wide selection of sizes and fabrics. Soft and cuddly Fiesta stuffed animals and plush toys soothe, comfort, and encourage creative play. 4/5/2012 (Age: 3 and Up)



Sticky Mosaics® KeepSake Boxes by THE ORB FACTORY LIMITED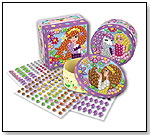 Store your secret treasures in these super sparkly KeepSake Boxes! Follow a numbered legend and add sparkling jewels to make three special boxes. Each box features a different Princess along with her special animal friend. Launch date: March 2012. 4/4/2012 (MSRP: $14.99; Age: 5 to 10)



Amazing Spheres by BE AMAZING!



Just add water and watch these little clear and colored beads grow into giant jelly marbles. Before soaking, sort the different colors and ask science questions like "How are these alike, and how are they different?" Will the different colors grow to different sizes? Try it and see! Afterward, kids can have lots of fun playing with their experiments. Find a water-safe surface and play the slimiest game of marbles in town, or try them out as new jelly bouncy ball. Kids can even try to grow the amazing spheres in different liquids, like milk, vegetable oil, or salt water. Use a notebook and record hypotheses and observations. (

Watch Video) 3/26/2012 (MSRP: $4.49; Age: 8 and Up)



Pajaggle Board Game by PAJAGGLE INC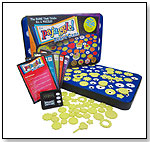 The award winning combination of a game, a brainteaser and a puzzle all rolled into one. Based upon concepts of spatial recognition and visual discrimination, the Pajaggle Board Game challenge players to quickly put unique pieces where they belong. Simple, right? Think again! Pick up a board and give it a try.
Awards: 2013 TDmonthly Seal of Approval, 2011 Tillywig "Best Family Fun"; 2011 Major Fun: Keeper Award (First puzzle game to ever receive such an award); 2012 Astra Best Game of the Year; 2012 Creative Child Magazine: Game of Year Award (

Watch Video) 3/26/2012 (MSRP: $29.99; Age: 8 and Up)



The Magic School Bus - Attracted to Magnificent Magnets by THE YOUNG SCIENTISTS CLUB


Ms. Frizzle and her students take Young Scientists on a wild ride while becoming attracted to magnificent magnets. Young Scientists go on a magnetic scavenger hunt, build a compass, make magnetic slime, design magnetic faces, experiment with lodestone, play magnetic games, hold magnetic car races, and much, much more. This magnified kit includes a colorful poster with a racing track, game board, and experiment diagrams. Seatbelts everyone! Get ready and become Attracted to Magnificent Magnets. Launch date: January 2012.
Awards: 2012 PALS award 4/24/2012 (MSRP: $20.00; Age: 5 to 12)



Snap Circuits XP by ELENCO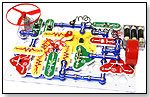 Kids can build and program their own computer. As easy as snapping together the circuits and downloading Elenco's programs. Kids can write their own programs using Basic commands or flowcharts. Includes over 100 projects and over 50 parts. A great introduction to microcontrollers and how they are used in the world around us. Requires 3 "AA" batteries.
Awards: 2013 TDmonthly Seal of Approval 4/24/2012 (MSRP: $99.99)



Ladybug 8 ft. Parachute by PACIFIC PLAY TENTS INC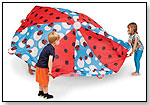 Made of 70 denier flame retardant polyester taffeta. Has eight sturdy handles so kids can get a good grip. Parachutes clean easily with a damp cloth and mild soap; carry bag included. 4/24/2012 (MSRP: $32.99; Age: 3 and Up)



Playful Xylophone by P'KOLINO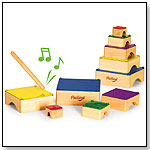 This playful melody maker develops an early interest in music while teaching shape & color recognition. As individual pieces, these colorful blocks allow children to arrange and rearrange to create their very own melodies. When the music is done, nest the blocks together for a quick and easy clean up or stack for a beautiful display. 4/13/2012 (MSRP: $29.99; Age: 1 and Up)



Owl Snuggle by KATHE KRUSE DOLLS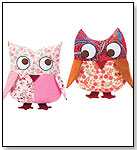 This big, soft and cuddly owl makes a great snuggle buddy at home, in the car, or to take along to Grandma's house. The calico patchwork print of fine-wale corduroy, soft cotton and flannel in bright colors, and whimsical eyes appeal to the child in us all. Made by Kathe Kruse of Germany. Some fabrics may vary. 4/13/2012 (MSRP: $32.98; Age: 1 and Up)



Sweet Puppies by DOUGLAS CUDDLE TOYS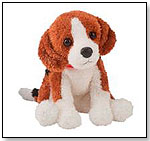 There are six Sweet Puppies in the kennel including PJ the Black Lab, Tootsie the Beagle, Patsy the Golden Retriever, Gi-Gi the Yellow Lab, Button the Bernese Mountain Dog and Abby the German Shepherd. Each adorable pup is created of the softest mohair fur and obediently sits at 10-inches. Each wears a cute red webbed collar.
Awards: 2013 TDmonthly Seal of Approval
— In a May 2012 survey about best selling plush and puppets, Lisa LeStrange, owner of Lucky Duck Toys in Wayne, Pa., told TDmonthly that they "sell about 175-200 pieces" of Douglas plush each month. 4/13/2012 (MSRP: $12.00)



---
---


Copyright © 2021 TDmonthly®, a division of TOYDIRECTORY.com®, Inc.