May 11, 2021

May 2012 | Vol. XI - No. 5

---
Recently Added Puzzles and Skill Toys
New Puzzles, Skill Toys, Brain Twisters, and More
Check out these recently added mass-market and specialty puzzles and skill toys and games:
Quoridor by Gigamic by BACKALLEY PRODUCTS, INC.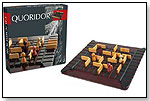 The aim is to reach the other end first. The problem is that each opponent puts up fences to slow the other down. Not to worry, there's always a way out. But who will find the shortest route? Created by Gigamic; exclusively distributed through Back Alley Traders in the USA.
Awards: May 2012 TDmonthly Top Toy Award. Why it won: This beautifully designed wooden strategy game has won several prestigious awards already in the US and in Europe. It also has great user reviews on Amazon.com. TDmonthly staff who saw the game demoed at Toy Fest West 2012 were impressed. Other awards: 1997 Mensa Select Top 5 Best Games; Games Magazine Game of the Year 1997; Best Bet of the Toy Testing Council 1997; Prix d'Excellence des Consommateurs; Consumer's Toy Award 1997 Quebec; Spelgut 1997; Grand Prix du Jouet 1997; Games Magazine "Games 100 Selection" 1998; Games Magazine "Best Games."
— As of 4/10/2012 this product had 4.8 out of 5 stars from 25 reviews on Amazon.com. (

Watch Video) 3/26/2012 (Age: 6 and Up)



Giant Road Jigsaw Puzzle by THE ORIGINAL TOY COMPANY

Design lots of different road layout using the 20 chunky interchangeable puzzle pieces. Add to the fun with your favorite toy cars! 20 pieces. 38"x38" average size. (

Watch Video) 2/24/2012 (MSRP: $24.00; Age: 3 and Up)



Red Sunrise Kendama by KENDAMA CO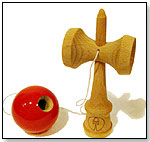 Kendama is the ultimate form of the traditional ball and cup game. Originating in Japan, Kendama has captivated the world with its simple design and endless freestyle trick possibilities. With no moving parts, Kendama is deceptively simple at first glance. The simplicity makes it enjoyable for the beginner and also gives it its infinite playability.

(

Watch Video) 3/26/2012 (MSRP: $21.00)



Magnetic MightyMind Zoo by LEISURE LEARNING PRODUCTS INC.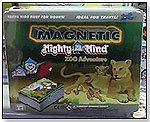 MightyMind develops creativity & helps children understand visual/spatial relationships. A great confidence builder in a fun, purposeful format. Children learn to solve puzzles entirely on their own. Starting with the simple concept of manipulating shapes, kids follow a logically programmed sequence of patterns, learning how to manipulate different geometric shapes to build pictures of increasing complexity. This set features a zoo theme and puzzles that include animal shapes.
Watch Video from WTHRA 2012 (

Watch Video) 3/26/2012 (MSRP: $22.00)



Play Puzzle City by MAGICFOREST LTD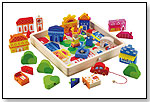 What could be better than a puzzle kids can actually play with? This 28 piece puzzle only fits into the hardwood storage box one way but don't worry, the images are painted in bright colors on the inside and outside. A great on-the-go gift since all pieces fit snuggly in its box and latch shut. Children can build skyscrapers as the roofs of all the building pop off and are stackable. An excellent developmental building toy, pieces are perfect for little fingers and big imaginations. Sevi is Europe's' oldest wooden toy maker – since 1831 – using only vegetable-based paints and smooth hardwood.
Awards: 2013 TDmonthly Seal of Approval 3/21/2012 (MSRP: $70.00; Age: 3 and Up)



Rubik's Void Puzzle by WINNING MOVES GAMES



The Void is puzzling to comprehend because there's a hole right in the middle of it. Consumers can literally put their finger right through the center of the Void. The object is to solve each side, much like one would a standard Rubik's Cube, but that's where the similarities end. The Void has different colors, rounded edges, and requires a different solution. Launch date: February 2012.
Awards: 2012 ASTRA Best Toys For Kids Nominee 3/19/2012 (MSRP: $14.95; Age: 8 and Up)



Charles Wysocki Hawkriver Hollow Puzzle - 1000 pcs by BUFFALO GAMES INC.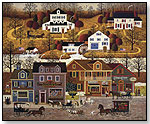 For more than 40 years Charles Wysocki enjoyed his love affair with life and Americana, and through his imaginative and colorful artwork touched the hearts of millions worldwide."Chuck" felt a special kinship with puzzlers, who share in the creative process by building his paintings one piece at a time. This 1000 piece puzzle has a finished size of 26 3/4 x 19 3/4". Puzzle includes an 18 x 11 3/4" BONUS POSTER of the image. These puzzles are made here in the USA with 100% recycled paperboard at their factory in Buffalo NY. 3/19/2012 (MSRP: $14.95)



Green Start Chunky Wooden Puzzles: Shape Parade by INNOVATIVEKIDS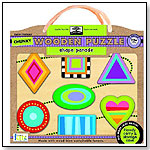 Brand new in the Green Start series, made from 98% post consumer recycled materials and printed with eco friendly inks, this extension brings earth-friendly messages and all natural materials to the joy of creating beautiful floor puzzles. Packaged in a reusable totebox, each of these floor puzzles reveals a unique, endearing scene that kids will love to build. A bright and bold shape parade contains seven basic shape pieces with fun patterned designs. Pieces are self-correcting and can fit only into one spot. Names of shapes are printed under each piece. Launch date: April 2012. (

Watch Video) 3/14/2012 (MSRP: $12.99; Age: 1 and Up)



Bamboo Collection Magnetic Vehicles by HAPE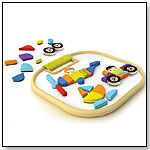 Create a transportation-themed mosaic using magnetic geometric shapes. Arrange-and re-arrange-these vibrantly colored wooden pieces on the lap-sized magnetic board. A carrying handle specially sized for small hands makes it easy for kids to take this toy wherever they go. 3/13/2012 (MSRP: $50.00; Age: 3 and Up)



Digits in a Box by PLASMART INC.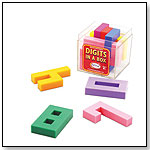 Can kids fit all the numbers back in? First, spill the ten digits (0-9) from the box and give them a scramble. Then, place the pieces back in the box so that the lid closes flat. There are over 4000 possible solutions.
Awards: 2011 Parents' Choice Awards - Recommended 3/13/2012 (MSRP: $9.99; Age: 8 and Up)



GEOMAG E-Motion Power Spin 24 pc by REEVES INTL. INC.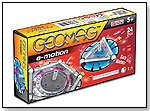 New fun and colorful GEOMAG set lets kids build and put into motion. Build a spinning top, and put it into motion. Set makes two spinning tops. All components are manufactured to stringent European and American safety standards. GEOMAG E-Motion Power Spin 24 pc Includes: 8 magnetic rods; 8 Non-magnetic steel spheres; 2 performance tips; 1 triangle panel; 1 pentagon panel; 2 graphic discs; 1 triangle pro panel; 1 pentagon pro panel. 3/13/2012 (MSRP: $13.50)



Jumbo Bananagrams by BANANAGRAMS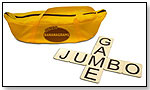 Jumbo Bananagrams features 144 waterproof, three-inch square tiles packaged in a funky giant yellow banana-shaped tote bag. Requiring no pencil, paper or board, Jumbo Bananagrams is addictive fun and educational play for kids age five to 105. Players race against each other to build giant crossword grids and use all their letter tiles. Launch date: Summer 2012. (

Watch Video) 3/8/2012 (MSRP: $44.95; Age: 5 and Up)



Animal Puzzles by BRAINY BABY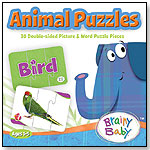 This fun game set includes mini-puzzles that are especially designed to build kids' recognition and matching skills with images of real animals and vivid colors. Includes 30 double-sided picture cards that make 10 complete puzzles. 4 puzzle sks available: 123s, ABCs, Animals, Shapes & Colors. 2/29/2012 (MSRP: $9.99; Age: 1 to 5)



---
---


Copyright © 2021 TDmonthly®, a division of TOYDIRECTORY.com®, Inc.