December 9, 2023

April 2013 | Vol. XII - No. 4

---
Get Ready for ASTRA: 11 Retailer Trade Show Tips
Retailers Share their Tips for Navigating Trade Shows
With additional reporting by Alison Marek and Julie L. Jones

The ASTRA Marketplace and Academy, one of the most important trade shows for the specialty toy industry, is coming up in June. To help you prepare, TDmonthly Magazine asked retailers for their tips on making the most of trade shows. See their top 11 tips, below.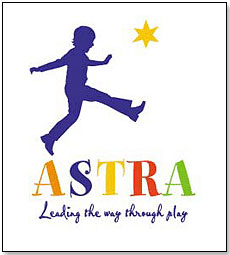 1. Assess Your Stock Before You Go. Debbie Scholl, owner of Fundamentally Toys in Houston, looks at what areas of her store need product, and then sets limits on how much she will spend per category. "If I'm overstocked in stuffed animals, I won't look at any."

2. Decide Whom to Visit Ahead of Time. Look at the show guide's listing of companies by category and see what applies to your store. Matt Hannifin, manager of Science Toy Magic in Santa Fe, N.M.*, focuses on science and educational toys: "I should know what every company in that category does," he said. "If I don't, I should visit them."

3. Spend Wisely. According to Linda Angel, owner of Kidoodles Toys in Norman, Okla., "ordering in the moment and blowing your budget" is one of the biggest mistakes at trade events. She generally places minimum "test orders" after the show. Scholl doesn't place orders until the third or fourth day of the show because "as sure as you see one thing you love, two booths down you'll see something you love even better."

4. Search for Innovation
"I prefer to spend more time...with the little guys. That's where you find the surprises," Mike DiAndrea, manager of Hardware Toys in Paoli, Pa., told TDmonthly.

Pamela Buars, owner of The Ark in San Francisco, agrees. "I'm looking for that odd company that no one knows about," she explained.

5. Listen When It's Right. When you're dealing with products applicable to your store, listen to reps. "Even if you've been selling the toy for years, have the sales person give the pitch," Hannifin advised. "You may learn something to help your customers and sell the toy better."

6. Network With Your Peers
Janet Gregory, owner of Over the Rainbow Toy Store in Anchorage, Alaska, has been going to the ASTRA Marketplace & Academy for 16 years. "It's the most important organization for independent toy store owners to be involved in," she told TDmonthly. Of the event, she told us, "It's a much different networking environment than Toy Fair...in terms of the business building information that is shared and learned, the contacts you make within the industry, with other retailers, manufacturers, and sales reps. It's priceless to meet in that environment."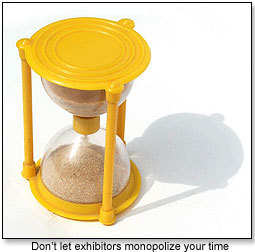 7. Be Disciplined
Exhibitors at shows have one goal in mind: keep you in their booth as long as possible! "You could spend the whole time looking at and learning about the games," John, the owner of Thinker Things in Del Mar, Calif., told TDmonthly. "We just blaze through...if you stop and try to be polite, you're there forever."

8. Give It Some Thought. If you're at a show for more than a day or two, take notes as you walk the floor and then decide which booths to revisit.

Steve Shelton, owner of Magical Moon Toys in Logan, Utah, recommends that when you get to your hotel each evening, sort pamphlets and sell sheets into three piles: 1) Yes, will order; 2) Interested, may follow up; and 3) Absolutely not. This will allow you to make organized decisions and only leave with the paperwork you need.

9. Do Research Online Before You Go
Tim Holliday, owner of Children's World Uniform Supply in Sarasota, Fla., suggests using several TDmonthly Magazine features to stay up-to-date with the industry. "The highlights e-mail that lists the Top-10's is a nice tool to use in seeing what's working for other stores. Coverage of marketplace and videos [are] certainly helpful because you can't take it all in and remember it," but you can review product videos from the show on TDmonthly when you get home.

10. Get the Discounts. "Ask for specials, ask for freight, ask for things that are going to help you. Ask for samples, demos, so you can learn it and show the customer," Lori Hershman, owner of Evan's Toy Shoppe in Hamden, Conn., told TDmonthly.

Don't let the specials rush you, since some are good beyond the show. "Most vendors will extend specials for some time, which allows you to get home, organize your thoughts, and then make your purchases," said Joe Berardoni Sr., owner of Pun's Toys in Bryn Mawr, Pa.

11. Save Money by Staying Local
Some retailers skip the expensive trips to larger shows in favor of going to more local events. Debbie Rogers, owner of Bear n Friends in Johnson City, Tenn., told TDmonthly that she goes to the Atlanta Gift Fair instead instead of New York Toy Fair. "It's closer, and more affordable," she explained.


*Science Toy Magic closed in 2008.
---
---


Copyright © 2023 TDmonthly®, a division of TOYDIRECTORY.com®, Inc.