May 8, 2021

June 2012 | Vol. XI - No. 6

---
June Staff Picks
High-quality and variety define this month's staff picks
TDmonthly Magazine's staff picks for June include new games, eco-friendly arts & crafts items, and wooden toys. Kids can get the Hiccups with PLASMART INC., explore the seven seas with the Balance Boat from HAPE INTERNATIONAL, and have their cake (and make it, too!) with Clay It Cake Shop - My Princess CupCake from WIDE IDEAS INC. Learn more about these and the other staff picks below.
Hiccups by PLASMART INC.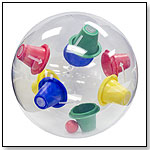 8 cups, plenty of Hiccups. This hand-held puzzler has straightforward direction but challenging play. Pass the ball sequentially from cup to cup without a hiccup. Drop the ball and start back at cup #1. Frustratingly fun.
Awards: 2012 Creative Child Awards – Seal of Excellence 4/27/2012 (MSRP: $14.99; Age: 6 and Up)



DiceAFARI by STRATUS GAMES LLC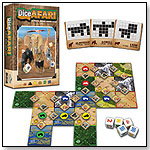 Kids and their friends are going on a photo safari. To see as many animals as possible, they will have to plan their trip well. Whoever visits the most areas and takes the best photographs will be the safari champion. Launch date: July 2012.
— "My little geeks and I have played DiceAFARI a number of times and keep enjoying it more and more. The dice certainly add an element of randomness and luck to the game but also act as an equalizer...Light, flexible, customizable, and accessible, DiceAFARI is a fun game that will challenge and entertain." - Review on FatherGeek.com. 4/27/2012 (MSRP: $24.95; Age: 8 and Up)



Raffy the Rabbit by TMI TOYMARKETING INTERNATIONAL INC.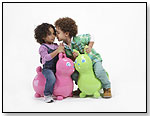 Made in Italy, the Gymnic Line's NEW Raffy the Rabbit helps children to learn balancing and coordination while hopping on their Raffy. The same as our popular Rody Horse, but it is a Rabbit. Inflates according to size and weight of child (inflation by adult). Is surface washable with soap and water. Base is available for transforming to a Rocking Raffy the Rabbit. Raffy is available in 2 colors. Launch date: November 2012. 4/27/2012 (MSRP: $50.00; Age: 3 and Up)



Balance Boat by HAPE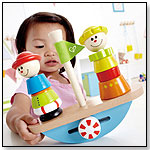 Kids need to try to stack this pair of sailors without tipping the boat. The life ring spins from one side to the other when the weight is off center. All posts are elasticized for added safety. Launch date: January 2012. 4/27/2012 (MSRP: $24.99; Age: 2 to 4)



Arx by FAT BRAIN TOY CO.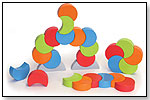 An innovative new magnetic, crescent shaped building block. A magnet rolls through each Arx piece, giving any builder the option of building in ways that defy common thought. When the magnetic force between two Arx pieces meets, kids'll feel the slight click as the magnets adhere. 24 Versatile magnetic pieces. Building base included (optional for building). Launch date: August 2012. 4/13/2012 (MSRP: $32.95; Age: 3 and Up)



Artist on the Go by BEGINAGAIN


A complete art kit for families on the go. This natural cotton carry case with built in crayon holster, pencil holders and pockets is fully equipped with a 6"x9" recycled paper notepad, 10 soy crayons, 5 drawing stencils including a 6" ruler (metric and inches), 2 wood pencils, and plenty of storage! Perfect for restaurants when waiting for your food, airports, and road trips. This 8"x10"carry case fits in a baby bag and has built in handles for the little ones to carry proudly. Made from Plants - primarily natural cotton, soy, paper. 4/11/2012 (MSRP: $25.00; Age: 3 and Up)



30 Key Classic Baby Grand by SCHOENHUT PIANO COMPANY



Schoenhut's miniature version of a baby grand piano is designed to encourage a child to play and develop a love of music. Elegant in appearance with graceful spindle legs, yet extremely durable and sturdy, it makes a beautiful addition to any home. Lovely chime-like tones are produced by small hammers striking metal rods, the sound that makes Schoenhut toy pianos unique. The two-and one-half-octave span of full-width keys provides a good foundation for the transition to a larger model. Includes: Schoenhut's Learning System and bench.
Awards: 2013 TDmonthly Seal of Approval

3/29/2012 (Age: 3 and Up)



18" Pirate Monkey Peek-A-Boo Plush by FIESTA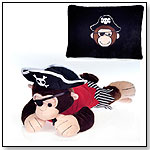 This cushion, embroidered with pirate monkey, unzips and turns inside out to become a plush monkey pirate. Launch date: January 2012. 2/8/2012 (MSRP: $26.00; Age: 3 and Up)



Zip-Itz Miniz by PLAYDIN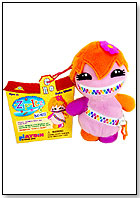 Zip-Itz are magical and mischievous plush creatures that came to life after a mysterious machinery malfunction at the Zany Zipper Factory. Instead of zippered rain boots, purses, wallets and more, the machines spewed out colorful Zip-Itz instead. While no one is quite sure how they came to be, one thing is for certain - they make the very best pals. Adorned with rainbow-teeth zippers that open to reveal secret pockets, Zip-Itz are perfect for hiding all kinds of treasures. Each creature has a unique personality. The line includes 12 Zip-Itz Miniz and 6 Zip-Itz. Launch date: 2012. 11/16/2011 (MSRP: $5.99; Age: 3 and Up)



Mini Robot X-7 by THE ORIGINAL TOY COMPANY

Bend me, shape me into various positions by moving my head, arms and legs. Display contains 12 wooden robots. 2/24/2012 (Age: 3 and Up)



---
---


Copyright © 2021 TDmonthly®, a division of TOYDIRECTORY.com®, Inc.