February 26, 2021

June 2012 | Vol. XI - No. 6


Holiday Preview: 22 Toys, Games and Gifts for Kids of All Ages
For Retailers, big holiday sales are the gift that keeps on giving
It's almost time to get serious about your holiday buying, so TDmonthly Magazine compiled this list of 22 great gifts for you to consider when deciding what to stock your shelves with during the busiest time of the year.

Jewelery, trains, collectibles, and more will look great in your store - and underneath the Christmas tree!
Cotton Candy Cutesies by PLAYDIN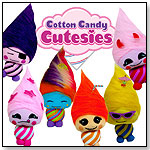 Cotton Candy Cutesies are truly sweet plush characters with wispy hair that looks just like cotton candy. Each scrumptious Cutesie has a distinct personality based on their flavor - from rainbow cookie and orange cream soda to bubblegum and hot cinnamon. 11/16/2011 (MSRP: $13.99; Age: 3 and Up)



Cloud Dragon by SAFARI LTD.®



In the clouds above lives a mystical and translucent Cloud Dragon. Safari Ltd® welcomes this magical creature to its 2012 collection. Beware, as its icy cold breath gives a cool breeze to the world below. Measuring 8.5"L x 4"H, this model is appropriate for ages 4+. All products are 100% guaranteed and phthalate and lead free to ensure children's safety. Safari Ltd®'s 2012 introductions and more can be viewed and purchased online at safariltd.com. Launch date: 2012.
Awards: 2013 TDmonthly Seal of Approval 3/7/2012



Large Scale Thomas' Christmas Delivery Train Set by BACHMANN TRAINS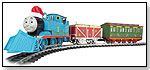 Wearing a familiar cap and armed with his trusty snowplow, Thomas hauls two festively decorated cars to bring BIG holiday cheer to one and all. Bachmann's Large Scale Thomas' Christmas Delivery ready-to-run electric train set (Item No. 90087) includes Thomas the Tank Engine™ (with hat, snowplow and moving eyes), open wagon with presents, coach, 5'4" x 4'3" oval of track (14 pieces), wall pack and speed controller, and DVD-format video instructions. Launch date: February 2012. 2/13/2012 (MSRP: $525.00; Age: 8 and Up)



Beandolls by LALEI LLC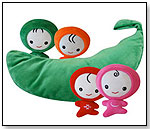 One 23" green Beanpod fits four Beandolls, including one pink Beandoll (named "MeiLin"), one red Beandoll (named "Bahiya"), one orange doll (named "Adora") and one green doll (named "Oris"). The Beandolls are soft and cuddly and the Beanpod can be hung from a loop on its end. Each Beandoll represents a different cultural theme and has a special symbol on it (the meaning of which is explained on its tag). Also sold individually or in pods of two. (

Watch Video) 3/29/2011 (MSRP: $32.99)



Moopus McGlinden Stuffed Animal by MRS PINKELMEYER LLC

Meet Moopus McGlinden, canine side-kick to Mrs. Pinkelmeyer, Silliest, Warmest Know-It-All. Tag along with Moopus on his adventures. He is 12" tall, with plush, cuddly fur. Moopus is designed to provide children with love, warmth and care. Surface wash only. (

Watch Video) 12/17/2010 (MSRP: $28.00; Age: 3 and Up)



Elf Fun with Christopher Pop-In-Kins by ELF FUN WITH POP-IN-KINS



From late November to Christmas Eve, Christopher Pop-In-Kins "pops in" to visit children, play hide-and-seek, and share in the excitement of the holiday season. On Christmas Eve, he returns to the North Pole to tell Santa all about his young friends and holiday adventures. Each Christopher Pop-In-Kins Fun Set includes a posable Christopher Pop-In-Kins Elf, "Christopher Pop-In-Kins Pops In" by Flora Johnson ©1985 illustrated storybook, and a convenient storage case. Now in his 27th year, Christopher Pop-In-Kins was recently named one of Dr. Toys Best Classic Toys for 2011.
Awards: 2011 Moms' Best Award for Extraordinary Products; 2011 The Toy Man Award of Excellence; 2011 The Toy Man E-Choice Award; 2011 The Toy Man Seal of Approval; 2010 Parent Tested Parent Approved Seal of Excellence in Family Products; 2010 The National Parenting Center Seal of Approval; 2009 Preferred Choice Award from Creative Child Magazine; 2008 iParenting Media Outstanding Products Award; 2008 iParenting Media Hot Product Award; 2008 Dr. Toy Best New Products Award; 2004 Choice Award from the Chicago Home & Gift Market (

Watch Video) 4/25/2008 (MSRP: $24.95; Age: 3 and Up)



Tranquil Turtle by CLOUD B

Tranquil Turtle is the first Cloud B product that combines both sight and sound features in one soft, comforting character. Glowing in a relaxing aquamarine or amethyst color, the shell projects a magical underwater light effect with a gentle wave motion and plays soothing sounds to help children sleep. Launch date: February 2012.
Awards: 2012 NAPPA Honors, 2012 The National Parenting Center - Seal of Approval (

Watch Video) 2/1/2012 (MSRP: $47.95; Age: All Ages)



Yui by HABA USA/HABERMAASS CORP.

The HABA doll family keeps growing and growing. We now have 15 dolls in our family in all sizes for all ages. Uncomparable to anything else on the market these dolls are value priced. Washable dolls with Chenille hair, soft bodies and beautiful fashion accessories. Yui is one of new dolls that is wearing a Japanese Kimono and carrying a fan. Launch date: February 2012. 3/21/2012 (MSRP: $34.99; Age: 1 to 7)



Mouth Man Animated Hoodies by MOUTH MAN LLC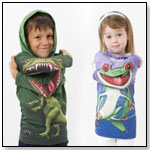 Mouth Man long-sleeve hoodie apparel feature animated designs that form an open-mouthed animal when the arms are folded at the chest level, bringing the particular animal to life. Eco-friendly and made in the USA. 12/8/2010 (MSRP: $25.00; Age: 2 and Up)



Rhinestone Butterfly Necklace by COOL JEWELS WHOLESALE FASHION JEWELRY



This butterfly necklace has dazzling rhinestones on the left wing and mother of pearl on the right wing. Each pendant hangs on an adjustable silver snake necklace. 10/4/2011 (MSRP: $8.99)



Petjamas™ by SNUGGLETIME

A combination slipcover, outfit and carrier, Petjamas accessories for kids' favorite Pillow Pets. This super soft, super cute and super cleanable cover acts as clothes or a carrying case for plush companions and a pillow case for children. Launch date: November 2011. (

Watch Video) 12/8/2011 (MSRP: $9.99; Age: 3 and Up)



Green Start Chunky Wooden Puzzles: Shape Parade by INNOVATIVEKIDS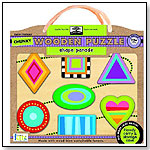 Brand new in the Green Start series, made from 98% post consumer recycled materials and printed with eco friendly inks, this extension brings earth-friendly messages and all natural materials to the joy of creating beautiful floor puzzles. Packaged in a reusable totebox, each of these floor puzzles reveals a unique, endearing scene that kids will love to build. A bright and bold shape parade contains seven basic shape pieces with fun patterned designs. Pieces are self-correcting and can fit only into one spot. Names of shapes are printed under each piece. Launch date: April 2012. (

Watch Video) 3/14/2012 (MSRP: $12.99; Age: 1 and Up)



Boikido Wooden 40 Pc Construction Set by BOIKIDO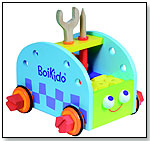 Build and roll this Construction Toolbox around like a vehicle. 5 projects included; kids can use their imagination to build anything. Includes 11 Geometric Shapes, 4 Wheels, 12 Screws, 10 Nuts, 1 Screwdriver, and 1 Wrench. This Toolbox also provides easy storage for all the pieces. Develops imagination, hand-eye coordination, manual dexterity, and problem solving and fine motor skills. Tested to meet European and U.S. safety standards. "Unique design - the attractive colors, unique features, super play value, learning elements and cute character of this toolbox draws kids attention and become their best friend in no time," David To from Biokido/Georgeous Products Inc. told TDmonthly. Launch date: February 2012. (

Watch Video) 12/9/2011 (MSRP: $39.99; Age: 3 and Up)



Domo Bobblehead by MEZCO TOYZ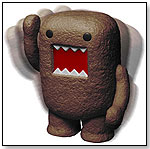 Domo, the loveable strange creature who hatched from an egg, is now a bobble head. Fresh from his underground cave, Domo stands 6inches tall and features a sturdy spring that will provide years of bobbling fun. Launch date: June 2012. (

Watch Video) 1/20/2012 (MSRP: $15.00)



Voice Activated iPod Night Light by PRIMO



PRIMO's VOICE ACTIVATED NIGHT LIGHT WITH MUSIC offers an cuddly bear design with the innovative use of modern sound activation technology with the practicality of a night light. Offers 3 timing options for the lights and music, 2 lighting options and 4 sound options. Trendy parents can choose to have their own recorded voice calm and soothe their child back to sleep via an iPod or CD that is activated when the baby cries – or they can choose a soothing heartbeat, rainforest or programmed music sound to calm the baby. Battery power makes it portable – even a toddler can take it with them to light their path. 4/5/2012 (MSRP: $39.99)



MIMOMICRO™ Card Readers & Drives by MIMOCO INC.

MIMOMICRO™ can be used as a USB flash drive with interchangeable microSD memory cards, and also functions as a microSD card reader to transport data between mobile phones, tablets, e-readers, digital cameras, and mp3 players to one's computer. "MIMOMICRO™ boasts three dimensional sculpted characters and the first in a series of vehicles. MIMOMICRO's cap-free design with flip-out USB plug also includes a built-in keychain and LED indicator light. Measuring a mere 1.6" H x 1.0" W in its compact form factor, MIMOMICRO™ lives up to its name," Clint Weiler, PR for mimoco llc, told TDmonthly. Launch date: March 2012. (

Watch Video) 2/1/2012 (MSRP: $12.95; Age: All Ages)



Cathedral Blocks by WESTWORK DESIGNS


Designed by architect Steven W. Hurd, these blocks are the first in a series of architecturally themed building blocks created for all ages. Each set is designed around a particular building type, but the unique pieces allow for creativity and imaginative construction. The blocks are carved from imported hardwood, and the set includes 145 pieces, 15 different shapes, a printed plan and instructions. Castle Blocks are also available. "The Cathedral shape offers a dramatic initial building project and the unique shapes allow for a different level of imaginative play than most sets of building blocks," Hurd told TDmonthly. Launch date: November 2006. (

Watch Video) 2/21/2007 (MSRP: $160.00; Age: 8 and Up)



Faith Bands – Shaped Rubber Bands by SWANSON CHRISTIAN PRODUCTS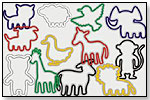 Swanson Christian Products offers more than 20 different design assortments of shaped rubber bands, with wholesale pricing as low as 60 cents per package depending on purchase quantities. The bands are formed in various shapes and colors including glow-in-dark and scented styles. They can be used as regular rubber bands, or collected and traded. They are designed to return to their original shape. (

Watch Video) 5/12/2010 (MSRP: $2.99; Age: 5 and Up)



PlanWood Pull Along-Snail by PLANTOYS


Made from PlanToys new collection of PlanWood materials, the Pull-Along Snail is made using this new sustainable wood to delight children ages 1 and up. Encourage those beginning stages of walking with this adorable pull-toy. Pull the snail along and the snail body inches forward in a rolling motion. Created to maximize the usage of reclaimed rubber trees, PlanWood uniquely provides an even safer, higher quality and more affordable product, while maintaining the eco-minded excellence and unforgettable design consumers have come to expect from the PlanToys brand. "The product is beyond green, made from the sawdust of the reclaimed rubberwood trees we use for all PlanToys products," Ashley Cao, Marketing & Sales rep for PlanToys, told TDmonthly. Launch date: May 2012. 5/11/2012 (MSRP: $20.00; Age: 1 to 6)



---
---


Copyright © 2021 TDmonthly®, a division of TOYDIRECTORY.com®, Inc.