September 22, 2020

ASTRA's Best Toys For Kids Nominees - Active Play
Take a closer look at ASTRA's Best Toys For Kids Nominees in the Active Play category.

Don't forget to check out the nominees in the other categories:









Kickin Putt by BEGINAGAIN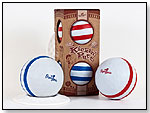 This outdoor game combines the fun of soccer, kickball, ying discs, and golf. The Kickin' Putt 2 player game is complete with 2 kick around golf balls and the ying scoring disc. Toss the scoring disc to set the hole, and get ready for a game of soccer meets golf. The scoring disc is made in the USA from wheat based plastic and the kick around golf balls are made from natural rubber. 4/30/2012 (MSRP: $30.00; Age: 3 and Up)



Tribute Kendama by KENDAMA USA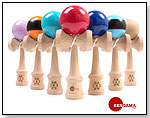 The Tribute Kendama is a Japanese wooden skill toy that challenges hand-eye coordination, focus, balance, and creativity. Enjoyed by millions in Japan, its only recently been introduced into the USA thanks to KendamaUSA. " It is the only Kendama designed so that the cups can never fall off the handle, which is the #1 customer complaint with copy-cat brands," Jeremy Stephenson, president of Kendama USA, told TDmonthly. Launch date: January 2007.
Awards: 2012 ASTRA Toy of the Year Award Nominee
— David Castillo, vice president of The Red Balloon Toy Store in Salt Lake City, Utah, told TDmonthly in a November 2014 survey that Kendamas, especially ones from Kendama USA, are one of their store's best-selling toys. 2/8/2012 (MSRP: $22.00; Age: 9 and Up)



OgoDisk RAQ by OGOSPORT, LLC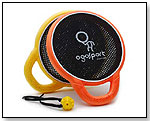 A hand trampoline for balls: throw, catch, bounce. RAQ combines the ease of the other OgoDisks with the added power of a handle. Features the new Flux ball, with adjustable speed, for tailored fun. Bounce any ball; for summer fun, try it in the pool with water balloons. Each set includes one yellow and one OgoOrange RAQ disk with one Flux ball. EVA foam ring. Nylon-spandex membrane center. 5/25/2012 (MSRP: $38.00; Age: 3 and Up)



See more products in our 2012 ASTRA Preview: 28 Toy Makers Share Products for SpecialtyPrepare for ASTRA with our 11 Retailing Tips on Making the Most of Your Time at Trade Shows
---
---


Copyright © 2020 TDmonthly®, a division of TOYDIRECTORY.com®, Inc.