January 25, 2022

---
ASTRA's Best Toys For Kids Nominees - Classic Play - 0-7 yrs
Take a closer look at ASTRA's Best Toys For Kids Nominees in the Classic Play - 0-7 yrs category.

Don't forget to check out the nominees in the other categories:









Pretend & Play School Set by LEARNING RESOURCES INC.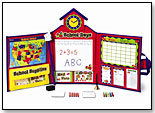 Kids enjoy playing school and this pop-up classroom set will give them hours of fun. It includes everything needed for the ultimate pretend classroom: gradebooks, stickers, hall passes, clock, bell, dry erase board, handpointer, crayons, double-sided calendar, double-sided map and much more. Items come in a convenient tri-fold board for easy set up and storage.
— The product "is an example of an open-ended toy that enables kids to use their imaginations. They can make their play whatever they want it to be….Some parents and caregivers use the Pretend & Play School Set to prepare their preschoolers for school," Kim McLynn of Learning Resources told TDmonthly. 5/12/2006 (MSRP: $32.95; Age: 3 and Up)



Classic Etch A Sketch by OHIO ART CO.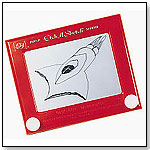 Children can turn either the horizontal or vertical knobs to watch lines begin to form on this "magic" screen. When finished, they can simply shake it to watch the picture magically disappear so they can start all over again!
— As of 8.16.10, this product had 4 out of 5 stars from 4 reviews on ToysRUs.com and was listed No. 38 in best-selling toys and games. PROS: Long-lasting; comfortable grip. 8/16/2010 (MSRP: $11.99)



Classic Figure 8 Wooden Train Set by BRIO CORPORATION



The never-ending track makes for never-ending fun. The looping track is made of natural, unstained wood. The wooden train and two trees are brightly painted. The sturdy 24-piece track measures 112" in length. Train cars are held together by magnets.
— "Brio wooden train sets," was the direct answer given by Paula Tremba, owner of One Two Kangaroo in Shepherdstown, W.Va., when asked which wooden toys sell well in her store.
— "We have Brio trains," said David Correa, buyer at Mrs. Tiggy Winkles in Tucson, Ariz. He added, "Brio is really dedicated to really good quality."
— In an early 2007 survey, Brio Trains were specifically cited by three of 51 retailers TDmonthly spoke with about wooden toy best-sellers. 9/30/2005 (MSRP: $34.00; Age: 8 and Up)



85 Piece Bristle Blocks by TOYSMITH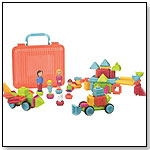 This 85-piece set contains 72 easy-to-handle building blocks in a variety of brightly colored, interlocking geometric shapes, 8 wheels to construct buildings and vehicles with and 5 figurines. A convenient handled carrying case stores all the blocks neatly away when not in use.
Awards: 2013 TDmonthly Seal of Approval
— Mary Porter Green, owner of Curiostiy Zone in Ashburn, Va., told TDmonthly in a May 2015 survey that this was a best-selling construction toy at their store.
5/25/2012 (Age: 3 and Up)



See more products in our 2012 ASTRA Preview: 28 Toy Makers Share Products for Specialty Prepare for ASTRA with our 11 Retailing Tips on Making the Most of Your Time at Trade Shows
---
---


Copyright © 2022 TDmonthly®, a division of TOYDIRECTORY.com®, Inc.