May 11, 2021

July 2012 | Vol. XI - No. 7

---
July Staff Picks
TDmonthly Magazine's July Staff Picks feature a wide range of high-quality products — from Puzzles to Dolls and more!
Tableware Set by PLANTOYS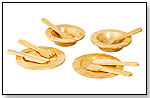 Two complete place settings for pretend meals. Includes 2 plates, 2 bowls, 2 cups, 2 sets of utensils. Made of sustainable PlanWood, a durable new material made from the sawdust leftover from rubberwood products. 5/25/2012 (MSRP: $24.00; Age: 3 and Up)



Green Start Chunky Wooden Puzzle Circle Garden by INNOVATIVEKIDS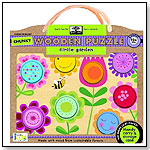 A beautiful garden of flowers contains eight circles of the same size and shape for mix-and-match play. Each piece is a different color with a matching color as well. Made from 98% post consumer recycled materials and printed with eco-friendly inks. 5/25/2012 (MSRP: $12.99)



Tower Block by SMART GEAR LLC



Colorful blocks with unconventional basic shapes. Learn matching shapes, sequencing and stacking. Develops hand-eye coordination, logical thinking, and trial & error skills. Made in Thailand from environmentally friendly rubberwood. Strictly using Non-Toxic Paint; Dyes and Lacquers. Formaldehyde Free Glue. Packaging is made from at least 70% recycled paper. 5/25/2012 (MSRP: $14.95; Age: 2 and Up)



Sticky Mosaics® Robots by THE ORB FACTORY LIMITED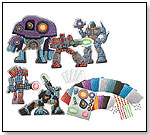 It's a robot riot. These futuristic fighters are here to save the world. Follow a simple legend and add cool foam pieces to these droid destroyers so they can squash the bad guys. Arrange the army in different battle formations and take out evil once and for all. This kit includes 10 FlipMotion™ stickers to add real movement to these mosaic masterpieces. Launch date: March 2012. 5/25/2012 (MSRP: $16.99; Age: 5 to 10)



Snug-up Doll Luisa by HABA USA/HABERMAASS CORP.



This doll is dressed in soft pink fleece and has a sewn-on bonnet. She can also be made to sit. Approximately 8 in. Features are embroidered so as not to present a choking hazard to youngsters. Also available — "Luis," in blue. 5/23/2012 (Age: 0 and Up)



Greenlight - Motor World Series 7. 1:64 scale diecast collectible model by TOY WONDERS INC.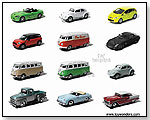 96070 Greenlight - Motor World Series 7. 1:64 scale diecast collectible model. These cars are about 2.75" long die cast metal cars. Each car individually blister carded. Card size: 5" x 6.5". 12 pcs/inner. Manufactured by Greenlight. 96070 is in assorted styles. Assortment includes: Chevy Bel Air (Chevrolet Belair), Dodge Viper, Ford F-100 Pickup Truck (F100 Pick-up), Ford Fiesta, Mercedes-Benz SLS AMG, Mini Cooper Clubman, Porsche 356 A Speedster, Volkswagen 30, Volkswagen Classic Beetle, Volkswagen Samba Bus #1, Volkswagen Samba Bus #2, VW 30. Launch date: April 15, 2012. 5/21/2012 (MSRP: $4.49; Age: 8 and Up)



Shrimp Cocktail by BLUE ORANGE GAMES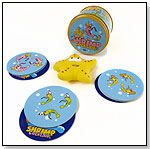 Search the seas for matching shrimp in this fun family game. The shrimp may share any of 4 characteristics—quantity, origin, size, and color. When players catch a matching shrimp trait between the 3 fishing zones, they squeeze the starfish to haul in their catch and collect their cards. The slickest shrimp spotter will be crowned King of the Prawns. 12/16/2011 (MSRP: $13.99; Age: 7 to Adult)



Boikido Eco-friendly Wooden Hammer Game Snail by BOIKIDO

This environmentally-friendly wooden Hammer Game Snail is made of wood from FSC-monitored source, painted with water-based paints, packaged in a box made of recycled materials, and printed with soy-bean ink. Developing fine motor skills and hand-eye coordination are very important for children between 12 – 18 months. Help them along with this unique toy. Learn colors and numbers while hammering away. Tested to meet European and U.S. safety standards. Launch date: February 2012. 1/2/2012 (MSRP: $29.99; Age: 1 and Up)



What Color Is My World? The Lost History of African-American Inventors by CANDLEWICK PRESS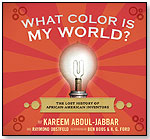 Did you know that James West invented the microphone in your cell phone? That Fred Jones invented the refrigerated truck that makes supermarkets possible? Or that Dr. Percy Julian synthesized cortisone from soy, easing untold people's pain? These are just some of the black inventors and innovators scoring big points in this dynamic look at several unsung heroes who shared a desire to improve people's lives. Offering profiles with fast facts on flaps and framed by a funny contemporary story featuring two feisty twins, here is a nod to the minds behind the gamma electric cell and the ice-cream scoop, improvements to traffic lights, open-heart surgery, and more - inventors whose ingenuity and perseverance against great odds made our world safer, better, and brighter. Authors: Kareem Abdul-Jabbar, basketball legend and the NBA's all-time leading scorer, champions a lineup of little-known African-American inventors in this lively, kid-friendly book. Raymond Obstfeld is the author of more than forty books of fiction and nonfiction and is a professor of creative writing. He lives in California. Launch date: January 2012. 6/6/2012 (MSRP: $17.99; Age: 8 to 12)



Find It® Deluxe Edition by FIND IT GAMES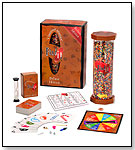 Now the whole family can play a fast paced hidden object game with the Deluxe Find It Game containing over 70 hidden items. The Deluxe Find It hidden object game includes a deck of cards, a spinner, a timer, the check off pad, and instructions for 6 ways to play and variations to adapt to younger players. The basic play starts with each player being dealt seven cards that vary in point value. At the beginning of each turn use the spinner to determine the action required prior to play (add points, miss a turn, trade hands etc.) Look fast! Players will have 30 seconds to try to find a many items as possible. Play continues until someone finds all of their items and runs out of cards.
Awards: 2010 Creative Child Magazine Seal of Excellence; Tillywig Sterling Fun Award Winner 5/30/2012 (MSRP: $32.00; Age: 8 and Up)



Match It! - Mathematics Memory by THE LEARNING JOURNEY INTERNATIONAL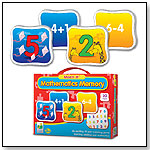 Match It! Mathematics Memory is a fun memory game that will challenge problem solving and develop memory skills of young children as they try to find a pair of matching cards. Bright, colorful illustrations help children learn basic addition and subtraction. 6/8/2012 (MSRP: $11.99; Age: 3 and Up)



Day & Night by SMART TOYS AND GAMES INC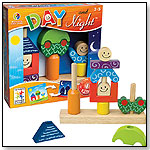 Day & Night is a game that evolves in step with children's growing skills: Hand-eye coordination and fine motor skills. Ages 3 and up: Visual perception of colors and shapes. In the day everything is bright and clear so the day side of each challenge shows kids all the details of their playing pieces and the shapes needed to create the scene. Ages 4 and up: Visual perception and logical reasoning. At night, when it's dark, kids can only see silhouettes so the night side of each challenge only gives kids the outline of what they have to create. 6/8/2012 (MSRP: $24.99; Age: 3 and Up)



Real Relics® Museum Quality Animals with DinoLand 2-Sided Large Playmat by NEAT-OH! INTERNATIONAL LLC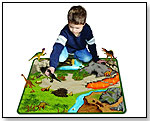 The boldness of a beautiful play zone without the loss of space. Take a step into prehistoric times with the large Dino-Land Museum Collection™ Playmat. See what life with the Dinosaurs was like from the volcanoes to tar pits to plant life everywhere. Graze with the other dinos or chase after prey with the fierce Tyrannosaurus Rex. Museum Collection™ Dino-Land includes 4 museum quality animals and a large wipe clean 2-sided playmat. Mat is 28.5 x 21.0 inches. 6/8/2012 (MSRP: $19.99; Age: 3 and Up)



Peek-A-Boo Plush Penguin 18" by FIESTA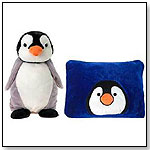 18" Stuffed Penguin from Fiesta plush toys. Peek-A-Boo Plush is a pillow that unzips and becomes a stuffed animal. Unzip again, and the animal becomes a pillow. Soft fabrics. Huggable bodies. 6/8/2012 (MSRP: $24.00; Age: 3 and Up)



Beach Kickers UV Swim Shoes by BABY BANZ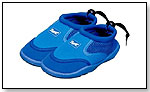 Banz swimsuits were originally designed in Australia for one of the world's toughest UV environments. Our Beach Kickers swim shoes provide kids with outstanding protection against pebbly beaches, hot sand, and slick pool areas. Lightweight and flexible, with a high-traction sole. UPF 50+. Each pair comes with a black mesh carry bag that can be used to tote shoes, sunscreen, glasses and any other treasures. Size 3 - 9-12 months, Size 5 - 18-24 months, Size 7 - 3 years. Comes in pink or blue. 6/8/2012 (Age: 0 to 3)



Pirate Mini Kit by ARTISANDS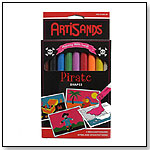 Ahoy, matey. Sail the seven seas with a pirate, ship, parrot and treasure chest. Includes 9 tubes of sand and 8 sheets to design. 6/8/2012 (MSRP: $15.95)



Joanie Leeds and the Nighlights - What a Zoo! by LIMBOSTAR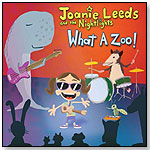 These 14 songs are all about animals. Children's musician Joanie Leeds belts it out with songs that are intended to make kids more interested in the well being of the animal kingdom.
Awards: 2013 TDmonthly Seal of Approval, 2011 Parents Magazine Top Children's CD 5/30/2012 (MSRP: $15.00)



Zippy Flyer Skateboard by MINDTWISTER USA



Enjoy the joy of skateboarding as a family with Zippy Flyer. Zippy Flyer comes in Blue or Orange. A fun and simple way to enjoy skateboarding with the whole family the way that skateboarding got started in 70's, when everyone rode a plastic skateboarding with the newly invented urethane wheel, a special plastic that is uniquely perfect for a skateboard.
Compact design makes it easy to store or throw in a bag. A perfect option for a first skateboard or a nice addition for any skateboard collection. Fun for kids of all ages. Includes: Reinforced injection molded propylene deck with hexagonal traction grooves; 59mm soft 80A durometer wheels for smooth riding on most surfaces; high quality diecast aluminum trucks; 90A durometer trucks bushing for easy turning; trucknut safety nylon locknuts; star patter steel deck bolts for maximu, support from board to trucks; and deck/truck safety nylon locknuts.

5/29/2012 (MSRP: $59.99; Age: 6 and Up)



Salmon Scramble Squares® 9-Piece Puzzle by b. dazzle, inc.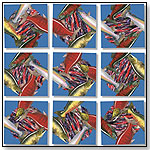 Salmon are anadromous, meaning that they migrate between freshwater and saltwater habitats, while their relative, trouts, remain in freshwater for their entire life cycle. Salmon is a popular food both because of its delicious taste and versatility and its high nutritional value. Consuming salmon is considered to be healthy because of the fish's high protein, high Omega-3 fatty acids, and high vitamin D content. Salmon flesh is generally orange to red in color, although there are some examples of white fleshed wild salmon. The orange color of salmon results from carotenoid pigments that wild salmon get from eating krill and other tiny shellfish. The Salmon Scramble Squares® 9-piece puzzle is likewise adaptable. It is a beautiful, enjoyable and healthy activity for children, adults and seniors. The object of the Scramble Squares® puzzle game is to arrange the nine colorfully illustrated 4" x 4" square pieces into a 12" x 12" square so that the realistic graphics on the pieces edges match perfectly to form completed pictures in every direction.
Awards: 2012 Dr. Toy Best Green Toys 5/18/2012 (MSRP: $8.95; Age: 4 to 12)



Grandkid Rock by DADDY A GO GO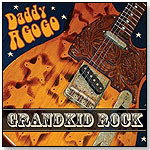 A "greatest hits" album comprised of 16 remixed tunes that John Boydston considers his "rockingest rockers" from six previous Daddy A Go Go CDs, Grandkid Rock cheerfully continues the Daddy A Go Go alterna-rock tradition of what Stomp & Stammer described as "upbeat, wildly entertaining rave-ups, sing-alongs and silly puns that have endeared the group to kids (and their parents) nationwide." While Boydston's most recent release, Come On, Get Happy, focused on softer songs for younger children, Grandkid Rock goes the other direction, rocking out for the bigger kids with lots of electric guitars, drums, driving rhythms and power chords.
Awards: 2013 TDmonthly Seal of Approval 5/30/2012 (MSRP: $12.00; Age: 3 to 10)



Lacing Peacock by HAPE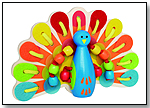 Lacing string adds even more color to this strutting peacock. Lacing Peacock is from the Early Explorers range of the Hape Collection. Measuring 8.03"L x 1.46"W x 5.12"H, Lacing Peacock is age graded for children 3 Years +. The toy is beautifully crafted of FSC certified wood from sustainable forests and colored with safe water based paint. Launch date: July 2012. 6/18/2012 (Age: 3 and Up)



---
---


Copyright © 2021 TDmonthly®, a division of TOYDIRECTORY.com®, Inc.