March 7, 2021

July 2012 | Vol. XI - No. 7


Watch Toy Videos of the Day (7/23/2012-7/27/2012)
We want you to see the toys we see, so you can determine if they're right for your store! Check this space every weekday to see brief video clips of new and specialty products.

In the spotlight today? See your sales grow tenfold with Tenzi from CARMA GAMES
TENZI by CARMA GAMES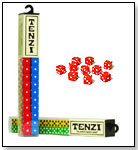 Everyone gets ten dice. Someone says "Go." Then everyone rolls and rolls as fast as they can until someone gets all their dice on the same number. It's a fun, fast frenzy. It's TENZI. It's "Super-simple to learn & super-fast to play," Steve Mark, executive Dice president of CARMA GAMES, LLC, told TDmonthly. Launch date: April 2011.
— In a February 2012 survey about games, Mary Porter Green, owner of The Curiosity Zone in Ashburn, Va., told TDmonthly that she sells 6+ copies of Tenzi each month.
— In a February 2013 survey, two out of 11 retailers told TDmonthly that Tenzi was their best selling game.
— Glisyn Lewis Jarrells, manager of Imaginations Toy & Furniture in Blacksburg, Va., told TDmonthly in a March 2013 survey that Tenzi is their overall best selling product. They sell around 15 copies of the game each month. (

Watch Video) 11/8/2011 (MSRP: $14.95; Age: 7 and Up)



Fairy Town Train Set by BIGJIGS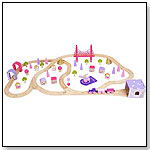 Fairy Town Train Set: The land of railways and trains just got even more exciting. Enter a magical world of colorful cottages, bridges and trees, designed in a gorgeous princess themed purple and pink. This bright and cheerful wooden train set contains 75 pieces. An ideal first train set, it contains a chunky engine and three detailed royal carriages, which attach using a magnetic system – perfect for little hands to use. Can be used with any wooden railway system. "Compatible with existing wooden rail systems. The Fairy Town Train Set is among the few available train sets specifically designed for girls," Liza Grando, President of The Moss Tucker Group, told TDmonthly. Launch date: February 2012.
Awards: 2013 TDmonthly Seal of Approval (

Watch Video) 5/11/2012 (MSRP: $89.95; Age: 3 to 8)



Stunt Brothers by brinca dada LLC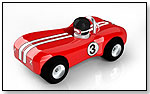 This line of retro stunt-show toys includes cars of three different colors. They can jump, do wheelies, and the driver figures come out to play. There's a human cannon ball for the play figures that can really be shot, and there are parachutes as well. (

Watch Video) 6/21/2012



Wall Coaster by ACTIVE PRODUCTS INC.



The Wall Coaster is NOT an ordinary marble run. Kids can just stick it to the wall and let their imaginations soar. The Wall Coaster uses the basic laws of physics and gravity to enable hours of fun and imaginative play. Plus, it is super easy to use. What makes the Wall Coaster different? The Wall Coaster can be applied to almost any vertical or horizontal surface. The new add on parts allow the user to build all kinds of crazy contraptions.
— Dean Smith, owner of JaZams in Princeton, N.J. told TDmonthly in late Spring 2011 that he sells between eight and 10 Wall Coasters each month.
— Want this? As of 05/10/2011, this product was available for purchase at JaZams (

Watch Video) 2/9/2010 (MSRP: $19.95; Age: 5 and Up)



Astrojax MX by Astrojax USA – Active People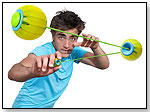 The three dimensional skill based toy is orbiting to the next level with the Astrojax MX. This version presents the futuristic, aerodynamic SPORT, and the eye catching POP as the first ever Modular Astrojax. What's this mean? Not only are these two styles vibrant with color, but with a simple pull and click kids can easily change out their mantles, cores, string buds, and strings. Launch date: January 2012. (

Watch Video) 12/29/2011 (MSRP: $19.99; Age: 8 and Up)



---
---


Copyright © 2021 TDmonthly®, a division of TOYDIRECTORY.com®, Inc.