May 11, 2021

August 2012 | Vol. XI - No. 8

---
Holiday Savings: 17 Specialty Gifts Under $15
These specialty toys offer more bang for your buck
TDmonthly Magazine believes that specialty toys are essential tools for a happy childhood, helping kids develop various cognitive and interpersonal skills all while having fun. This makes them ideal, thoughtful gifts to carry in your store for the holiday season.





Luckily, the following specialty toys and games lay waste to the stereotype that specialty products have to be expensive. For $15 or less, these toys and games make great gifts for kids of all ages - and are easy on the wallet for grownups sticking to a budget this holiday season.

Looking for more toys, for even less? Then check out our 20 Specialty Gifts Under $10.
Speedeebee by BLUE ORANGE GAMES



Welcome to the buzzing world of Speedeebee!

Are you the speediest bee in the hive? Then join in the fun with this ultimate word game! With 150 fun challenges and four alphabet dice, players race to find words containing or excluding the letters shown on the dice.

The variety of creative challenges and dice combinations make Speedeebee excitingly different every time you play. Launch date: May 2012. (

Watch Video) 1/20/2012 (MSRP: $14.99; Age: 8 and Up)



Puzzle Match by WOWOPOLIS LLC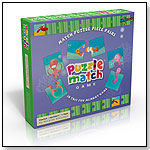 The fun of matching and the challenge of puzzles. There are puzzles and there are memory games...but only Puzzle Match™ combines these two timeless play patterns in one unique, patent-pending game designed for kids ages 3 to 6. Puzzle Match offers a unique challenge unlike any traditional memory game: Rather than searching for two identical images, kids have to find two halves of a whole image, such as the bottom and top of a seahorse. Once the interlocking pieces are found, they can be assembled into a giant, beautifully illustrated scene. Launch date: May 2012. (

Watch Video) 4/24/2012 (MSRP: $14.99; Age: 3 to 6)



Puff the Magic Dragon Classic Figurine Puzzle - Dragon or Dolphin by P'KOLINO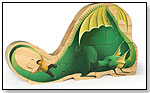 A classic, beautifully constructed, wood jigsaw puzzle fitting of this timeless tale. Display and play. This puzzle is so beautiful that when not in play it makes a fabulous décor addition to your child's room. Puff and Friends are printed directly to the wood for a nostalgic look and added durability. Images printed on both sides furthers the quality while making the puzzle more challenging. Launch date: August 2012. 7/13/2012 (MSRP: $14.99; Age: 3 and Up)



Temple Trap by SMART TOYS AND GAMES INC

In this maze, the walls constantly shift place. One wrong step and you end up as dinner for the crocodiles. Only a smart adventurer can escape this cursed labyrinth. Through 48 IQ-building challenges players build logical reasoning, higher cognitive thinking and improved visual and spatial perception. 2/2/2012 (MSRP: $14.99; Age: 7 and Up)



Pteranodon by AURORA WORLD INC.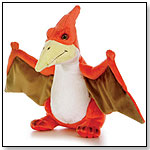 12" PTERANODON. Pteranodon is a cool stuffed dinosaur. His head, body, legs and wings are combination of orange, brown, white and shade of yellow. Pteranodon wings have wires in them so they hold their shape and can be posed as you like. This is a perfect gift for a little dinosaur lover. 1/19/2012 (MSRP: $14.00)



Douglas Fuzzle - Casey Peace Dog by DOUGLAS CUDDLE TOYS



A new breed in Douglas Fuzzles, these new styles use a mixture of trendy fabrics with a new flair in the face. There are 10 new styles owls, monkeys, pigs, and dogs...to add to the already popular and irresistible herd of 30 fuzzles to choose from. Sizes range from 8" to 26" SRP's range from $14 to $35.
— In a May 2012 survey about best selling plush and puppets, Lisa LeStrange, owner of Lucky Duck Toys in Wayne, Pa., told TDmonthly that they "sell about 175-200 pieces" of Douglas plush each month. 2/3/2012 (MSRP: $14.00)



Pieces of History™ Pharaoh's Egypt by FIND IT GAMES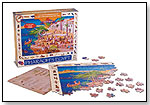 The Pharaoh's Egypt puzzle captures a significant event of historical relevance in ancient Egypt. Details that define the location or time are vividly portrayed throughout this 300-piece puzzle. Icons depicting the historical theme border the finished puzzle and are hidden within the artwork. A day in the life of the Egyptians along the Nile of Pharaoh's time becomes a second game once the pieces are in place. Look around the border and deep inside the scene to "find it" – a list of 40 Egyptian items from sandals, sword, necklace, wine jar and pottery, to animals like a cobra, crocodile, leopard, jackals and monkey. Instead of putting the pieces back in the box for another day, consider framing the handsome historic scene. The included key explains the significance of each found object. Puzzle features vibrant artwork from painter Rachel Land and are suitable for framing. Finished puzzle measures 20.75" x 15".
Awards: 2012 Dr. Toy Best Classic Toys, 2012 Dr.Toy Best 20 for $20 6/19/2012 (MSRP: $13.00; Age: 8 and Up)



Green Start Chunky Wooden Puzzles: Shape Parade by INNOVATIVEKIDS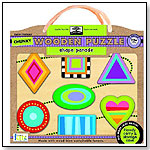 Brand new in the Green Start series, made from 98% post consumer recycled materials and printed with eco friendly inks, this extension brings earth-friendly messages and all natural materials to the joy of creating beautiful floor puzzles. Packaged in a reusable totebox, each of these floor puzzles reveals a unique, endearing scene that kids will love to build. A bright and bold shape parade contains seven basic shape pieces with fun patterned designs. Pieces are self-correcting and can fit only into one spot. Names of shapes are printed under each piece. Launch date: April 2012. (

Watch Video) 3/14/2012 (MSRP: $12.99; Age: 1 and Up)



4M® Green Science Green Rocket by TOYSMITH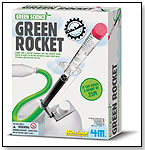 Add a recycled magazine and two plastic bottles to this kit and blast a paper rocket up to 80 feet high. Exclusive to Toysmith in the U.S.
— In a January 2015 survey, 2 out of 10 retailers told TDmonthly that 4M, distributed in the US by Toysmith, was their best-selling brand of STEM toys. 1/4/2012 (MSRP: $12.99)



Little Lion by FOLKMANIS INC.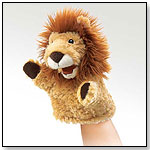 Folkmanis Little Puppets are small hand puppets that are perfect for younger children. This puppet is 7" tall and 5" wide. Fluffy golden lion has an orange tufted mane and expressive, movable mouth.
Awards: 2012 Dr.Toy Best 20 for $20
— In a May 2012 survey, four out of 11 retailers told TDmonthly that Folkmanis was their best selling brand of plush or puppets. 6/5/2012 (MSRP: $12.99)



Fold by FAT BRAIN TOY CO.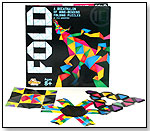 Ten fun origami brainteasers with solutions. Created by famed puzzle inventor Ivan Moscovich. Build mathematical thinking, logic abilities, fine motor skills and patience. Heavy-duty laminated puzzles designed for repeated folding and multiple uses. 7/20/2012 (MSRP: $12.95; Age: 8 and Up)



Plui by KID O PRODUCTS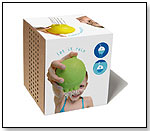 The Plui bath toy is a vinyl sphere with one nozzle at the top and several at the bottom; dunk Plui underwater to fill it, and then watch the "rain" come out. Kids control the flow of water by covering or uncovering the top nozzle. 4/11/2012 (MSRP: $12.00; Age: 2 and Up)



Rhino Hero by HABA USA/HABERMAASS CORP.

Rhino Hero is out and about again. The super hero from the animal world fearlessly scales the highest houses looking for burglars and rogues. He is as strong as a lion and as smart as a fox but also as heavy as a rhinoceros. So even the most robust multi-story buildings may start to wobble. Kids must try to help Rhino Hero accomplish his wobbly mission and build a skyscraper as tall and solid as possible. A heroic 3D-stacking game for 2-5 super heroes ages 5-99. Available with English packaging. 3/22/2012 (MSRP: $12.00; Age: 5 and Up)



3D MAGIC MAGNETS by SMART PLAY LLC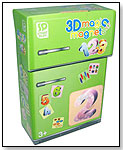 Tilt and see images flip magically to teach the alphabet and numbers. Special 3D lenticular printing makes these magnets interactive and captivating for young children. Large magnets (2.25" square) are easy to hold and play with. Each set includes a colorful teaching guide in English, French and Spanish. "The first magnet toy for children that uses 3D lenticular printing," Ilango Sankaralingam, president of Smart Play LLC, told TDmonthly. Launch date: February 2012. 2/3/2012 (MSRP: $11.99; Age: 3 and Up)



Pois by EOLO SPORT INC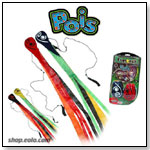 The Funtrix Pois are one of the most simple but eye-catching juggling props. Pois consist of a string with a ball attached at one end. The colored ribbons attached to the ball create an amazing colored spectacle when the pois are twirled and swung. Launch date: March 2012. 3/19/2012 (MSRP: $11.95; Age: 6 and Up)



Butterflies TOOB® by SAFARI LTD.®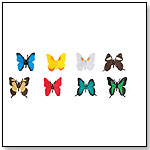 Each mini figure in Safari Ltd®'s Toob® ranges from 1" to 3" and is carefully sculpted and finely hand painted. Packaged in a reusable acetate Toob®, the figures guarantee years of learning fun. Safari Ltd® introduces for 2012 highly detailed butterflies from around the world that flaunt their vibrantly colored wings. This Toob® includes a Red Glider, Green Swallowtail, Orange Barred Sulphur, White Angled Sulphur, Evenus regalis, Anaea clytemnestra and a Papilio garleppi. All figures are 100% guaranteed and lead free to ensure children's safety. Suggested ages 3+. Launch date: January 2012. 7/3/2012 (MSRP: $10.99; Age: 3 and Up)



---
---


Copyright © 2021 TDmonthly®, a division of TOYDIRECTORY.com®, Inc.