May 10, 2021

August 2012 | Vol. XI - No. 8

---
Educational Toys and Games
Check out these recently added specialty and mass-market educational toys
Basher Science - Technology: A Byte-Sized World by KINGFISHER BOOKS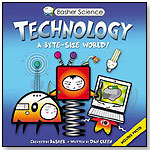 From the bestselling illustrator whose friendly take on science has revolutionized our understanding of everything from the periodic table to the universe, comes a fresh take on technology as only Basher can do it. Discover the secrets behind the devices we take for granted, and learn about the amazing inventions that have transformed our lives. From the Movers and Shakers who power our physical world, to the Gizmos, Home Bodies, and High Rollers who power our vehicles, entertainment, and smartphones—and pretty much everything else around us—Technology is a compelling guide to the big-bytes whiz-kids, powerhouse motors, and other characters who drive our inventive, highly engineered world. Launch date: July 2012
— As of 07/24/2012 this product had 5 out of 5 stars from 2 reviews on Amazon.com. 7/24/2012 (MSRP: $14.99; Age: 10 and Up)



I Spy Ready to Count by BRIARPATCH INC.


A fun way to learn step counting, an important stage in learning multiplication. Count by 2s, 5s, 10s and 20s...all the way to 100. Colorful I Spy images make the game even more exciting. Also includes catchy rhymes to say when counting. 7/20/2012 (MSRP: $14.99; Age: 4 and Up)



Motors & Generators by THAMES & KOSMOS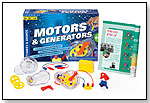 Electric motors and generators are in countless devices, appliances, and vehicles we use every day. They are an essential technology in our modern world. With this kit, kids can conduct 25 experiments to learn how an electric motor converts electricity into motion, and how an electric generator does just the opposite, converting motion into electricity. The electric motor is made of transparent plastic to show how the inside components work. Set up the motor to run on battery power and learn how a motor works. Then reconfigure the device to work in reverse as a hand-crank electric generator. Experiment with magnets to learn about the force of magnetism, and how magnetic fields relate to electric current. Build simple circuits consisting of the motor or generator, wires, and a light bulb to learn about the flow of electricity. Learn about gears and drive-trains and how they work to effectively convert kinetic energy into electrical energy and back again. The full-color, 48-page manual guides your experiments with step-by-step instructions. 7/20/2012 (MSRP: $29.99; Age: 8 and Up)



Roll-a-Chore by PARADIGM WEST PRODUCTS INC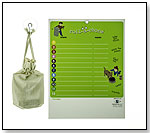 Roll-a-chore is a dry erase chore, rewards, message chart game. In the bag: 10"x13" themed game board, dry erase marker, dice, spinner, draw string bag, suction cup and adhesive magnets. This game takes the "chore" out of assigning chores in a fast, fair, fun way. There are countless benefits when using this product: math, writing, reasoning, teaching responsibility. Themes available include: Basketball game board, Baseball game board, Policeman game board, Jake (one of roll-a-chore's characters) surfing game board, Molly (one of roll-a-chore's characters) surfing game board, Flowerpower game board, Blue Hearts game board, Molly Soccer game board, color-a-chore (for the little tikes learning their colors) themed game board, and Handy Helpers 2 & 3 (a general family theme look) game board, with more themes to be available later in the year. Launch date: February 2005. 7/2/2012 (MSRP: $14.95; Age: 3 and Up)



Alphabet Puzzle by HAPE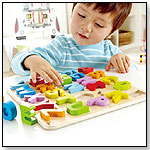 Sturdy, stand-along letters let kids practice their ABC's as well as form simple words. Birch wood puzzle frame and stand-up puzzle pieces painted with water-based paint. Launch date: January 2012. 4/27/2012 (MSRP: $19.99; Age: 3 to 7)



I Can Build Lower Case Letters! Activity Kit by FUNDANOODLE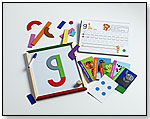 This kit has everything kids need to get started on the path to handwriting proficiency. Includes activities that help kids improve gross and fine motor skills. The I Can Write Lower Case! writing tablet will help teach kids proper lower case letter formation. Large muscle movements prepare childrens' bodies for writing. With magnastix, kids will have a great time and grow more confident as they learn to identify and form the letters of the alphabet. Gross motor cards are a fun and easy way to practice letter recognition while improving flexibility and strengthening muscles. The handy carrying case makes this kit perfect for use at home or on-the-go. Launch date: 2011.
Awards: 2012 Tillywig Brain Child Award; 2012 The National Parenting Center Seal of Approval 7/19/2012 (MSRP: $29.99; Age: 5 to 6)



Mentagy Box Set & Book by PASCO GAMES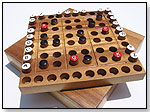 Hand crafted from hardwood the 38 piece hand held version of Mentagy measures just over 6" x 6". To play simply mark the blank spaces with the black pegs and seed letters with the red letters. Players are now ready to use the remaining white letters to solve the puzzle. One advantage of the wooden Mentagy ™ set is that players can solve the puzzles without using an eraser. If a player is in the middle of solving a puzzle and has to stop, they simply place the top on the base and the pegs cannot move. Take the Mentagy ™ set anywhere and continue where the game was left off.
Awards: Summer 2012 Tillywig Award Winner
— As of 12/6/2012 Mentagy: The Next Puzzle Craze (the book) had 5 out of 5 stars from 4 reviews on Amazon.com. 7/18/2012 (MSRP: $35.99; Age: 8 and Up)



Flag Frenzy by GEOTOYS LLC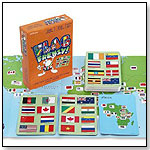 Flag Frenzy is a fast-paced card game where players race to match flags from countries around the world. 49 cards have 8 flags each, and every card has one flag in common with every other card. The goal is to find the matching flags before the opponents do, and be the first to match all the cards. Continent cards add to the fun, as players must match a flag to one of four continents (Europe, Asia, Americas, and Africa). And a bonus world map is included, showing all flags and where the countries are located. Contents: 49 flag cards, 8 continent cards, rules, world map. Inventor: Martin Nedergaard Anderson. (

Watch Video) 6/25/2012 (MSRP: $17.95; Age: 6 and Up)



Buzzlewords® The Spelling Bee Game Level 4 - 7th & 8th grade by THE SPELLING BEE GAME INC.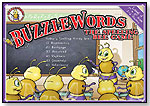 BUZZLEWORDS® - The Spelling Bee Game is the most fun that children and adults can have while learning spelling, reading and vocabulary. Because the spelling words are taken from actual school word lists, children will master all of the spelling words for his or her grade level just by playing the game. In addition, by reading the words to the speller and by looking up the meanings of words for the speller, children will improve his or her reading and vocabulary skills while having fun, without even realizing it. Includes Game Board, Tri-Colored Die, 6 Bee Playing Pieces, 300 BUZZLEWORD Cards, 50 BUZZLEBEE Cards. 6/22/2012 (MSRP: $14.95; Age: 12 to 14)



Match It! - Mathematics Memory by THE LEARNING JOURNEY INTERNATIONAL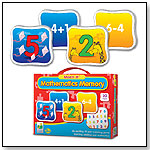 Match It! Mathematics Memory is a fun memory game that will challenge problem solving and develop memory skills of young children as they try to find a pair of matching cards. Bright, colorful illustrations help children learn basic addition and subtraction. 6/8/2012 (MSRP: $11.99; Age: 3 and Up)



Glow-in-the-Dark Lab by SMARTLAB TOYS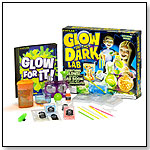 Put this glow-boratory to the test with 20 experiments that will help you answer questions like, what makes a glowing ball bounce and, what does fake snow have in common with spaghetti? View the experiments with a hand-held black light, build a lava lamp, and create glowing alien blood. Test out projects that teach about these 9 principles of science: fluorescence, phosphorescence, chemiluminescence, bioluminescence, polymers, non-Newtonian fluids, carbon dioxide reactions, crystal formation, and nucleation. This kit includes: a handheld black-light activator, 4 glow sticks, mix-n-measure scoop, fluorescent ink, beaker, mixing cup, 3 creature molds, 2 test tubes and stand, funnel, bouncy ball mold, glow-in-the-dark powder, bouncy ball polymer, jelly balls polymer, fake snow polymer, star stickers, and a 24-page Lab Book. 5/25/2012 (MSRP: $24.99)



---
---


Copyright © 2021 TDmonthly®, a division of TOYDIRECTORY.com®, Inc.