July 31, 2021

September 2012 | Vol. XI - No. 9

---
Arts & Crafts
Get kids thinking creatively with these recently added specialty and mass-market arts & crafts toys!
Crayola 24ct Long Colored Pencils by CRAYOLA LLC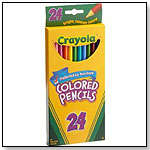 Twenty-four nontoxic Crayola colored pencils, each pre-sharpened and 7 inches long. The colors cover the chart: standards such as black, white, yellow, and green, plus all the intermediates - aqua green, jade green, violet, mahogany, peach, magenta, and more. All Crayola© colored pencils are made from reforested wood. 7/30/2012 (MSRP: $5.75; Age: 4 to 15)



I Can Do Fun Activities Floor Pad by FUNDANOODLE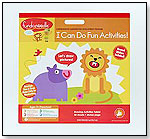 This giant pad is filled with fun exercises designed to improve visual motor control and endurance, while building confidence. Kids have a great time as they connect the dots, navigate mazes, find hidden objects, and learn how to stay within visual boundaries. A sticker-based reward system will keep kids focused and motivated. Launch date: 2011. 7/26/2012 (MSRP: $11.99; Age: 3 to 8)



Draw Write Now Book One by BARKER CREEK PUBLISHING



Our top selling Draw Write Now series is a great way to develop students' writing, drawing, and reading skills. Our Draw Write Now books each have 21 theme related drawing and writing lessons with easy to follow step-by-step instructions on 64 full color pages. Each drawing lesson has four handwriting practice sentences that relate to the drawing as well as questions that prompt discussion. In On the Farm experience life on a farm while drawing and writing about horses, cows, tractors and more.In Kids and Critters learn fun, new ways to draw children and their favorite animal friends. Storybook Characters allow you to practice handwriting and learn how to draw popular storybook characters like The Little Red Hen and The Three Bears. Launch date: 1994. 7/26/2012 (MSRP: $14.99; Age: 3 to 12)



Savvi Small Licensed Magic Paint Posters by SAVVI



Kids can paint their favorite characters, including Hello Kitty, Batman, Pillow Pets, and Scooby-Doo. Magic paint palettes are printed directly on the paper and activated with water. Kids can paint with a cotton swab, paintbrush, or their finger. This unique, no-mess craft activity is great for travel. Each item includes 12 paint sheets. Launch date: September 2012. 7/19/2012 (MSRP: $1.00; Age: 4 to 8)



Shrinky Dinks Fashion Boutique by CREATIVITY FOR KIDS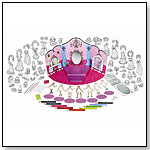 Kids can design and decorate their own fashion boutique. Sturdy cardboard fashion dolls come ready to dress and decorate with 50+ pre-cut Shrinky Dinks¸ fashions. This complete set includes Faber-Castell colored pencils, Playscape, 7 fashion dolls, Shrinky Dinks, character stands and a sharpener. The Playscape measures 8 3/4"h x 15 1/2"w x 7.25"d.
Awards: Summer 2012 Tillywig Award Winner 7/18/2012 (MSRP: $21.99; Age: 7 to 12)



Sensory Sensations Finger Painting Kit by ROYLCO INC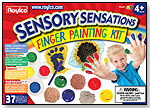 Have a sensory extravaganza with the Sensory Sensations Finger Painting Kit. Add textures to finger paint to create gritty, squishy, or spongy sensations. This multitasking kit has diverse benefits for all children, especially those with sensory challenges. Uses a Sensory Sensations Finger Painting Kit to exercise fine motor skills, talk about texture and build vocabulary, learn about senses, and enhance sensory experience. The kit includes 2 oz. each nontoxic finger paint in red, blue, green, and yellow; 6 gentle and safe tactile additives; a plastic palette tray; 2 mixers and paper. Launch date: August 2012. 7/5/2012 (MSRP: $24.99; Age: 4 and Up)



Steps4Kids to Draw (DVD) by Steps4Kids, LLC



The Steps4Kids to Draw DVD provides approximately 90 minutes of video modeling to help viewers learn how to draw animals, people, shapes and things. Excellent tool to help children feel successful with art. Video modeling is shown at a pace that helps children learn how to draw animals (farm, house, water and zoo animals - total 20), people (faces, profiles, clothes), shapes (circle, square, triangle, rhombus/diamond, cube and star) and things (bike, car, flowers, etc.). Launch date: July 2012. 7/5/2012 (MSRP: $24.99; Age: 4 and Up)



Tub-Art Pirate Set by EDUSHAPE LTD.



Tub-Art Pirate provides great bath/pool time fun and memories. Comes complete with four non-toxic soap crayons, a toddler safe, "What would I look like if I were a Pirate?" Hi-Def mirror and 2 large double sided pirate themed Edu-Foam drawing pads, all of which adhere to tiles when wet. Canyons simply wipes clean with water and is also great for drawing on tile, mirror and glass. Launch date: March 2012.
— As of 09/17/2012 this product had 3 out of 5 stars from 2 reviews on Amazon.com. Pros: The crayons work well; the pirate mirror is a fun accessory. Cons: The foam coloring pieces are very difficult to erase. 7/5/2012 (MSRP: $16.5; Age: 3 to 10)



Eco Wedge Crayons 12 Ct by HEALTH SCIENCE LABS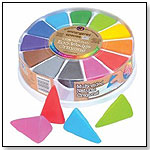 Bright, colorful, 100% natural crayon wedges that last. 12 colors, kids will love using these multi-surfaced crayons for all of their coloring activities. Each crayon has 4 writing points and multiple surfaces to use for different width lines. Makes coloring large areas a snap. Easy to hold for artists with small hands.
— As of 09/05/2012 this product had 3 out of 5 stars from 1 review on AbesMarket.com. Pros: "Nice packaging. The bright, rich colors remind me of chalk or pastels, not run-of-the-mill crayons;" Cons: "Greasy-feeling crayons leave pigment on hands as hands and crayons warm up. As one colors an area, some of the crayon comes off in clumps and curls." 7/2/2012 (MSRP: $19.99)



Desk to Easel Art Cart by GUIDECRAFT INC.


Children as young as three can explore their creativity with this classic, versatile arts and crafts unit, which can be positioned as an angled easel or folded down into a flat workspace. Features easy-to-clean laminate surfaces, a write-on/wipe-off surface, a chalkboard and plenty of storage space. 6/22/2012 (MSRP: $199.99; Age: 3 and Up)



Read All About Me Activity Book by ALEX BRANDS



Kids can make a colorful book about themselves, their family, friends, school and hobbies. Color, create and bind together the 12 activity sheets to create this unique book. Crayons, markers, glue, glitter, scissors, and 24 additional sheets of construction paper are included.
Awards: 2012 Dr. Toy Best Classic Toys 6/19/2012 (MSRP: $17.95; Age: 5 and Up)



Pirate Mini Kit by ARTISANDS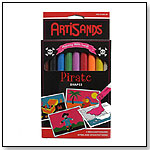 Ahoy, matey. Sail the seven seas with a pirate, ship, parrot and treasure chest. Includes 9 tubes of sand and 8 sheets to design. 6/8/2012 (MSRP: $15.95)



---
---


Copyright © 2021 TDmonthly®, a division of TOYDIRECTORY.com®, Inc.