October 22, 2021

September 2012 | Vol. XI - No. 9

---
Top-4 Most-Wanted Action Figures
Specialty Retailers Don't See Much Action from Action Figures
With additional reporting from Chris Lundy and Brenda Ruggiero

When TDmonthly Magazine asked specialty retailers about their best selling action figures, seven out of 10 said they don't sell them at all.

If you do decide to carry them, you can see the action figures that sold best for other retailers below.

No manufacturer paid to be included in this article. All products listed were designated by editorial staff without regard to the company's relationship with TOYDIRECTORY.com/TDmonthly Magazine.
Star Wars Movie Heroes Darth Maul by HASBRO INC.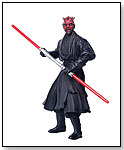 Darth Maul has undergone years of demanding and brutal training under his master Darth Sidious to become an incredible Sith warrior. He demonstrates his skill by expertly spinning his double-bladed Lightsaber. He attacks with precision and ferocity, twirling the twin blades to strike his Jedi opponent. This fierce DARTH MAUL figure is rendered in careful detail to look just like the character in the Star Wars: The Phantom Menace movie. He comes with his trademark double-bladed lightsaber. When the adventure is over for the day, set him on his battle base. Figure comes with weapon accessories, Galactic Battle Game card, battle base and die. Launch date: 2012.
— In a Summer 2012 survey, two out of 10 retailers said Star Wars characters were their best selling action figures.
— In a August 2014 survey, Charles, manager of Miller's Toys in Mamaroneck, N.Y., told TDmonthly that "Star Wars is finally coming back," and Star Wars toys are among their best-selling action figures. 2/12/2012 (Age: 4 and Up)



Marvel Universe Spider-Man by HASBRO INC.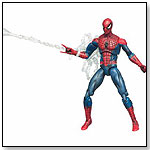 When he was 14 years old, Peter Parker was bitten by a spider that had been irradiated in a nuclear experiment. Something in the spider's venom changed him, over night, from the nerdy kid he'd been to something else entirely. Given incredible strength, speed and stamina, he reveled in his power. The tragic death of his uncle threw Peter's good fortune into fierce perspective, giving him direction. From that day on, he vowed to battle evil wherever he could find it as The Amazing Spider-Man. Detailed with defined "muscles", pose this Spider-Man action figure in a battle-ready pose with his "spinning" web accessory aimed at the enemy! Fully articulated, he's ready to make a stand in your collection. Action figure comes with a "spinning" web accessory and a S.H.I.E.L.D. file with a secret code.
— Mike DiAndrea, manager of Hardware Toys in Paoli, Pa., told TDmonthly in a Summer 2011 survey that he sells 6 Spider-Man action figures from Hasbro each month, and that they're his best-selling action figure.
— In a Summer 2012 survey Elmer Carranza, manager of Doodlehopper 4 Kids in Springfield, Va., told TDmonthly that they sell a dozen Spider-Man figures each month. 8/9/2011 (MSRP: $6.99; Age: 4 and Up)



Beyblade Metal Masters Triple Battle Set by HASBRO INC.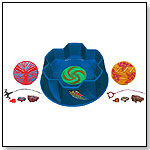 With a BEYSTADIUM™ arena to fight in and exclusive battle tops and launchers, kids can start their dueling practice as soon as they're set up. Customize the BEYSTADIUM with three battle cores: the Zip Core forces straight-line movement, the Chaos Core brings chaos to the tops' movement, and the Deflector Core brings craziness because it affects right-spin and left-spin tops differently. With the tournament grids and official rule book, kids will be ready to do battle . Set up the exclusive GALAXY PEGASUS™ and METEO L-DRAGO™ tops for a launching, spinning attack.
— As of 10/18/2011 this product had 4.4 out of 5 stars from 7 reviews on ToysRUs.com. Pros: Fun; good starter kit. Cons: Expensive.
— As of 10/18/2011 this product had 3.5 out of 5 stars from 22 reviews on Amazon.com. Pros: Bey Media L-Drago is is a left-spinning top and is great; beys come assembled. Cons: not very durable; top has to be set just right before spinning, otherwise it won't go.
— In a Summer 2012 survey Deran Muckjian, owner of Catch a Falling Star in Lexington, Mass., told TDmonthly that they sell 40 Hasbro Beyblade figures every month. 10/19/2011 (MSRP: $44.99; Age: 8 to 10)



Papo Malta Knight by HOTALING IMPORTS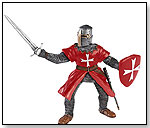 The Malta Knight figuring from Papo is detailed play figure ready for action. With his sword raised and helmet turned to face his assailant, he can stand alone or ride one of the man armored horses available in the line. The Malta Knight wears chain mail and a bright red tabard emblazoned with a white cross, finished with period inspired details like his shoes, helmet, and scabbard.
—"[Our best seller is] Papo action figures by Hotaling Imports. We can't keep them on the shelves," said Kathy Burns, manager of My Favorite Toy Store in Downer's Grove, Ill., during a July 2010 survey of top-selling action figures.
— Nine out of 38 retailers said Papo is a best-selling item in their stores.
— Linda Laramy, owner of Crackerjacks Toys and Childrens Books in Easton, Md., told TDmonthly in a Summer 2011 survey that she sells "a couple dozen" Papo knights each month, making them her best-selling action figure. 8/30/2010 (Age: 3 and Up)



---
---


Copyright © 2021 TDmonthly®, a division of TOYDIRECTORY.com®, Inc.