April 14, 2021

September 2012 | Vol. XI - No. 9

---
Holiday Preview: 15 Gift Ideas for Kids
Manufacturers Share Their Best Bets for Holiday Sales
The holidays are fast approaching, and your customers will soon be searching for the perfect gifts.

With this in mind, TDmonthly Magazine asked manufacturers to share with us the products that they think will sell best during the holiday season.

Take a look at their selections (and some of our own!) for kids of a variety of ages and interests below — then decide if they'd be a good fit for your store.
Holiday Clifford Small Sitting 7" by DOUGLAS CUDDLE TOYS



Plush toy maker and lifestyle gift creator, Douglas Company, introduced Clifford the Big Red Dog® early this year, and now they are bringing out the newest holiday plush version. Small sitting Clifford is 7" and holds a red, green and white stocking in his mouth. Launch date: September 2012. 8/8/2012 (MSRP: $11.00)



Roy Toy 250pc. Deluxe Building set by ROY TOY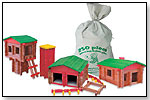 Roy Toy's 250 pc. set is all wooden, dyed with all natural, vegetable based dyes, and made 100% in the USA. This set comes complete with building directions for a log cabin, a tree house, and a farm set, but the possibilities are endless. Launch date: January 1992. 8/8/2012 (MSRP: $49.95; Age: 3 and Up)



Zither Heaven 15-String Harp - Maple/Pink by ZITHER HEAVEN



The Zither Heaven harp is unique in value. While small enough to be portable and affordable, the Zither Heaven harp is capable of sound quality superior to others in its class. When the strings are plucked, the soundboard resonates. The strings form a diatonic scale, allowing many familiar tunes to be played. Beginners can explore the harp while making real music, and they can share the experience with generations to come. This instrument was designed to turn dreams of playing the harp into reality. The harp includes a bench and tuning wrench. Launch date: February 2011. 8/8/2012 (MSRP: $183.75; Age: 9 and Up)



Digital eReader Light by MARK-MY-TIME LLC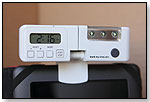 The new Mark-My-Time Digital eReader Light combines the unique features of a back-lit LCD screen, time of day clock, cumulative timer to 100 hours, adjustable LED light, countdown timer with alarm and auto light shut off. This tool makes it simple to monitor daily reading minutes on eReader displays. Easy to use with any hardback or paperback book. Launch date: June 15, 2012. 4/10/2012 (MSRP: $19.95; Age: 7 and Up)



HEXBUG Warriors Battling Robots by INNOVATION FIRST LABS, INC.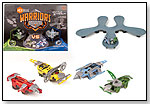 Kids can operate their HEXBUG Warriors in Training Mode, with unlimited health, for scrimmages and testing purposes. Once the Warriors are equipped and ready for battle, they can be powered into Match Mode and are set to enter into competition, where they crash, jab and jostle with their opponents until they win or lose by running out of health at which point they deactivate. Once put in Match Mode, each robot's Shock Sensor activates its Damage Indicator Light which changes colors from green to red and blinks more rapidly as its health decreases. There are 12 assorted HEXBUG Warrior Battling Robots Single packs available for fans to collect. Each Single pack includes 1 fully-armored Warrior.
— Mary Porter Green, owner of Curiosity Zone in Ashbburn, Va., told TDmonthly in a Fall 2012 survey that Hexbugs are one of their bestselling tween toys. "In a good month, we sell dozens," she told us. 8/8/2012 (MSRP: $7.99; Age: 6 and Up)



Chinese Gift Set (Vol. 1) by LITTLE PIM CO.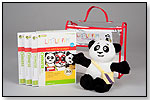 Together, these three DVDs will introduce kids to 180 Chinese (Mandarin) words and phrases. Using Little Pim's unique Entertainment Immersion Method, Little Pim will captivate children by turning everyday activities into fun adventures. The DVDs combine animation and real kids, teaching simple words and phrases for everyday activities. Includes 3 Chinese DVDs (eating and drinking, wake up smiling, playtime); 8" velvety soft plush Little Pim panda, and a fun, see-through Little Pim tote bag. 8/8/2012 (MSRP: $59.95)



Puttin' on the Glitz Nail Polish by PIGGY PAINT LLC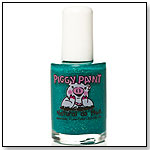 "Puttin' on the Glitz" is Piggy Paint's newest nail polish color. It is an emerald green glitter, perfect for Christmas. Piggy Paint is a non-toxic, virtually odorless, kid-friendly nail polish. Launch date: August 2012. 8/8/2012 (MSRP: $8.99; Age: All Ages)



Peg Stilts for Kids and Adults by PEGSTILTS.COM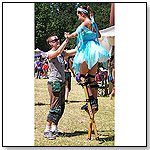 Stilt walking is great for co-ordination, cognitive and physical development, balance, confidence, self-esteem, strength, and trust building, and is an extremely interactive activity. Kids' Peg Stilts are recommended for ages 8+ and/or for users under 5ft 2in tall. Kids stilts are available in heights of: 1', 1.5', 2', 2.5', and 3' tall. All stilts have adjustable nylon webbing straps that include Velcro. Straps are located at the toe, ankle, and knee; Knee also has a padding cup to increase stability and comfort. Re-claimed mountain bike tires are used on the peg bottom to increase traction and to absorb shock. Stilts are handmade with care and attention to detail by PegStilts.com and can be used by kids of most sizes. All PegStilts.com products are woman veteran handmade by Kricket Caffery in Portland, OR USA. 4/10/2012 (MSRP: $140.00; Age: 8 and Up)



Artist Travel Set - Bug by P'KOLINO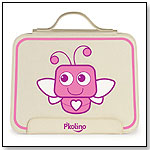 We have combined our beloved, premium European-made art supplies with these easy-to-clean canvas travel cases (canvas coating is BPA free). Includes: 12 triangle crayons, 12 colorful markers, a pad of bright white paper & a playful carrying case. 8/9/2012 (MSRP: $34.99)



Groovy Girls Chillaxin Patio Set by MANHATTAN TOY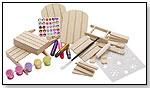 Girls can paint their own wooden patio furniture with the Groovy Girls Chillaxin Patio Set. Paint the table and two chairs with 5 posh paint colors, 4 glittery pens, stencils and 30 bedazzling gems. Helps develop fine motor skills and encourages creative expression. 8/9/2012 (MSRP: $25.00; Age: 3 and Up)



SnipPets by THE BEAR MILL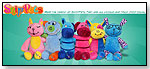 These unique characters have been designed solely by The Bear Mill Team. The back story of these unique colorful plush is based upon utilizing the leftover remnants of fabric from a textile mill's production day. In this story Mr. and Mrs. Threads, who were among the first plush that The Bear Mill produced, create Windle, the original SnipPet. Windle then goes on to create the rest of the SnipPets family. SnipPets can be identified by their signature curly nose, unique smiles, and branded foot. Storybooks of their magical adventures in The Bear Mill, which is located in rural England, will be launched soon. 8/8/2012 (MSRP: $19.99)



Bill and Betty Bricks by SMART TOYS AND GAMES INC

Head up in the clouds and feet on the ground? Don't get dizzy working the heights! Players must build their way up with the wooden blocks, but make sure their builders always keep their feet on
the building so they can supervise the work. The challenge is defeated when the building is completed and the little builder stand(s) on top of it. Challenging for the whole family. Develops spatial perception as well as fine motor skills. Contents: 10 colorful wooden blocks, 2 playing figurines/game pieces, 60 challenges. 2/3/2012 (MSRP: $26.00; Age: 5 and Up)



Rodeo Rummy by Square Shooters by HEARTLAND CONSUMER PRODUCTS, LLC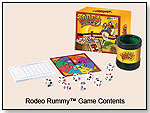 Players spin the spinner on their turn, then roll the dice. Players have 3 rolls or less to match the rummy hand on the spinner – but look out for a bonus or penalty that can help or hurt. Win the most points and win the game. When players are done, they can use the dice to play a different game. Game Contents: 9 Square Shooters® dice, spinner, dice cup, and scorepad.
Awards: 2012 Creative Child Magazine Game of the Year Award; Summer 2012 Tillywig Award Winner 7/18/2012 (MSRP: $17.99; Age: 8 and Up)



Room Magic "Boys Like Trucks" Table and Chairs set by ROOM MAGIC TEXTILES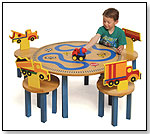 Our Truck activity table will drive any boy wild. The table top has roads, road signs and train tracks for boys to drive their toy trucks and trains. 4 different Truck Chairs make the adorable play set complete. 36"diameter, 18" H. Launch date: June 2000. 7/10/2012 (MSRP: $275.00; Age: 1 to 6)



Looking for more great specialty toys and gift ideas? Then check out this month's Staff Picks
---
---


Copyright © 2021 TDmonthly®, a division of TOYDIRECTORY.com®, Inc.