September 19, 2020

September 2012 | Vol. XI - No. 9


Halloween Toys and Costumes
Check out these specialty and mass-market Halloween books, toys, and costumes
Spot It! Halloween by BLUE ORANGE GAMES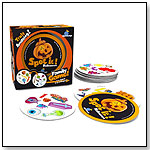 Spot it! Halloween is a party card game consisting of 55 cards, each featuring an assortment of 8 symbols. This special Halloween edition features images such as jack-o'-lanterns, cobwebs, ghouls and other spooky creatures and objects to surprise even the bravest player. Spot It! reinforces visual perception and matching skills. It sharpens reaction time while exercising motor skills and quick cognition in a fun, fast-paced atmosphere. As with all Spot it! editions, there is always one, and only one, matching symbol between any two cards. This game can be played five different ways. 8/23/2012 (MSRP: $12.99; Age: 7 and Up)



Disney/Pixar Brave Merida's Wig Set by CREATIVE DESIGNS INTERNATIONAL LTD.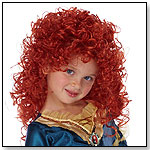 Kids can look just like Merida, the star of Disneys animated feature, BRAVE, with this wig. This iconic, curly red haired wig gives a finishing touch to any Merida costume or dress up set. 8/20/2012 (MSRP: $19.99; Age: 3 to 5)



Dragon Cape Toddler Range, XS by CREATIVE EDUCATION OF CANADA



This is an adorable little cape made with green/black laminated foil. The scales are made with yellow felt, and the teeth are made with white flock. Launch date: May 2012. 5/11/2012 (MSRP: $19.99; Age: 1 to 2)



Maisy's Trick-or-Treat Sticker Book by CANDLEWICK PRESS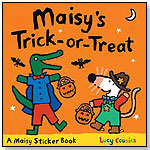 Maisy and her friends love everything to do with Halloween - painting faces on pumpkins, dressing up in costumes, bobbing for apples, and especially going out to trick-or-treat. But they can't do any of these things unless their little fans join the festivities by completing each scene with colorful stickers. Launch date: July 10, 2012. 7/2/2012 (MSRP: $4.99; Age: 2 and Up)



Captain Charlie Pirate Costume by HABA USA/HABERMAASS CORP.



Captain Charlie sets sails and heads off on his big journey. Equipped with the jacket, belt, hat and beard children quickly transform into brave pirates. An enemy ship ahoy! Captain Charlie whips his sword out and prepares the fetters for his prisoners. Together with his parrot he has many exciting adventures on the high seas. (

Watch Video) 3/26/2012 (Age: 3 to 6)



LEGO Monster Fighters Ghost Train 9467 by LEGO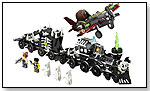 The set contains a ghost train with three ghosts, and a red plane with four flick-fire missiles for the two Monster Fighters. When the train moves, the ghost train wings move too. All the ghosts glow in the dark. 422 Pieces. Launch date: 2012. (

Watch Video) 2/12/2012 (Age: 7 to 14)



Monster Mini Kit by ARTISANDS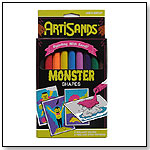 Don't be frightened...it's just ArtiSands Monster kit. Frankenstein, Dracula, the Hunchback and a swamp monster are waiting to come to life in this frighteningly fun kit. Includes 9 tubes of sand and 8 sheets to design. 6/8/2012 (MSRP: $15.95)



SparkleUps® Monsters by THE ORB FACTORY LIMITED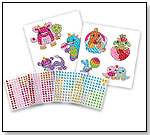 Add sparkling jewels to these adorable little monsters. Use 7 reusable stickers to decorate mirrors, windows, notebooks and more! Meet mischievous friends by matching sparkling tiles to a numbered legend. Best of all, these stickers can be peeled right off with no residue and reused for years to come. Launch date: March 2012. 5/25/2012 (MSRP: $9.99; Age: 5 to 15)



Princess Page Dress by CREATIVE EDUCATION OF CANADA



This dress has a top made with fuchsia velour spandex which is adorned with a golden Fleur De Lis. The straps are elasticized for comfort, and the top is trimmed with a fancy golden metallic bias. The skirt has a rose lining to prevent scratching, layers of paris pink tulle for volume, and a top layer made with sparkly netting. Launch date: May 2012. 5/11/2012 (MSRP: $43.99; Age: 4 to 8)



The Munster's House Plastic Assembly Kit by MOEBIUS MODELS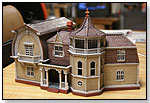 From the classic TV series The Munsters. Now people can build their own house from 1313 Mockingbird Lane. HO scale, easy to build accurate plastic kit of the Munster's abode. Complete with window inserts to ease finishing. Needs paint and glue for final assembly. Launch date: September 2012. 7/19/2012 (MSRP: $44.99; Age: 15 and Up)



Latex Ram Mask by DILLON IMPORTING CO.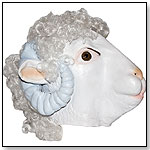 This latex Ram mask is hand painted. Features curling horns and curly white hair. (

Watch Video) 3/26/2012 (MSRP: $12.00)



---
---


Copyright © 2020 TDmonthly®, a division of TOYDIRECTORY.com®, Inc.