May 16, 2021

October 2012 | Vol. XI - No. 10

---
Watch Toy Videos of the Day (10/8/2012-10/12/2012)
We want you to see the toys we see, so you can determine if they're right for your store! Check this space every weekday to see brief video clips of new and specialty products.

In the spotlight today? Your sales will take a hike when you carry the Glodos Bit Bike from KID O PRODUCTS
Glodos Bit Bike by KID O PRODUCTS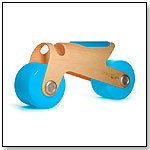 BIT is the ultimate machine to help children take their first steps in the world of two wheels, run on their own and develop their balance and coordination. BIT features wide wheels to help keep balance and stability, while the ergonomic, innovative handlebars are integrated into the chassis to ensure a good driving position. The handlebars become a convenient carrying grip as well as a hanger in small spaces. Made from curved wood, aluminum and EVA. 6/8/2012 (MSRP: $120.00)



Techno Gears Marble Mania Vortex by THE LEARNING JOURNEY INTERNATIONAL



This glow-in-the-dark set of Techno Gears Marble Mania has over 375 pieces, including an automatic marble launcher, 3-D connectors and a variety of channels. Colors may vary. Requires 2 "AA" batteries. WARNING: CHOKING HAZARD - Small parts and marbles. Not for children under 3 years. 6/2/2010 (MSRP: $59.99; Age: 8 and Up)



Quadefy by MARANDA ENTERPRISES LLC.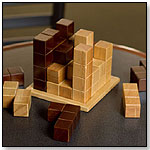 Easy to learn and quick to play, Quadefy uses visual spatial skills and strategies to keep players on their toes. When playing Quadefy, players have to think a little bit strategist and a little bit puzzle builder. Players take turns stacking their game pieces on the base, each attempting to keep their entire game piece "in bounds." "In bounds" means that the piece must be completely over the game base and no more than four "cubes" high. The first player to force their opponent to have to play out of bounds wins. Every move is both offensive and defensive. The rules have been drafted so that there is always a winner, no ties, stalemates, or cat's games. Hand crafted from high quality hardwoods, Quadefy is pretty enough to be left out on the coffee table or bookshelf to be played again and again. Playing time: 3-5 minutes; 2 players.
Awards: 2012 Dr. Toy Best Classic Toys 6/19/2012 (MSRP: $29.99; Age: 6 to 12)



OGOBILD BITS Set 1 by OGOSPORT, LLC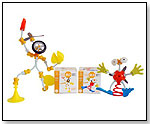 The BILD line offers a stimulating opportunity for constructive play and imaginative exploration. Leap always knew it was destined for fun. Inspired by a rocket, this Bit redesigned itself to fly. With a well placed propeller and a powerful spring, Leap is always ready to leap into action. Crank is the go-to BIT. Whether he's scooping sand, clutching parts, or fixing the other Bits, Crank is the one for the job.Set Contains: 1 OGOBILD BITS Leap character and 1 OGOBILD BITS Crank character.
Awards: Summer 2012 Tillywig Award Winner 7/18/2012 (MSRP: $16.00; Age: 6 and Up)



Thinking Putty Super Illusions by CRAZY AARON ENTERPRISES, INC.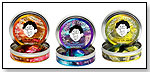 Thinking Putty is high quality silicone bouncing putty enhanced with knock-your-socks-off colors. It is all Made in the USA, non-toxic, and never dries out. The three new Super Illusions are unbelievably vibrant colors that shift depending on how the light hits them. The dynamic colors shine like no others: when held up to the light and pulled thin, the colors magically disappear and kids can see right through them. Launch date: June 2012.
— Mary Sisson, owner of Kazoodles in Vancouver, Wash., told TDmonthly in a Fall 2012 survey that Thinking Putty is one of her best sellers in the tween category. 7/19/2012 (MSRP: $13.50; Age: 3 and Up)



---
---


Copyright © 2021 TDmonthly®, a division of TOYDIRECTORY.com®, Inc.