With 80 percent of the Earth covered in water, the water-toy category is a fertile seabed for invention.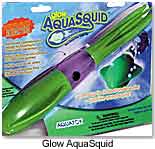 A Perk for Midnight Skinny-dippers
Aquatoy, Inc.'s (ToyDirectory) Glow AquaSquid ($9.95) pool toy replicates the movements of actual squids. Incorporating hydrodynamic technology, this 12-inch creature can be tossed like a torpedo underwater, where it will glide up to 30 feet. A refill pack of glow sticks ($5.95) is available to replace the six-hour stick included with the Glow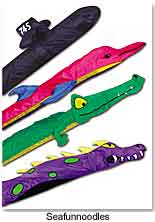 AquaSquid.
A Float in Shark's Clothing
Funnoodles by JAKKS-Pacific, a commonplace water toy in American pools, have been given a booster shot of silly. JAKKS has re-imagined them as four Seafunnoodles ($8.99, ages 5 and up) in the shapes of an alligator, serpent, submarine and dolphin, and the Sunshine Monster Noodle ($5.99). Like the original Funnoodles, the new generation can keep upwards to 200 pounds afloat.
Putting the 'Tan' in Titanic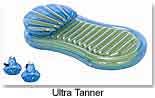 For folks hoping to add pigment to their skin this summer, Sevylor has introduced the Ultra Tanner ($39.99, ages 8 and up), made of heavy-duty PVC with dual I-beam air chambers and a separately inflated pillow. Two patented Raft Anchors keep this float in direct sunlight, if the occupant so pleases.
A Barge Is an Island onto Itself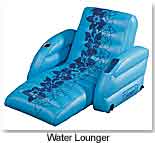 Coleman, the famous camping gear maker, has launched a line of inflatable pool products. In the coming months, expect a basic 6'5" x 32" Mattress ($14.99), Deluxe 6'5" x 31" Mattress ($19.99) with dual drink holders and 16-gauge shell, Water Lounger ($39.99) with drink holder and snack tray, and the 79" x 77.5" Party Barge ($49.99) with two drink holders. The Snap 'n Stay feature allows all of the Coleman floats to join together. The entire lineup is also airtight—guaranteed to be leak-proof, which conforms to Coleman's well-established reputation for high-quality products.
Slither & Soak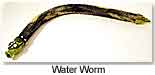 X Concepts´ new Water Worms fill up with water and can squirt up to 30 feet. For ages 9 and up, the creatures come in two lengths: one pound, one foot ($9.99) and three pounds, three feet ($16.99). Two layers of latex tubing make them durable to a fault.
The Inflated Hop House Goes Awash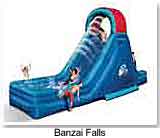 Toyquest introduces Banzai Falls, a blower-inflated waterslide ($299). Kids ages 4 and up plummet through the 19-foot tunnel almost friction-free thanks to waves of water fed by a hose. Their destination is a little wading pool that collects the water flow but doesn't re-circulate it. Because the air is constantly flowing in from the motorized blower, this waterslide dodges punctures.