September 20, 2020

November 2012 | Vol. XI - No. 11


Watch Toy Videos of the Day (11/5/2012-11/9/2012)
We want you to see the toys we see, so you can determine if they're right for your store! Check this space every weekday to see brief video clips of new and specialty products.

In the spotlight today? Be the Alpha toy store in town when you carry products like Smart Snacks Alpha Pops from LEARNING RESOURCES INC.
Ultimate Volcano Science Kit by DISCOVER WITH DR. COOL



Discover with Dr. Cool turned this classic science experiment into the ultimate hands-on volcano experience. First you'll decorate the 7" ceramic volcano with the brush and paints included in the kit. Then kids'll make the volcano erupt over and over with the eruption powder and red lava coloring also included. Plus they'll get to examine 3 genuine volcanic specimens including: a real geode, an obsidian arrowhead, and a floating piece of volcanic rock called pumice. The information guide will teach kids all about their specimens as well as how volcanoes form and why they erupt. Also included is an activity booklet with 10 fun games, puzzles, and challenges to complete. Because everything is included in the kit, kids won't need to run to the store for additional supplies. If they're doing this project for the science fair, they'll love how nice the ceramic volcano looks-it's way better than the paper mache volcanoes. This is the perfect science kit for anyone interested in geology, earth science, or volcanoes. Launch date: August 2012.
Awards: 2013 TDmonthly Seal of Approval, 2012 Kids Product of the Year, Creative Child Magazine; 2012 Gold Award, Family Review Center;2012 Seal of Approval, Family Review Center. 10/16/2012 (MSRP: $19.95; Age: 6 to 12)



Worm-Vue Wonders by HSP NATURE TOYS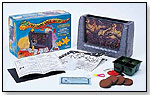 Peek into the underground world of earthworms and discover their earth-saving secrets. See how they turn waste into soil and dig tunnels to create drainage for plants. Perform experiments to demonstrate how worms live and work underground. Have fun with the "Super Squirmin" character cutouts. Made in the USA and Safety Approved. Double-sided viewing, Worm Facts and Anatomy Poster, experiment booklet, and 2 foot Super Squirmin worm cut-out with Superhero hats. Mail-in certificate (send $12.95) for live worms, soil wafers and starter food shipped Priority Mail year-round in the USA, excluding Hawaii. 10/23/2012 (MSRP: $34.95; Age: 4 and Up)



Double Take by R&R GAMES INC.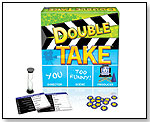 Two players co-star as they attempt to get the audience to guess 6 phrases. Trouble is, each only has half the phrase and it's up to the audience players to put it all together. Lots of laughs and fun in this charageous game for 3-8 players. Launch date: July 2012.
Awards: 2012 Games Magazine Top 100 - Party games category 10/16/2012 (MSRP: $19.95; Age: 12 and Up)



Photoloco by RSV PRODUCTIONS INC.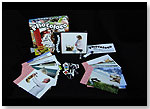 Players slip a photo into the clear Photoholder and draw. Players must get their teammates to guess what they're drawing, right on top of the photo. The photos help give their scribbles context, but it's not as easy as one may think; some things players have got to draw might seem obvious, but only to them. They've got 90 seconds to draw as many items from the list as they can, and then collect a Phototoken for each correct guess by their team. A secret red-reveal panel keeps everybody honest, dry-erase markers allow them to play over and over, and play is fast and hilarious. Launch date: November 2011.
Awards: 2012 Game of the YEAR (Party games category) from Creative Child Magazine 10/16/2012 (MSRP: $24.95; Age: 8 to 17)



---
---


Copyright © 2020 TDmonthly®, a division of TOYDIRECTORY.com®, Inc.