October 1, 2020

January 2013 | Vol. XII - No. 1


January Staff Picks
Ring in the new year (and re-stock after the holidays!) with these high-quality specialty toys and games:


SmartMax Flower Power by SMART TOYS AND GAMES INC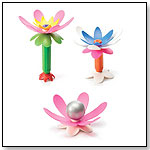 These magnetic flower pieces can be assembled into beautiful blooms. Compatible with other SmartMax building sets. 9/17/2012 (MSRP: $24.99)



Nesting Blocks - Animal ABCs by PETIT COLLAGE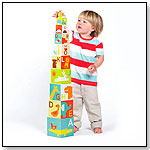 A great introduction to modern art. Ten durable nesting and stacking blocks combine bright graphics with a classic developmental toy. Learn your ABCs and numbers. Each nesting block contains 10 cubes printed on 5 sides with vegetable based inks and measures close to 3 feet tall when fully assembled. Made with 80% recycled content. Conforms to CPSIA and ASTM standards. 12/4/2012 (MSRP: $24.00; Age: 2 and Up)



The Masters Kit by HANZ TOYS



This kit provides hours of fun creating amazing innovations ranging from the ridiculous to the very practical. This system is designed to teach the power of interactive innovation, creative problem solving and social innovation. Compete online with other kids or post your idea and have it rated by the Hänz innovation community. This is a very fun construction set that is simply addictive. Made in the USA with fair trade and the environment in mind. 12/3/2012



Deluxe Townhouse by KIDKRAFT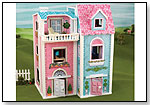 Our Deluxe Townhouse allows young girls to play and explore in a whole new world without leaving the house. This adorable wooden dollhouse comes with 30 accessory pieces and makes a great gift for any occasion. It's so much fun to play interior decorator and move the different furniture pieces from room to room. Features include: 27 pieces of furniture & 3 mini dolls; Folds up for easy storage; Outdoor patio area; 3 levels and 12 rooms of open space; Vivid, detailed backgrounds; Made of composite wood materials; Packaged with detailed, step-by-step assembly instructions; No assembly required.
— Isaac Judd from Magic Beans in Brookline, Mass., told TDmonthly in a June 2013 survey that they usually sell one of these houses during the holidays. 12/5/2012 (MSRP: $169.00)



Merry Orchestra by AZ BOOKS LLC



Kids will meet friendly animals in their home environments: farm, pond, forest and yard. Each book introduces readers to other animals that the main character meets along the way. The pages are filled with sounds, lively text and beautiful illustrations. 11/29/2012 (MSRP: $10.95; Age: 2 to 4)



The Sock Monkey Family - Car by BRYBELLY HOLDINGS INC.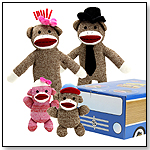 This sock monkey family is perfect for any child. These stylishly dressed monkeys provide classic twists on retro toys. The family consists of Mr. Coconuts, his wife, Cupcake, and their two children, Daisy May and Joey. This family enjoys a typical sock monkey lifestyle. Mr. Coconuts spends his days working at the local banana factory while Cupcake enjoys crocheting banana blankets for baby sock monkeys at the zoo. Daisy May is an active member of Banana Scouts while her younger brother, Joey, enjoys eating banana-cream pudding pies. Both children attend Banana Elementary School. The monkeys come housed in a cardboard car so your child can enjoy hours of driving them to their daily activities. Each car has four cutouts so the monkeys can see out the window. The cars also have cardboard tires that pop out for added fun. These cute sock monkeys are made from polyester fibers and are recommended for ages 3 and up. Launch date: December 2011. 11/21/2012 (MSRP: $49.99; Age: 3 and Up)



eco-build a block set by ECO-KIDS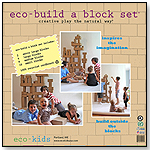 From building a tower, to a fortress or a maze, eco-build a block set™ will inspire imaginations to soar. These blocks are fun for all ages; they build confidence, teamwork and help with gross motor skills. Get ready to watch worlds come to life. These 100% recycled cardboard blocks come packaged in a reusable carrying case and are ready for play. With four unique sizes, use them as is or add an artful touch for hours of creative play. eco-build a block set includes 2 extra large boxes, 4 large, 8 medium and 16 small boxes. Carrying case measures 16.5"H x 20"W x 4.25"D. Launch date: August 2012. 11/21/2012 (MSRP: $39.99; Age: All Ages)



Curvyman™ by NITE IZE INC.

Meet Curvyman, Senior Headset Cord Supervisor, Frustration Preventer Extraordinaire, and Your Future Best Friend. Made of durable, lightweight plastic, his unique physique was made for keeping unruly ear buds and headsets in order - literally! Pop one end of your cord through a hole at his base, wrap it up around his middle, clip the other end through the second slit at his top, and voila! Your cord stays tangle-free and organized when not in use. Or, just wrap the slack around his middle and keep your cord close-fitting and tidy while you're running, working, traveling, or otherwise on the go. Curvyman also comes with a size #0 plastic S-Biner attachment so you can clip him to your keys, backpack, purse or zipper pull and take him with you everywhere. (Which you will want to do, we promise!) 12/7/2012 (MSRP: $3.99)



Flower Doodle Ruffle Tote by DOUGLAS CUDDLE TOYS



Douglas fashion is at its best with this bright, almost iridescent, sak that sports lovely ruffles and an applied daisy on a yellow pindot bib. Coordinating patterns and fabrics add to the allure. Girls will love this zippy bag...8 inches wide. 11/16/2012 (MSRP: $17.99; Age: 3 to 9)



Dance Charades by MILLIWIK LLC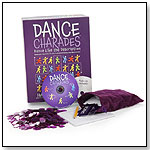 Dance like the description. In this game players have a 40 second song clip to dance out as many of the dance charades cards as they can. They get a point for each correct dance charade the other player guesses. The other players also get to reward their opponent with dancing points by throwing purple tokens to you while you dance. In the Box, Audio cd with 40 songs-300 dance charades cards-300 purple tokens-Score Pad and Pencil. This game tends to bring even the shyest of people out of their shell. 12/6/2012 (MSRP: $24.99; Age: 4 and Up)



Green Genius by BE AMAZING!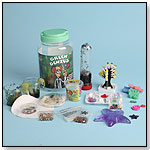 This kit uses a variety of visual and tactile experiments that introduce kids to the world of plant science. Each experiment is designed to teach kids a different principle about plants, including seed purpose and description, capillary action, water cycle, DNA, sprouting, horticulture, plant biology and natural product science. An exciting range of experiment types are used to represent or explain plant biology or to use plants in the experiment. 12/5/2012 (MSRP: $23.99; Age: 8 to 15)



Hi-Ya! Magnus by GUND INC.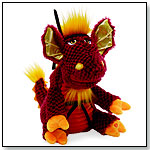 This ultra-soft multi textured plush dragon is proud of his fire-breathing abilities... and his ninja-style moves (which he's still mastering). He's got a fun side to him too though, as he likes to joke around and even talk a little smack. 12" and includes 3 replaceable AA batteries. Recites 10 phrases while arms move & nostrils light up. On / off switch on left foot. Launch date: January 1, 2013 12/3/2012 (MSRP: $39.99)



Once Upon a Time Storytelling Card Game 3rd Edition by ATLAS GAMES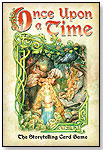 Once Upon a Time is the award-winning storytelling card game that encourages creativity and collaborative play. One player is the Storyteller, and begins telling a story using the fairytale elements on her Story cards, guiding the plot toward her Ending Card. The other players use their own cards to interrupt her and become the new Storyteller. The winner is the first player to use all her Story Cards and play her Ending Card. The object of the game, though, isn't just to win, but to have fun telling a story together. Launch date: October 2012. 11/30/2012 (MSRP: $24.95)



Sad Sam & Honey - Snuggle by AURORA WORLD INC.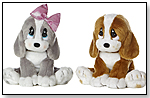 Each snuggle style is begging to be hugged and loved. Honey is highlighted with pink bow and blushing cheeks. Launch date: January 2013. 11/29/2012 (MSRP: $14.00)



---
---


Copyright © 2020 TDmonthly®, a division of TOYDIRECTORY.com®, Inc.