December 2, 2020

January 2013 | Vol. XII - No. 1


Watch Toy Videos of the Day (1/14/2013-1/18/2013)
We want you to see the toys we see, so you can determine if they're right for your store! Check this space every weekday to see brief video clips of new and specialty products.

In the spotlight today? Your sales will be sky high when you carry fun toys like Monster High Abbey's Ice Bed Playset from MATTEL INC.
Monster High Abbey's Ice Bed Playset by MATTEL INC.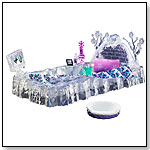 The ghouls of Monster High each have their beautifying routines to ensure they always look fierce. Without a good night's sleep, Abbey Bominable can really become a beast. This cool bed ensures she gets her beauty rest. With an igloo headboard and icy accessories, it reminds her of home, a pillow, blanket, ice slush drink and pet bed for Shiver add even more creature comforts. If she has trouble sleeping, she can write in her diary or count snowflakes. Accessories include a snowflake lamp, ice clock and ice TV. 11/15/2012 (MSRP: $69.99; Age: 6 to 12)



Tapeffiti Tape Art Tote Set by FASHION ANGELS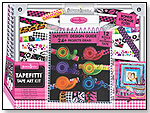 Tapeffiti Tape Art Tote Set is a fashion craft kit. Decorate the tote bag with 6 mini tape dispensers with different colors and patterns. Also has 6 replacement rolls and a style design guide with more than 2 dozen other project ideas, including tape bracelets, picture frames, pens or pencils, and pen/pencil containers. (Comes in Barbie licensed version, too). Also sold separately are 4 or 6 roll collection of Tapeffiti tapes in various designs, patterns, and colors. Color and pattern tapes for decorating is one of the hottest personal style trends for teens and tweens. Included are a full size tote bag, 6 mini tape dispensers with assorted colors and patterns.
Awards: 2012 Dr.Toy Best 20 for $20
— Karen Laroche, manager of Kid's Ketch in Lews, Del., told TDmonthly in a Fall 2013 survey that Tapefetti is one of their best-selling tween products.
— Molly McMullin from Twirl in Ranchos de Taos, N.M., told TDmonthly in a January 2014 survey that Fashion Angels Tapeffiti was a best-selling arts & crafts toy. 12/14/2012 (MSRP: $13.99; Age: 8 to 12)



LEGO Creator Sopwith Camel by LEGO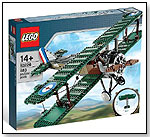 Users can recreate their very own piece of aviation history with the historic Sopwith Camel. This detailed replica of one of the most recognizable British single-seat biplanes ever to have graced the skies. Features include a realistic rotating propeller and engine cylinders, hinged tail rudder, realistic tension wires, functioning wing ailerons and tail flaps that can be controlled from the cockpit – just like the real plane. The detail doesn't stop there; this authentic model has over 880 bricks, including rare dark green, dark tan and metallic silver elements. 11/15/2012 (MSRP: $99.99; Age: 14 and Up)



Fortune Cookie Maker by Moose Enterprise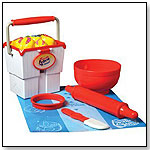 The Fortune Cookie Maker lets children write, create and decorate fortune cookies right at home. Children just write down their fortune, combine the included mix with water, heat in the microwave for a few seconds, knead and roll out their dough and then place it in the Fortune Cookie Machine. With the push of a button, their fortune is deliciously sealed and is ready to decorate and eat within 10 minutes. The Fortune Cookie Machine makes up to 12 cookies, and is fun for the entire family. 11/15/2012 (MSRP: $27.99; Age: 5 and Up)



Skylanders Arkeyan Copter Attack by MEGA BRANDS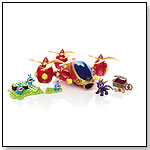 Take the battle to the skies with the buildable Mega Bloks Skylanders Giants Arkeyan Copter Attack (95418). The Frigid Chompies are no match for Spyro when he attacks from above using the Arkeyan Copter's working missile launchers. Once his foes have been defeated, Spyro can swoop in to collect the treasure. Help Spyro and his friends save the Skylands. 11/15/2012 (MSRP: $34.99)



---
---


Copyright © 2020 TDmonthly®, a division of TOYDIRECTORY.com®, Inc.