June 6, 2023

February 2013 | Vol. XII - No. 2

---
Activision Skylanders vs. Disney Infinity
Skylanders brought Activision major success in 2012 — now Disney wants a piece of the pie.
Activision/Blizzard, the world's largest provider of video games, has been in the news lately. Firstly, their Call of Duty: Black Ops II game was not only the #1 game for the month of December; it was the #1 game for the whole of 2012. Secondly, their 2011 entry Skylanders has just broken the $500 million barrier at U.S. retail.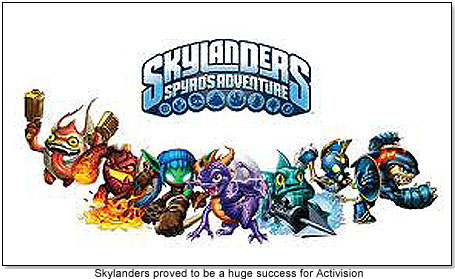 Skylanders has been equally successful internationally and Activision's sales worldwide for 2012 are estimated at about $550 million at wholesale.

This is why the company is holding up pretty well in the face of collapsing video game sales not only in the United States but also in Europe. This is what their sales performance over the years looks like:



You will notice that the arrival of Skylanders at the beginning of the fourth quarter of 2011 coincides with the upturn in sales.

There is no question that Skylanders is fantastically successful. The range is #1 in the Action Figure category both in the United States and in Europe and is still growing rapidly. Activision management believes that they have a Billion Dollar product on their hands — if not this year then next.

Skylanders could not have come at a better time for Activision.

The successful launch of Skylanders means that the company has managed to increase its core sales properties from two — World of Warcraft and Call of Duty — to three. In 2012 the first, World of Warcraft, contributed sales to the approximate tune of US$1.0 billion. Call of Duty brought in — both boxed and digital versions — about $ 2 billion. Add to this Skylanders with about $550 million and you get to over $3.5 billion, or about 75% of Activision's sales.

So how are these three properties faring? Consumer reactions are probably the best guide to answering this question. Google Search tends to be a good indicator of the interest level for a given property from the side of the consumer. The data provided by Google is revealing:



Google Search Worldwide. Blue — World of Warcraft, red — Call of Duty, brown — Skylanders

What this suggests is that WoW has been losing consumer appeal for quite a few years now and that CoD has peaked. In fact, Skylanders has overtaken WoW in one short year.

There seems little doubt that the success of Skylanders comes at a time when Activision's two heaviest hitters are getting into choppy waters. There is firstly the perception held by wide segments of the population that video games foster violence and are at least partly responsible for the shooting tragedies that have beset the nation. If this perception persists, and is strengthened by forthcoming anti-gun legislation, the effect on games such as WoW and CoD could be very negative.

In addition, WoW is beginning to lose its subscription base and is likely to drop about 10% this year as the MMORPG aficionados are increasingly moving to free-to-play models. Also, while still clearly #1 in the West, WoW is being knocked off its perch by Cross Fire, published by Neowiz, a Korean free online game. In other words, the outlook for WoW is somewhat negative.

The second leg of Activision's stool – Call of Duty — has now ten years under its belt and is getting old. Its most recent iteration, Black Ops II, was a runaway success, but my store checks suggest that a high proportion of the early adopters were responsible for this and the mainstream consumers are very much taking their time to come to the party. Now, there is no question that CoD will benefit from the forthcoming launches of the Xbox 720 and the PS4 late this year. However, these may well prove to be below expectation if the experience of the WII U is any guide, and this would affect CoD proportionally.

This leaves Skylanders. The idea was brilliant and the execution outstanding. It is very rare that a newcomer to the toy industry, with a totally novel concept, sweeps the board the way Skylanders did. In less than a year Skylanders dethroned such action figure icons as StarWars, Transformers and the Avengers. What it demonstrates is just how starved of real innovation the toy space is today, and how the national buyers in fact welcome new and revolutionary ideas, provided that the manufacturer is sufficiently strong to see the thing through from beginning to end — which is something virtually all new entrants lack.

Activision's expectation that Skylanders should grow into a Billion-Dollar franchise is probably quite realistic, if not for one recent development. Disney has long been rumoured to be working on a concept very similar to Skylanders and they have finally unveiled it — INFINITY.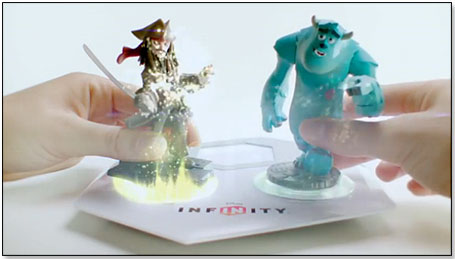 Just like Skylanders, INFINITY will combine actual toy figures with a reader and power discs. By placing a collectible toy figurine on the Disney INFINITY base accessory, which connects to a games console or mobile device, users will unlock playable characters and areas in the video game. The product will be released in June and will have the game, a reader, and three figures at a retail price of $79.99, identical to Skylanders' pricing. They are starting the thing with Captain Jack Sparrow of the Pirates, Mr. Incredible and Sulley of Monsters University – a movie that will be screened to coincide with the launch of INFINITY.

The three figures (and their successors) will be able to accumulate data and to transmit it via the reader. The toys work with all major consoles — Xbox 360, PS3, Wii, the Wii U and the PC as well as with tablets and Smartphones. Just like Skylanders, INFINITY figures can move between all these devices. Gamers can also play together physically or online.




In addition — and that is where INFINITY is likely to really and fundamentally differentiate itself from Skylanders — the set has a separate Toy Box component that allows players to build their Superhero Headquarters, customize the Black Pearl and its cannons and crew, and effectively create entire worlds that can be shared globally with other players.

Given the vast array of characters available to Disney — from Star Wars to the Avengers to Hulk and Spiderman and more — Activision will have its work cut out for them. They say that they have an array of new characters and games in reserve to put into the field when the Skylanders characters themselves lose steam. They will need to do so, probably earlier than they think.

There is one thing that is beyond doubt — Disney will have done their homework and will come with a product that works and is fully supported in marketing and selling terms. The question now entertaining the toy experts is who exactly will get the rights to INFINITY. The betting is either Hasbro or Mattel.

Whatever the final outcome will be, the toy space will never be quite the same again.
Skylanders Giants Starter Pack by ACTIVISION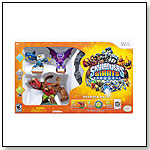 Thousands of years ago, the Skylanders Giants fought epic battles in Skylands but were banished to Earth. With a new threat looming, its time to bring them back to join forces with the Skylanders. Put them on the Portal of Power® to unleash their strength in the ultimate battle to save Skylands. Starter Pack includes: 1 Video Game; 1 Portal of Power; 3 Skylanders Figures; 1 Character Collector Poster; 3 Sticker Sheets with Secret Codes; and 3 Trading Cards. Launch date: 2012.
— As of 10/30/2012 this product had 5 out of 5 stars from 1 review on Amazon.com. 9/19/2012 (MSRP: $74.99)



Skylanders Spyro's Adventure by ACTIVISION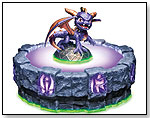 Activision is back with Spyro. This time, characters in the video game are available as action figures that can be plugged into the game. Put the toy on the "power portal," and all of the power and skills that kids build up can be saved to the toy itself, so every time they play the game, no matter on what console, all of their statistics are in tact. Each character has its own unique powers, and two characters can be placed on the portal at once to play as a team or face of in one-on-one battle. Starter pack includes 1 copy of the game, 1 Portal of Power, and 3 Characters. Launch date: Fall 2011. 2/18/2011 (MSRP: $69.99)



---
---


Copyright © 2023 TDmonthly®, a division of TOYDIRECTORY.com®, Inc.