September 26, 2023

April 2013 | Vol. XII - No. 4

---
Two single brand toy retailers – one success, one failure
Two companies entered the retail market with a single toy brand – American Girl and Build-A-Bear. And this is just about where the similarities end.

American Girl is a success story. Founded by Ms. Pleasant Rowland as a mail order company in 1986, the company was taken over by Mattel in 1998. A year later, the first American Girl store was opened in Chicago and American Girl has since gone from success to success. The chain has now grown to 14 stores (plus one outlet store in Oshkosh,Wi) and another store is about to be opened in Ohio. All their stores are owned and operated by Mattel.

Build-A-Bear is a retailer that is having a rough time and is clearly in search of a viable business model. Build-A-Bear was founded by Maxine Clark in 1997, with its first store in the St. Louis Galleria, and the chain has now grown to 210 stores in the U.S. plus about another 210 stores internationally. Of these 420 stores, about 330 are company-owned and the rest franchised. The company has clearly struggled over the past few years as the sales graph below demonstrates: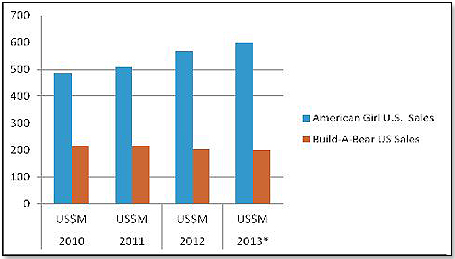 A similar picture emerges when one looks at the web traffic patterns of both companies – a metric which is of extreme importance in an industry that becomes more and more driven by online access and Internet sales: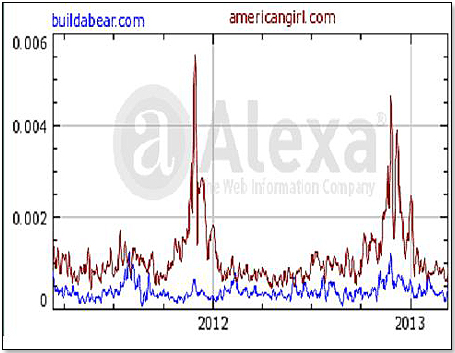 Perhaps as a sign of things to come, Build a Bear Denmark just went bankrupt.
This disappointing sales history has now finally convinced Maxine Clark, the company founder, to identify a successor for the CEO position and to then step away from day-to-day management.

The two retailers have totally different store profiles. The American Girl store for one is much larger, ranging from Kansas' 9500 square feet at one extreme to Chicago's 52000 square feet at the other - which I estimate to average 24000 square feet per store. In contrast, Build-A- Bear's stores cover on average only about 3000 square feet. Typically, American Girl occupies several stories whereas the Build-A-Bear store is mainly ground level only.


The mission of the two stores is also very different. Build-A-Bear has one mission only – get you in, sell you a bear, stuff the bear, get you out. Average store visitation is estimated at 30 minutes. American Girl on the other hand is a full immersion course and the average visitation lasts about half a day.

This is how a visitor to the Build-A-Bear Anaheim store described her experience:

"Such a cute store with all these cute Disney outfits and accessories! My lil girl had a blast. However, it feels like a glass house and it's quite HOT in there. You get to pick the stuffed animal that you want to make. Go line up and someone will assist you in filling in the animal with cotton balls. Make a wish and kiss the heart that's going inside the stuffed animal. Bathe and brush your stuffed animal. Pick the outfit. Make a birth certificate and take it home with you. Love the concept. Very cute store. Love the fact that there are tons of boy items in there too so that both genders can enjoy this place."

As for the New York American Girl store, the first floor is devoted to modern American Girls, plus Coconut the Dog, and the Book Store. The second floor holds the Pet Shop, the Doll Hospital and the Doll Hair Salon. On the third floor are the Coffee Shop, the Photo Studio and the Souvenir Shop. This is what a friend of mine, who visited the store with her pre-teen daughter, had to say:

"Matt had taken her two dolls Kirsten and McKenna with her to the store. Kirsten got her ears pierced (you can also bring in your doll for a hair redo). She also purchased earrings for the doll, water sandals, a school bag and kit, etc. We got Licorice, a black kitten accessory for Jimmy (her brother) who really is into cats."

In terms of consumer profile, American Girl's audience is virtually 100% girls whereas Build-A-Bear's consumer is 75% girl and 25% boy.

On the surface, both retailers operate in a very similar fashion. Both have a range of one-brand core products – one dolls and the other plush – and they are trying to sell add-ons. Both have their products made in China and there is no quality differential issue. Both companies are rated pretty highly by their employees as places to work. Both cater to pretty much the same consumer group and both have their stores in an urban mall environment. Build-A-Bear has many more stores than American Girl but American Girl has much larger stores. So there is no reason why one succeeds and the other one does not.

One possible answer to this question is what the consumer does in each store. Yearly sales per retail square foot tell the story - American Girl's are about $1,500 versus Build-A-Bear's $320. American Girl store receipts estimate that the average American Girl doll consumer spends $600.00 per visit and in the case of Build-A-Bear this is about $40.

Now there are two obvious solutions to this – get more consumers to visit these stores or get the consumers to spend more money once they are there. Both solutions face major challenges. More consumers? Build-A-Bear already gets about 12 million visitors each year compared to American Girl's 3 million. This is particularly at peak times about the maximum the current Build-A-Bear store size is able to accommodate. More spending per consumer? There are just so many add-ons you can generate around a plush bear. As it is, the average store purchase of $40 includes half in accessories.

In short, unless Build-A-Bear manages to fundamentally change its model and move up the value scale per purchase – by diversifying away from the purely bear core into a host of pricier products such as children electronics – I do not see how Build-A-Bear will be able to survive over the long term.
---
---


Copyright © 2023 TDmonthly®, a division of TOYDIRECTORY.com®, Inc.