July 13, 2020

April 2013 | Vol. XII - No. 4


April Staff Picks
This month's "Staff Picks" focuses on outdoor toys, now that warmer weather is making its way across the country. But, for those rainy Spring days, we've also included a couple of unique toys that will entertain indoors. Check out our picks below!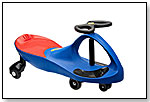 PlasmaCar Blue by PLASMART INC.
— The bestselling PlasmaCar from PLASMART INC has been a great success in specialty stores for years. Rather than using their feet or pedals, kids simply swivel the steering wheel, which propels the car forward.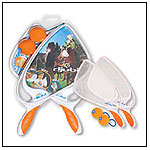 Djubi Classic by ALIQUANTUM INTERNATIONAL INC
— This outdoor toy from Aliquantum International puts a new twist on catch, and encourages kids to get outside and engage in fun physical activity. It was also voted a "Best Toy For Kids" by the American Specialty Toy Retailing Association.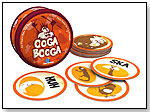 Ooga Booga by BLUE ORANGE GAMES
— For 2013, Blue Orange offers this new addition to their wildly successful card games. Lots of memory games are solitary, but this one encourages fun interaction between players by requiring each person to chant the words on the previous cards out loud, building upon the chant every time a card is overturned.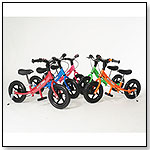 12" Mini Glider by GLIDE BIKES
— These lightweight balance bikes make it easy for young children to learn to ride a bike without training wheels. The patented "slow speed geometry" makes it possible to balance the bike at a slower, safer speed than other similar products.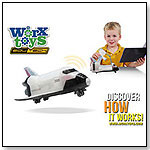 Space Shuttle by WORX TOYS INC.
— This Space Shuttle offers kids the chance to engage in imaginative play while at the same time learning about the components that make the Shuttle work. The Shuttle comes with an interactive story book with a keyboard. When kids enter codes onto the keypad, the corresponding part of the Shuttle will light up.



See more details on these products below:
PlasmaCar Blue by PLASMART INC.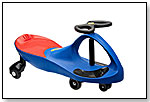 Now more than 10 years old, PlasmaCar continues to intrigue and fascinate with millions of units sole and multiple awards in over sixty countries worldwide. Just sit, put feet up, and turn the steering wheel to propel forward up to 6 mph on any smooth, flat surface. With a maximum weight capacity of 220 lbs., even parents and grandparents have experienced a giggle by taking it for a spin. Made from state-of-the-art, high-quality ABS plastics, this kid-powered, durable, ride-on vehicle comes in a variety of colors.
Awards: 2012 Parents Choice Awards Recommended, 2009 Green Parents List Check Mark, 2009 DisneyFamily.com Top Action Figures and Toys for Toddlers, 2009+2008+2005 The National Parenting Centre Seal of Approval, 2008 iParenting Media Toy Award, 2008 Fat Brain Toy Award Active Play, 2006 TIA Outdoor Toy of the Year - Specialty Toy of the Year, 2006 Oppenheim Toy Portfolio Platinum Award, 2005 Oppenheim Toy Portfolio Gold Seal Award, 2005 Dr. Toy Best Vacation Products, 2005 Creative Child Seal of Excellence, 2001 International Patent Fair, Hong Kong Gold Medal
— Mary Sisson, owner of Kazoodles in Vancouver, Wash., told TDmonthly in a Fall 2012 survey that the Plasmacar is one of her top-2 overall best selling toys. 8/2/2012 (MSRP: $69.95; Age: 3 and Up)



Djubi Classic by ALIQUANTUM INTERNATIONAL INC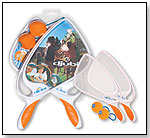 HOOK IT! LAUNCH IT! CATCH IT! Djubi Classic is the coolest new twist on the game of catch. A unique combination of a slingshot and lacrosse stick, Djubi Classic consists of a specially designed racquet with a net and launch hook and a ball with an elastic band. Djubi balls can be launched up to 100 feet and they're easy to catch with the Djubi racquets. Fathers and sons, college students, families and friends will find that Djubi Classic will take the old game of catch to an awesome new level of fun and excitement. 12/14/2012



Ooga Booga by BLUE ORANGE GAMES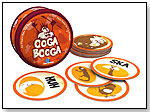 Get ready to party like a caveman with a memory game of prehistoric proportions! Gather the clan to perform the sacred chant known as Ooga Booga. Each card has either an ancient word or wild gesture. Players take turns laying down a card to add on to the chant. You have to listen closely and follow the clues to recite the chain without a mistake. As the voices of the tribe rise into a sidesplitting song, the sharpest memory will determine the new chief. Ooga Booga is a memory game you'll never forget! 3/20/2013 (Age: 7 to Adult)



12" Mini Glider by GLIDE BIKES

12" Mini Glider for children ages 2-5. Made from lightweight aluminum alloy, the Mini Glider features our patented slow speed geometry along with removable foot pegs, child sized handbrake, quick release seat post clamp, kickstand, and a lifetime warranty! Available in 5 metallic colors, weighs only 8 pounds. 3/1/2013 (Age: 2 to 5)



---
---


Copyright © 2020 TDmonthly®, a division of TOYDIRECTORY.com®, Inc.