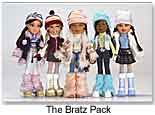 For a more recent report on this trend, check out the following update.

Everyone wants to be voted "Most Popular." Until the 2001 release of the Bratz doll line by MGA Entertainment, Mattel's Barbie always wore the coveted crown. But now, the world's first fashion doll faces fierce competition from the Bratz Pack. A recent survey by Funosophy, Inc., a consulting firm for toys and entertainment products, indicates that girls prefer Bratz over Mattel's Swan Lake Barbie, My Scene Barbie, and Flavas.
Over 500 girls ages 6-14 responded in December to concept testing about the dolls. The girls were asked to measure how much they liked [the concept] of a particular doll based on pictures and descriptions. An overwhelming 57% of girls ages 6 to 8, said they "love" Bratz. Even older girls ages 9 to 11 chose Bratz over Barbies, casting 44% of their vote toward the sassy fashion dolls.
However, voters weren't so quick to part with Barbie. When asked, "Which one of these toys do you like best?," the girls were split in their decision. Of ages 6 to 8, 33% chose Swan Lake Barbie and 33% chose Bratz. For 9 to 11 year old girls the decision was easier, with 40% naming Bratz as their number one choice.
Neither age group preferred Flavas - Mattel´s hip hop dolls designed to directly compete with Bratz - to other dolls, and actually rated Swan Lake Barbie as more "cool" than Flavas in "attribute ratings."
Mattel and MGA Entertainment fashion dolls have been battling it out for some time, with Flavas sales at a constant lag in comparison to Bratz. About one year after their release, Bratz scooped the top three spots in the doll category in August 2002, with the Bratz Assortment, Bratz Funk N Glow Assortment, and Bratz Boyz Assortment, according to an October 2002 report from NPDFunworld.
Funosophy's poll would seem to reinforce a current sales lead by MGA over all Mattel fashion dolls. But Barbie maintains global status as a household name. In its 2003 third quarter financial results, Mattel reported an eight percent increase in worldwide gross sales for Barbie.
Read an update on the Fashion Dolls Wars in Playzak.