May 9, 2021

September 2013 | Vol. XII - No. 9

---
September Holiday Preview
New Toys in Time for the Holidays
The holidays are right around the corner, and experienced retailers know they need to finalize their buying decisions now.

If you are looking for unique, high-quality specialty toys to stock your store with for 4th quarter, look no further than the intriguing gift ideas below.
Petunia Ballerina Mouse by DOUGLAS CUDDLE TOYS



One of the best parts of the holiday season is The Nutcracker...and girls love to dance and dress up in tutus and frills. Here is a companion mouse to the theatre or just for fun dress up play...She is soft, cuddly, and lovely in her dancing shoes, pink tutu, and ear bow to match. She even wears a special necklace. Petunia comes in two sizes 20 in. and 9". The MSRP's are $30 and $12. 8/29/2013 (MSRP: $12.00)



Sound It! Found It! Junior™ by WOWOPOLIS LLC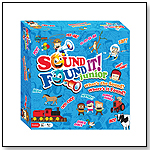 Described as a combination of Where's Waldo? and Charades with sounds, this patent-pending easy-to-learn and easy-to play game was created specifically for the preschool set. A player chooses a picture card and gets the others to guess what's on the card by imitating the sound it makes. Choo-Choo! Beep Beep! Gobble Gobble! Those are just the easy ones … but guessing the sound is only half the fun. Once the sound is identified (e.g. Choo Choo for the train), players race to find the object that makes it amid one of six preschool-friendly illustrated scenes such including Around the Farm, Costume Party, A Day at the Zoo and Out on the Street, each filled with action and surprises.

Featuring 72 cards and six giant-scene boards, each drawn in a whimsical, original style, Sound It! Found It! Junior combines visual hilarity with the unique twist of guessing sounds, offering hours of laugh-out-loud fun. No reading required. 8/26/2013



MOVA Pendants by TurtleTech Design, Inc.



MOVA Pendants perfectly framing the magic of perpetual motion. Any of the 4.5" MOVA Globe designs can be made into pendants upon request and the pendant base comes in black or clear acrylic. The Silver/Blue Metallic MOVA Pendant has a contemporary and refined look with navy/indigo oceans and silver metallic finishes on the land masses. 8/26/2013



Sew-Your-Own My Best Friend by UNIVERSITY GAMES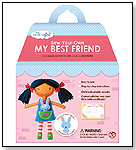 Create beautiful dolls with My Best Friend Dolls. Includes easy-to-follow instructions, pre-cut holes and materials for easy sewing, kid-safe needle and a birth certificate. Package: 6.25"W x 8.5"H x 4.75"D. Peggable/Shelvable. Finished Product: Approximately 12"H. SKUs: Blonde, Brunette, Redhead. 8/9/2013



Monkey + Bunny by CHINA TOYBIZ.CN



It has a bunny's head and paws, as well as a monkey's body. The toy itself is about 8" long, while the hat is around 28" in overall length. long enough to be used as a scarf and mitten. This 3 in 1 fuzzy hat is your perfect choice for children and women in winter. Mini. 50 pcs. by airmail. Ocean shipment is offered for qty. over 1000 pcs..( mixed items allow) Write us to get the quote based on your qty. and shipping method. 7/24/2013



Flying Kung Fu Frogs™ by PATCH PRODUCTS INC.

Launch your Kung Fu frogs at the training center and try to conquer all the levels to score big. It may look easy, but the levels rotate; you must try to land on moving targets to master the levels of Kung Fu! 7/11/2013



Drip, Drop, Jingle, Jangle by WESTCO EDUCATIONAL PRODUCTS



Black and white contrast makes this set a perfect "first" musical instrument. The set includes a black and white rain maker and a black and white bell shaker. 6/26/2013 (Age: 0 and Up)



Croc Pile by AREAWARE



A set of five stackable wooden crocodiles. 6/18/2013



Lie Detector Assembly Kit by ARTEC EDUCATIONAL

By amplifying a marginal amount of current flowing through your body, the meter's needle will move! Make your friends sweat under pressure! Have fun learning about electrical current and resistance. 6/10/2013 (MSRP: $9.99; Age: 8 and Up)



---
---


Copyright © 2021 TDmonthly®, a division of TOYDIRECTORY.com®, Inc.