April 19, 2021

October 2013 | Vol. XII - No. 10

---
October Holiday Preview
There's still time to stock up for the holidays! These specialty toys from a variety of categories - from plush to construction and more - could be the perfect fit for your store. Take a closer look at the unique toys below, then decide which deserve a spot in your store this holiday season.
AnimaLamp by MOBI Technologies, Inc.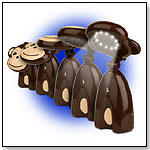 Who says children and wild life can't play together? Mobi introduces AnimaLamps™, the cool-running LED light that's great for desktop, late night changing table and feeding, reading in bed, games, and playtime. Portable and solidly built, AnimaLamps ™ can go anywhere. Adjustable brightness, one-touch operation and built-in rechargeable battery makes it the perfect light for children. Caution: we've heard reports of parents stealing AnimaLamps ™ from the nursery.
Awards: Mom's Choice Gold, NAPPA Gold and National Parenting Center Seal of Approval awards. 9/30/2013 (MSRP: $24.95)



Peppermint Candy House Sassy Pet Sak by DOUGLAS CUDDLE TOYS



This petite and sweet little purse, carries a removable mouse for holiday fun! The sak is made of mint candy print, candy buttons, a candy cane striped handle, and fluffy snow white faux fur. The adorable mouse peeks through the fluff! 8/29/2013



S9 police cruise by AUTOMOBLOX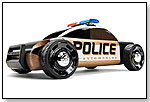 The Automoblox S9 police cruiser with its extended center block accommodates a bold, dimensional, police graphic. A modified roof holds the aerodynamically designed light bar, which because of the polycarbonate plastic, appears as if it's illuminated. A new flat black front push bar protects the painted front block, and genuine dog dish style wheels create an authoritative presence. 9/26/2013 (MSRP: $45.00)



The Game of THINGS by PATCH PRODUCTS INC.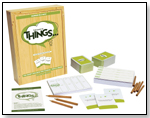 In this hilarious game, you read a topic card and then write down your response. It can be anything that comes to mind, there's no right or wrong answer! Then all the responses are read aloud and you have to figure out who said what! You won't believe the THINGS... the people you know will come up with! For 4 or More Players. 10/3/2013 (Age: 14 and Up)



Van de Graaff Hand Crank Generator Kit by ARTEC EDUCATIONAL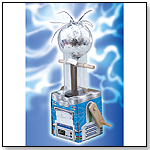 Make static electricity from your own Van de Graaff Generator! Static electricity generated by turning the rubber belt will accumulate on the aluminum-wrapped plastic sphere. You can perform experiments such as standing pompom strands and lighting the included neon bulb! 9/20/2013 (MSRP: $9.99; Age: 8 and Up)



LEGO Friends Dolphin Cruiser by LEGO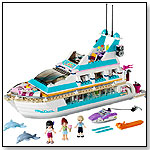 Set sail for fancy fun in the Dolphin Cruiser, a 2-story yacht with a waterslide that splits in half for playing inside with 3 mini-dolls. 612 pieces.
— Dalene Lockhart, owner of Toy Town in Casper, Wyo., told TDmonthly in a May 2014 survey that LEGO Superheroes and LEGO Friends were the best-selling construction toys in her store.
— In a November 2014 survey, two retailers told TDmonthly that LEGO was a best-selling line of toys. 9/26/2013 (MSRP: $69.99; Age: 7 to 12)



LEGO Kingdoms Kings Castle by LEGO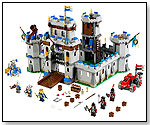 Build and defend the King's Castle with 7 minifigures, battering ram, tons of functions and the brave White Knight with fully armored horse. 996 pieces. 9/26/2013 (MSRP: $99.99; Age: 7 to 12)



4" Dinosaurs Figures by ESCO TOYS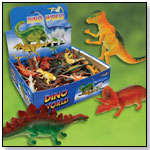 4"-4.5" assorted dinosaurs includes all the most popular species including T-Rex, Brontosaurus, Triceratops, etc. 2/18/2010



Geomag KOR - Aki by REEVES INTL. INC.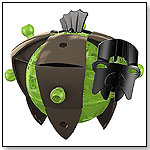 53 pieces include: 1 non-magnetic steel sphere, 8 triangular magnetic components,18 square magnetic components, 4 triangular covers, 8 medium square covers, 1 mask, 10 ball joints, 1 hand/head, and 2 crests. Aki is a Proteon. Geomag KOR Proteon are five characters with differing rocky, swampy and volcanic native environments. These characters are differentiated by the color of their covers and masks. There are three developmental stages that give life to different characters: from Aki, in the more simple stage, to Taurex, intermediate stage and Blatta, Vulkrum and Swomp who have evolved to the more advanced stage. 9/26/2013 (MSRP: $30.00; Age: 5 and Up)



Snap Circuits Sound by ELENCO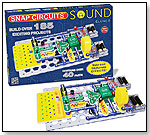 Keyboard with optical theremin. Echo effects. Voice changer; Record voice or music and play it back at different speeds. Sound energy demonstration. Color changing light. Connect to your smart phone and analyze sounds with apps.

Where to buy:
SOUTH 9/26/2013 (MSRP: $84.95; Age: 8 and Up)



Kidoozie Little Doctor Kit by INTERNATIONAL PLAYTHINGS LLC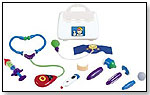 This doctor's bag comes complete with everything kids need to make sure their patient is on the road to recovery and to make their trip to the doctor a good experience. Kit includes electronic stethoscope, blood pressure gauge with arm cuff, reflex hammer, thermometer, squeaking syringe, auriscope, laryngoscope, pretend bandage, and doctor bag. Batteries are included. Surface clean. 9/26/2013 (MSRP: $22.99; Age: 2 and Up)



Princess Dreams™ Sandbox by BE GOOD COMPANY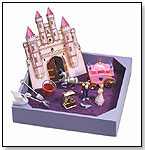 Includes 10" x 10" x 2" colored sandbox, 20" x 20" no mess play mat, ultra fine sand, prince and princess, horse drawn carriage, magic castle, hope chest, jewels and treasure, swan, glass slipper, wish bucket, grooming rake, digging shovel. 9/26/2013 (MSRP: $29.99; Age: 3 and Up)



LED Work Light & Tool Set by WOWTOYZ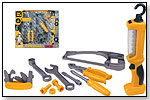 This deluxe set is loaded with lots of great tools to keep little builders busy. Each tool is made of rugged hi-impact plastic; set includes a working LED light with hook for hanging, multi-tool, saw, nuts and bolts, pliers and wrenches. 9/26/2013 (MSRP: $24.95; Age: 4 and Up)



GoGo City Fire Station Playset by KID GALAXY INC.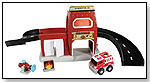 Create your own GoGo City with this Fire station play set. Includes building, detachable ramps, water cannon and a soft, safe and squeezable fire engine with a powerful pull-back friction motor. 18 months and up. 9/26/2013 (MSRP: $29.99; Age: 1 and Up)



---
---


Copyright © 2021 TDmonthly®, a division of TOYDIRECTORY.com®, Inc.