August 11, 2020

December 2013 | Vol. XII - No. 12


Christmas 2013 Hot Toys Unveiled
Must Have Specialty Toys to Wow Kids and Parents Alike
The holidays are almost here, and TDmonthly Magazine is excited to unveil our picks for the hot toys for Christmas 2013. These high-quality specialty toy gifts will bring a smile to any child's face, with products ranging from music toys to 2013's hot construction toys, and everything in between.

Take a look at the hot toys for Christmas 2013 below and decide if they're right for your store, or for a special child in your life.
Rainbow Loom - Twistz Bandz by CHOON'S DESIGN LLC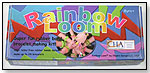 Package includes: Rainbow Loom(TM), Mini Rainbow Loom(TM), hook, a bag of c-clips, instruction manual and 600+ mix rubber bands (colors may vary). Makes up to 24 rubber band bracelets.
— Chris Lowe, owner of Beanhead Toys in Sandy Springs, Ga., told TDmonthly in a May 2013 survey that Rainbow Loom is their best-selling activity kit. They sell about 50 each month, and if they could keep it in stock, would likely sell more. "I got 24 the other day and they were gone instantly," she told TDmonthly.
— In a July 2013 survey, four out of 12 retailers told TDmonthly that the Rainbow Loom was their overall best-selling product.
— In a Fall 2013 survey, two out of 12 retailers told TDmonthly that Rainbow Loom was their best-selling novelty toy. 10/25/2012 (MSRP: $14.99; Age: 8 and Up)



HEXBUG Nano V2 Hurricane Set by INNOVATION FIRST LABS, INC.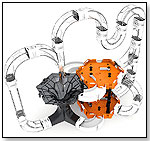 Introducing an all new breed of gravity defying HEXBUG Nanos. These Nano V2 bugs can now climb up vertically, horizontally, around corners, through loops and tubes, to the tip top of any Nano V2 habitat set. The HEXBUG Nano V2 Hurricane set features an evolved Nano, sporting a new look, with three rubber spines on its back, as well as a new system of tubular tracks that highlight the Nano V2's unique multi-level climbing abilities. The HEXBUG Nano V2 is a tiny, micro robotic creature that uses the physics of vibration to scurry up through multiple levels of tubes, as high as the V2 set will take it, to explore its environment. The quick little critter possesses an uncanny sense of balance, capable of crawling through tubes on its feet or on its back and can pass another bug in a single tube to avoid a traffic jam. The Nano V2 will even flip to its feet when landing on its back on an open flat surface. 9/26/2013 (MSRP: $49.99; Age: 3 and Up)



Dora the Explorer Inflatable Sports Car for iPad by CTA DIGITAL



Kids love to race and there are hundreds of great motion-controlled racing apps to play, but tilting an iPad around just isn't as comfortable or fun as actually turning a real wheel. With the Dora the Explorer Inflatable Car for iPad from CTA Digital kids can hop in and feel like they're really driving! The steering wheel cradle is especially designed to hold and protect the iPad so kids can play and pretend to drift and race to first place. Watch them maneuver through virtual obstacles and go on driving adventures in this fun Dora the Explorer themed kart. 10/23/2013



15 String Harp w/ bench by SCHOENHUT PIANO COMPANY



At 27 inches high, this beautifully constructed, lightweight instrument is an excellent choice for a child's first harp. The design of its curved sides and spacious box, along with a range of 15 notes (from C to C), permits playing a wide variety of music in haunting, melodic tones. 15 Nylon strings, fully tunable by way of zither pins and a zither pin wrench. Includes: Bench and Tuning Wrench. 11/6/2013 (Age: 6 and Up)



LEGO Friends Dolphin Cruiser by LEGO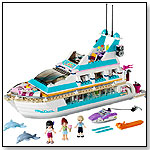 Set sail for fancy fun in the Dolphin Cruiser, a 2-story yacht with a waterslide that splits in half for playing inside with 3 mini-dolls. 612 pieces.
— Dalene Lockhart, owner of Toy Town in Casper, Wyo., told TDmonthly in a May 2014 survey that LEGO Superheroes and LEGO Friends were the best-selling construction toys in her store.
— In a November 2014 survey, two retailers told TDmonthly that LEGO was a best-selling line of toys. 9/26/2013 (MSRP: $69.99; Age: 7 to 12)



Worm World by ELENCO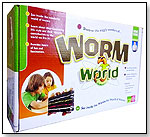 See inside the wonderful world of worms. Learn about their fascinating life style and their valuable contribution to the world we live in. Provides hours of fun and fascination. Features: Plastic worm housing, Tunneling material, Shade, Illustrated instruction manual, Worms not included. 9/26/2013 (MSRP: $22.99; Age: 5 and Up)



My Studio Girl by UNIVERSITY GAMES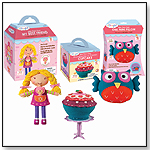 My Studio Girl is the newest Arts & Crafts line by University Games for the creative side of every girl. My Studio Girl inspires Creativity, Self-Expression, and Empowerment. My Studio Girl offers numerous activities for girls to 'Create, Play and Display!' These easy-to-make Sewing Kits, Air Dry Dough Sculptures, Paper Maché Keepsakes and Activity Playsets are great fun to create and even more fun to collect or give as gifts. Each activity comes with multiple themes and styles and include easy-to-follow instructions, 'kid-safe' materials, easy-to-merchandise packaging. 7/30/2013 (Age: 6 and Up)



Band In A Box Three by SCHOENHUT PIANO COMPANY


STRIKE UP THE BAND! This assortment of musical instruments is a great way of introducing children to music. Encourages rhythm and social interaction. Provides lively entertainment for all ages. Fun for jam sessions and group play. Makes a creative, reasonably-priced gift. 11/6/2013 (Age: 3 and Up)



MOVA Planets by TurtleTech Design, Inc.



Our original idea to recreate the earth's serene motion is expanded across the solar system with the beauty of our most majestic planets captured in our MOVA Globes. Along with the planets is the Silver and Navy Blue Constellations Globe, perfect for astronomy aficionados and star gazers alike. 8/26/2013



Cubebot® by AREAWARE



Cubebot is a range of playful wooden robot puzzles that challenges and inspires children and adults alike. Available in an assortment of shapes, sizes and colors, each Cubebot holds dozens of poses. After playtime, Cubebot offers the challenge of trying to fold it back into its perfect cube. Robot toys are usually made of plastic and require batteries - but not Cubebot! Cubebot is made from new growth beech wood and is powered by imagination. Inspired by the Japanese Shinto Kumi-ki puzzles, Cubebot combines ancient Japanese traditions with contemporary toy culture. It is an enduring classic that will withstand generations of play. Available in Extra Large, Medium, Small, Micro, as well as a choice of finishes: Natural, Blue, Green, Multi, Orange, Pink, Red, Violet and Yellow. Recommended for ages 3+. 6/18/2013



Wild Safari® Dinosaurs Gryposaurus by SAFARI LTD.®



Safari Ltd® brings the Gryposaurus from 75 million years ago to life with this replica of the most abundant duckbilled dinosaur of the Cretaceous period. The hand painted replica measures 8.5" L x 3.24" H (21.75 x 8.5 cm) and is suitable for ages 3 and up. All Safari Ltd® products are 100% guaranteed and lead free to ensure children's safety. Visit www.safariltd.com to view and purchase Safari Ltd® products and explore educational information in five languages. 6/11/2013



Game Creator Set 120 by ARTEC EDUCATIONAL

Foster your children's imagination and creative expression with our revolutionary new block design! A cube with square holes on each face, and a single, connecting stud located off-center. Unlike traditional building blocks which can only be stacked, an Artec Block can be connected in all directions. Horizontal, vertical, and even diagonal connections are possible for unparalleled ease and freedom. The possibilities are endless in the structures, animals, and shapes you can make! 6/10/2013 (MSRP: $20.99; Age: 3 and Up)



HedBanz Game by SPIN MASTER TOYS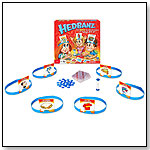 Spice up family game night with the Hedbanz Board Game, a fun, fast-paced, and simple question game that everyone aged 6 and up can enjoy. In a group of two to six players, players draw an identity card for an animal, food, or common object but with one catch--everyone else will see the card, displayed by the headband on each player's forehead. The goal is for each player to deduce who or what they are by asking the other players questions before the clock runs out.
— As of 11/30/2012 this product had 4.5 out of 5 stars from 208 reviews on Amazon.com. 11/30/2012 (MSRP: $18.00; Age: 8 to 12)



Spot it! Party by BLUE ORANGE GAMES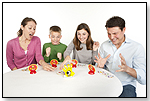 Ready for the ultimate Spot it! session? Party box accessories inject a whole new factor of frenzied fun into the smash hit game. Spot it! Party has all new symbols to rev up the challenge. Discover never before-seen-ways to play and be sure to keep your eyes peeled for your chance to snatch or pass the Hand Mascot—it can make or break a win! With 6 mini-games to master, this party box will hook everyone for hours of electrifying fun! Launch date: July 2013. 5/29/2013 (MSRP: $19.99; Age: 10 to Adult)



Minecraft Paper Craft Animal Mobs by ZOOFY INTERNATIONAL LLC



Minecraft Paper Craft Animal Mobs. Available 10/21/13. 11/6/2013



The Very Hungry Caterpillar Twirl & Toss Game by UNIVERSITY GAMES



The first skill and action game starring The Very Hungry Caterpillar! Children toss their fruit and try to be the first to land all three pieces on the twirling, electronic caterpillar to win. Game play gets kids up and moving – every miss has players scrambling to gather their fruit and try again. Launch date: August 2013. 7/30/2013 (MSRP: $30.00; Age: 3 and Up)



mi mu ru™ by HENDERSON & COMPANY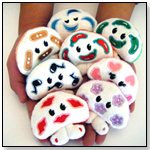 Introducing a new family of super-soft, collectible plush mushroom characters called mi mu ru™ (my moo roo). Each of the unique, beautifully embroidered characters (eight in all) have individual personalities complete with their own mottos and fun names. missikissi says, "A simple kiss can make everything better". zzzzizi says, "A nap a day makes grumpy go away." And, ouchi booboo states, "Bumps and bruises reminds us not to do that again." These are just some of the mottos from mi mu ru™.

Adding to their play value, each handmade 2" tall cute plush is attached to their own ultra-soft wristband (buddi bands™) which allow kids to wear 'em, carry 'em and share 'em. This feature enhances the play value while still being affordable. Kids will want to collect 'em all! mi mu ru buddi bands are more than a toy, they are a super-fun children's accessory. Sales reps/distributors welcome. www.mimuru.com 11/6/2013 (MSRP: $4.99; Age: 3 to 8)



Crazy-Cool Duct Tape Projects by DESIGN ORIGINALS



Get inspired to craft your world with these fun and funky projects for fashion and flair! Celebrity crafter Marisa Pawelko shows how to cut, rip, layer, and fold colorful duct tape to concoct fantastic fashions, school supplies and room décor. She reveals the nine skills every tapester needs to know, and provides all of the bells and whistles that kids need to get seriously funky as they customize each of the amazing projects in this book. 11/4/2013



Did My Owl Just Growl? Book/Plush Combo by FOBIE FRIENDS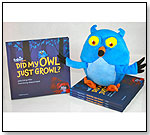 Did My Owl Just Growl? is our first book and is now available in hardback. The turmoil begins the moment the lights go out. Our frightened young boy is in his bedroom tucked in for the night, but he is confronted with eerie sounds and creepy shadows that send his imagination soaring into the spooky, dark woods. Fortunately, an unexpected friend guides him through his adventure. Includes plush Owl.
TDmonthly Editor's Notes:
- A series of books that help kids with their phobias. My daughter loves the illustrations.
- A story line that kids can follow and relate to. A great gift for any child.
- Fun use of rhyme throughout the story.
- Fobie Friends encourages youngsters to confront their fears with courage and an open mind.
- Encourages inner strength 9/26/2013 (MSRP: $27.99)



Radio Controlled Cube Car by ARTEC EDUCATIONAL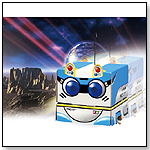 Make your own radio controlled car with completed circuit board. You can not operate more than one car at the same time because their radio waves will interfere. 9/20/2013 (MSRP: $15.99; Age: 8 and Up)



Candy Mint Ruffle Tote by DOUGLAS CUDDLE TOYS



Full of holiday spirit and ruffly sweetness, this dressy purse is made of a candy mint print with candy cane striped straps, embroidered candies, and white rick rack borders on the ruffles. Perfect for holiday parties. 8" wide. 8/29/2013



Sound It! Found It! Junior™ by WOWOPOLIS LLC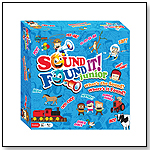 Described as a combination of Where's Waldo? and Charades with sounds, this patent-pending easy-to-learn and easy-to play game was created specifically for the preschool set. A player chooses a picture card and gets the others to guess what's on the card by imitating the sound it makes. Choo-Choo! Beep Beep! Gobble Gobble! Those are just the easy ones … but guessing the sound is only half the fun. Once the sound is identified (e.g. Choo Choo for the train), players race to find the object that makes it amid one of six preschool-friendly illustrated scenes such including Around the Farm, Costume Party, A Day at the Zoo and Out on the Street, each filled with action and surprises.

Featuring 72 cards and six giant-scene boards, each drawn in a whimsical, original style, Sound It! Found It! Junior combines visual hilarity with the unique twist of guessing sounds, offering hours of laugh-out-loud fun. No reading required. 8/26/2013



The Original DoodleArt - Prehistoric by PLASMART INC.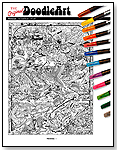 DoodleArt was originally launched in 1972 and the do-your-own-color-thing instantly became a worldwide craze that lasted through the 1980s. Fantastic family activity, kids' project, or hobby. Sturdy, long-lasting posters stand the test of time. All Posters and Mini Kits come with 12 non-toxic, dual-tipped markers (calligraphy tip and fine tip). Intricate designs provide up to 70 hours of creative activity. Choose from five 24" x 34" full size poster designs (Butterflies, Flowers, Jungle, Prehistoric, Fairy Tales) or two Mini kits each containing four 11" x 14" posters. 8/13/2013 (MSRP: $24.99)



---
---


Copyright © 2020 TDmonthly®, a division of TOYDIRECTORY.com®, Inc.